There's a curious piece in today's Guardian about the Scotstoun area of Glasgow, home to the shipbuilding yard of BAE Systems. It typifies what's perhaps the most successful and consistent strategy that the No campaign has managed to deploy in the entire independence debate. Let's listen in.
Decay, neglect, poverty, unemployment and starvation have been the legacies of the Union for the people of Scotstoun. Under both Conservative and Labour governments at Westminster, their proud industry has been (and even now continues to be) slowly destroyed with nothing created to replace it. Their town centres are dying, the talents and potential of their children are being wasted. And yet the people are so beaten and cowed by the decades of deprivation that they're afraid of anything changing.
In Scotstoun, the "positive case for the Union" comes, literally, in the form of the words DOOM and GLOOM. Glasgow MP Ian Davidson, appeared on national TV yesterday categorically guaranteeing that the shipyards would lose all their work in the event of a Yes vote – something he's in no position to either know or promise, but says anyway to induce terror in the electorate and ensure his own gravy-train job stays secure.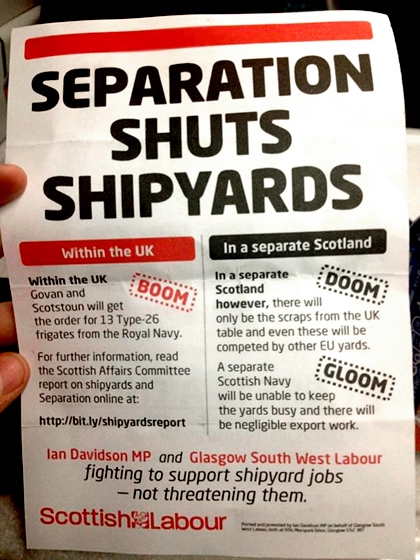 It's surely one of the most bitter aspects of the No campaign that the appalling ruin the Union has inflicted on so many of Scotland's poorest areas is the very thing used as a reason to vote to keep it. It remains only to be seen whether the people will buckle under the intimidation and make a success of Project Fear.