Alert readers may recall as far back as November, when we ran an article on a bizarre Scottish Daily Mail hatchet job which claimed that "the SNP has squandered £2bn" in its ten years in office, but only actually listed around £800m in supposed waste.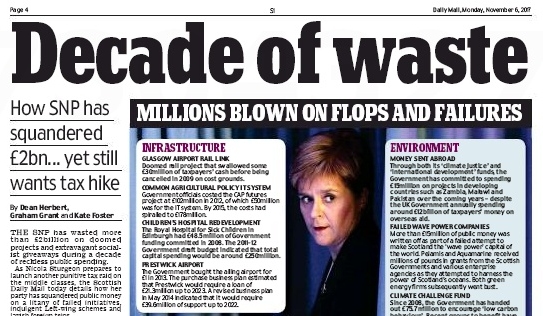 The independent press regulator IPSO is still in a great big sulking strop with us for reasons we can't remember, so rejects any complaints that come directly from Wings, but the good thing about having a 300,000-strong army of readers is that some kind soul will usually take on the task for us.
And this one turned out to be fascinating.
We'll give you IPSO's official findings in full, then the summary.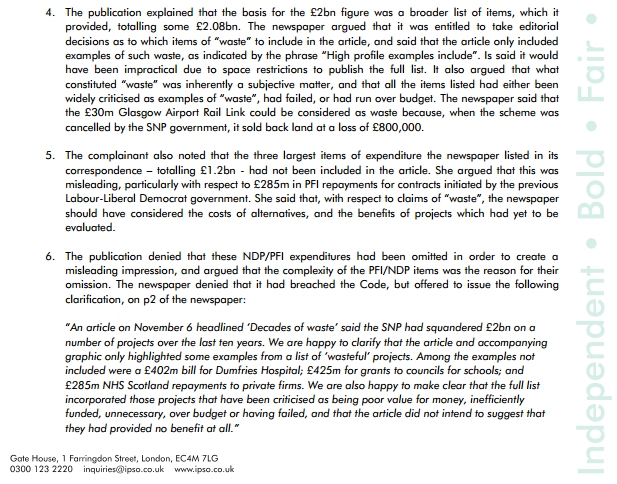 So here's what we learned in the three months it took IPSO to process and adjudicate on the complaint:
1. The Mail didn't want to tell its readers about the three biggest items of Scottish Government expenditure that it was classing as "waste" in order to reach the headline figure of £2bn. Those three items together made up £1.2bn, or 60% of the total sum.
2. The three items were "a £402m bill for Dumfries Hospital; £425m for grants to councils for schools; and £285m NHS Scotland repayments to private firms". In other words, the money was spent on building, maintaining and running schools and hospitals.
The paper claimed that it left the three items out because they were "complex", presumably meaning it thought its readers were too thick to understand what schools and hospitals were.
3. Several hundred million pounds of the "SNP waste" was actually incurred by the previous Labour/Lib Dem administration, but the bills had to be paid by the subsequent SNP government because the contracts had been signed before they took office.
We don't think most people consider money spent by governments on schools and hospitals to be "wasted". Indeed, it might be reasonably contended that that's exactly what people WANT their governments to be spending money on.
The Mail, however, is of course entitled to consider building hospitals and schools as a "waste" of taxpayers money. That's a matter of opinion – we're sure it would prefer the money to be used for tax cuts for the wealthy, and in a democracy it's entitled to feel that way and to say so.
But the fact that it didn't want to reveal that that was what it was doing as it tried to whip its readers into a rage is enlightening, as is the fact that IPSO has no problem with the accuracy of the Mail blaming the SNP for legally having to uphold contracts signed by the previous executive.
Now those facts are finally known, we'll leave people to draw their own conclusions about both the integrity of the newspaper and the effectiveness of IPSO as a regulator.