The Times of London (to give it its full title) has been the newspaper of record for the British establishment for 226 years. It was practically the only facet of British life that survived in the dystopian future of George Orwell's "1984". Even though it's now owned by an Australian/American, the brand remains one of the most recognised and iconic symbols of Her Majesty's United Kingdom, revered across the globe.
(It even created the "Times Roman" font which is the default standard typeface of the English-speaking world, and which these words you're reading now are displayed in.)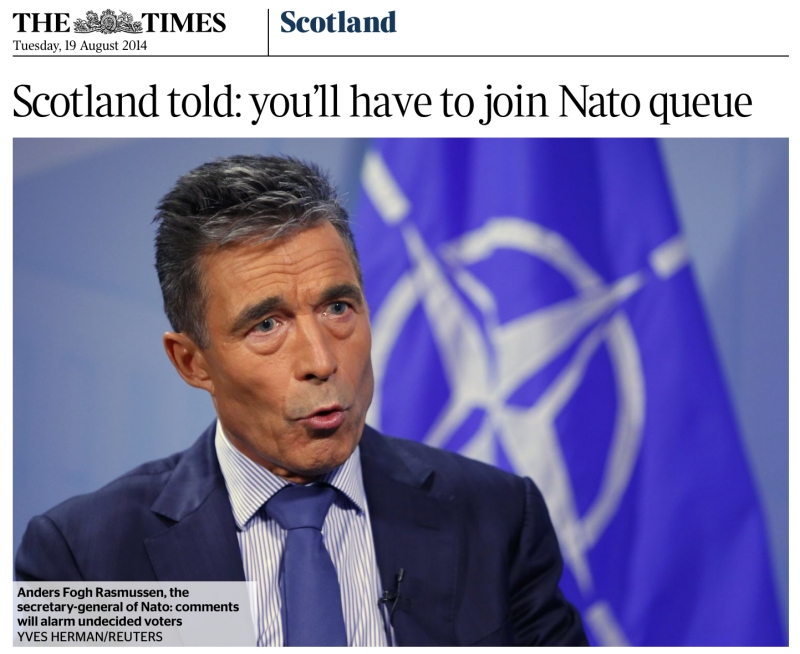 Which means there's absolutely no excuse for this sort of cobblers.
The story prominently featured in today's edition isn't, in the first instance, a story at all. NATO's director-general simply made a statement of the bleeding obvious – that an independent Scotland would have to first apply for NATO membership before that application could be accepted. That's not news, that's anti-news.
It's also an already-known fact that the existing members of the alliance would all have to approve the application, and nobody with the slightest grasp of reality believes that any of them would veto it, leaving NATO's strategically-crucial "GIUK Gap" undefended.
But none of that is what we're talking about here.
"Any country in Europe seeking to join the military alliance, formed in 1949, has to be invited to do so by all member states. This process can happen smoothly but each Nato member is allowed to create a condition that could block accession.

'Some aspiring countries have waited for many years,' Mr Rasmussen said. 'Others enjoy a very short procedure depending on how close they are to fulfilling the necessary criteria.'"
That's not how "queues" work, is it, readers? The fundamental principle of a queue is that the first person to join it is the first person to be served, and so on down the line. The people in a queue don't wait varying amounts of time depending on how close they are to fulfilling any criteria. They get dealt with by who got into the queue first.
If there's one thing in the whole world more British than The Times, it's the concept of queueing. If there's one thing on Earth that The Times ought to be able to accurately identify and explain, it's a queue. Yet under a headline warning that Scotland will have to join a queue, the planet's most British newspaper then proceeds to outline a scenario which is the exact diametric opposite of a queue.
You can't make this stuff up.
We mock satirically for fun. But as with the Scottish Sun's idiocy this morning, there's a serious point. The thought of an independent Scotland as a international outcast, shut out of the West's defence alliance, is a scare story of the crudest order. It's designed to frighten the electorate into voting No by deliberately misrepresenting the reality, cloaking a falsehood in plausible-sounding quotes that don't fall to pieces until the reader applies their own scrutiny.
It's perhaps worth tuning in to the rest of the piece.
"The Union Jack flies prominently outside the front of Nato's headquarters alongside the flag of the United States. The flags of the other 26 member states are also displayed. There is no Scottish flag flying."
Er, duh. Scotland isn't a member. Why would its flag be flown?
"Military chiefs in Britain are already incredibly concerned about the impact on British defence of a 'yes' vote. They have warned that this would hit the size and capabilities of the Army, Royal Navy and Royal Air Force, with the rest of the UK forced to carve up its armed forces to give Scotland a share.

Such a move is seen as so devastating that the Ministry of Defence has not seriously drawn up plans as to how to respond, relying instead on a hope that the No campaign will win."
Um, right. The MoD is so terrified that it's just closing its eyes and hoping the danger goes away. And this is the proud, mighty United Kingdom that we're supposed to be relying on for our defence? We don't know about you, readers, but this news doesn't fill us with confidence.
(Also, didn't the then-defence secretary Phillip Hammond strenuously insist that the UK wouldn't allow its armed forces to be broken up like "a chocolate bar", and that the very notion was "laughable"? Didn't he say that Scotland would have to build its own from scratch, rather than taking bits of the UK's? Can't anyone keep their story straight for five minutes?)
"An independant [sic] Scotland's loss of Nato membership would further weaken the rest of Britain, said Admiral Lord West of Spithead, a former Labour security minister and former head of the Royal Navy. This was because being part of the alliance meant that countries shared the responsibility and expense of their collective defence. An isolated Scotland would still need protection."
Against whom?
"'The reality is that they will be relying on us and Nato for their defence and they are not willing to pay their share,' Lord West said."
Wait, what? Who said Scotland wouldn't pay its share? Did we turn over two pages at once? Scotland WANTS to join and contribute like everone else. The allegation being made here is that its application for membership would be refused. In which case, how would it be Scotland's fault that it wasn't paying its share?
"For this reason, he felt that Britain would not try to derail any future attempt by an independent Scotland to join Nato. However, he said that other countries, such as Spain, with worries about struggles for independence within their own borders, could refuse a Scottish application as a warning to others."
(Our emphasis.) And the total collapse of the story is now complete. The Times having hinted that the UK might be the one to veto Scottish membership, Lord West promptly blows that idea out of the water. And we already know that Spain has pledged not to interfere in Scottish affairs so long as independence is achieved constitutionally and legally, which the Edinburgh Agreement ensures it will be. We doubt Spain wants the GIUK Gap left unpatrolled any more than any other NATO member does.
Honestly, readers, we expect this sort of half-arsed, intellectually-incoherent drivel from the Express or the Daily Mail. We look for rather higher standards in The Times. But if Great Britain's most august and esteemed newspaper no longer even understands what a queue is, perhaps it's time for a reappraisal of those expectations.