So, slightly to our surprise, we actually just got a reply from Blair McDougall to our email offering to put on a debate between Alistair Darling and Dennis Canavan at a mutually-convenient time and location and with a neutral host.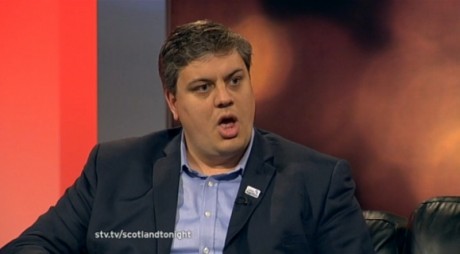 You can read it below.
"Apologies if the tweet to you a few days ago was somehow too esoteric for you. I thought it made it pretty clear what our response was. 

I don't believe that Blair Jenkins has accepted your invitation because to do so would mean Yes Scotland legitimising the hateful output from your laptop. That would be a huge mistake on their part and not one Better Together will be making. 

We take part in debates with our opposite numbers all the time but, for the avoidance of doubt, we won't be taking part in any event organised by you.

Enjoy your day.

Blair"
A few quick points:
1. We're not sure Mr McDougall actually meant "esoteric", but here's the tweet: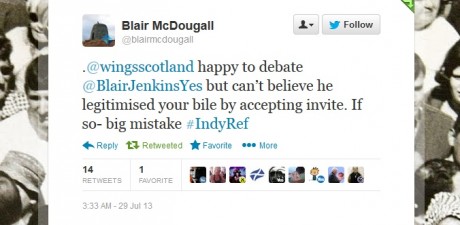 2. In any event, the highly offensive allegation is untrue. Blair Jenkins quite plainly DID accept our invitation on behalf of Yes Scotland, in public, and confirmed that acceptance later by private message.
3. We're not sure what our "hateful output" is, but we don't own a laptop.
4. "We take part in debates with our opposite numbers all the time". Really? ALL the time? Offhand we can think of a single edition each of Scotland Tonight and Newsnight Scotland in which Mr McDougall and Mr Jenkins both appeared, although neither was a debate as such.
We're also not aware of Alistair Darling having taken part in any public debates on independence involving his "opposite number", Dennis Canavan, and he has explicitly refused to debate Blair Jenkins either.
While the "Better Together" chairman refuses to debate the Yes Scotland chairman and sneers arrogantly at the Yes Scotland director as an "underling", the only person he does appear to be prepared to debate is Alex Salmond – someone who isn't even on the Yes Scotland board and has no official role in the group whatsoever.
(Perhaps because as First Minister he's got a country to run, rather than spending his time chatting to a mostly-absentee Labour backbencher with ideas above his station.)
The No camp constantly demands debate and complains of not having its questions answered, yet its chief "spokesman" refuses to stand up in front of the Scottish public and challenge anyone in the Yes campaign face to face.
Maybe we're just not offering to pay him enough.