Depending on which parts of the media you were reading yesterday and this morning, the economic case for independence was either "shattered" (the Herald), "demolished" (the Spectator), "shredded" (Daily Record), "smashed to smithereens" (Willie Rennie, bless) or any number of other apocalyptic metaphors for total destruction, by a 1% fall in Scottish revenues resulting from a steep drop in oil prices which led to a notional Scottish budget deficit that by some measures was as high as 10% of GDP.
We must assume, then, that the economic case for the UK being an independent nation was rendered unto ruins in 2009-10, when its deficit exceeded 11% of GDP.
Either that, of course, or the occasional bad couple of years are a problem that affects every nation on Earth without them exploding with self-loathing panic.
And given that the methodology of GERS significantly distorts and exaggerates the size of Scotland's fiscal gap (indeed, was expressly designed to do so), and also tells us absolutely nothing about the economy of an independent Scotland, then a wise reader might be able to deduce that all the screaming hysteria signifies is the Unionist camp's ongoing terror of the inexorable direction of political and demographic travel towards independence, the normal state of any nation.
.
FOOTNOTE: We might also pause to remember that commentators with the esteemed media pedigree of former Scotsman and BBC editor Tim Luckhurst were furiously proclaiming that the economic case had been "destroyed" as early as February 2012, when oil revenues were high and Scotland's finances were in fact far healthier than the UK's, at a deficit of 4.4% of GDP compared to the UK's 6.6%.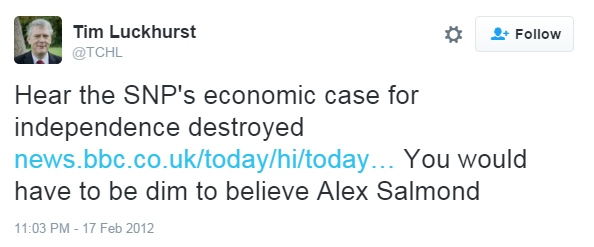 But, obviously, the fact that the situation could have reversed in four years means it could never possibly swing the other way again. Destruction is forever. The only thing we can say for absolute certain is that if Scotland's economy is healthier than the UK's at any given point then the case for independence has been destroyed, and if it's less healthy than the UK's then the case for independence has been destroyed.