This morning we noted the weird double standards of the media when it comes to reporting politics-related violence (and/or the absence thereof) in Scotland. We weren't expecting such a good illustration of it to come along within two hours.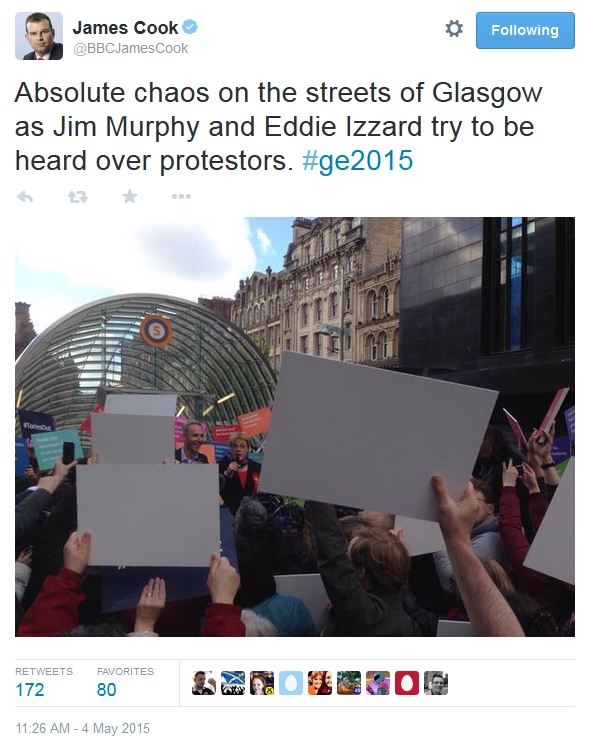 Today Jim Murphy held another of his brief "rallies"/press photocalls of a couple of dozen screaming placard-waving Labour activists in Glasgow, this one again outside the St Enoch's subway station. He was accompanied by celebrity Labour fan and "Better Together" fundraiser Eddie Izzard.
As usual, also present were tiny handful of numpties who turn up and shout at most Scottish Labour events – Sean Clerkin, a left-wing activist of no known alignment who's eternally trying to recreate the moment of fame in 2011 when Iain Gray ran away from him at Glasgow Central train station and hid in a sandwich shop, and a couple of noisy but harmless loonies calling themselves "the Scottish Resistance".
As far as we've been able to gather, the Murphy gang numbered around 40 (including the ever-present media pack) and the protesters numbered five, plus one other unconnected chap who'd turned up with a PA on a bike to more entertainingly play the "I'm So Ronery" song from "Team America World Police".
Events proceeded as normal – Murphy shouted through a microphone, the Labour faithful surrounding him roared and chanted and waved their placards obediently, the photographers snapped some close-cropped shots to make it look good in the papers, the protesters yelled at Murphy, and the long-suffering folk of Glasgow tried to get into the station to catch their trains without too much earache.
At some points it was ALMOST as rowdy as one of the Scottish leaders' TV debates. But today, for some reason, the media have decided to portray it as a riot.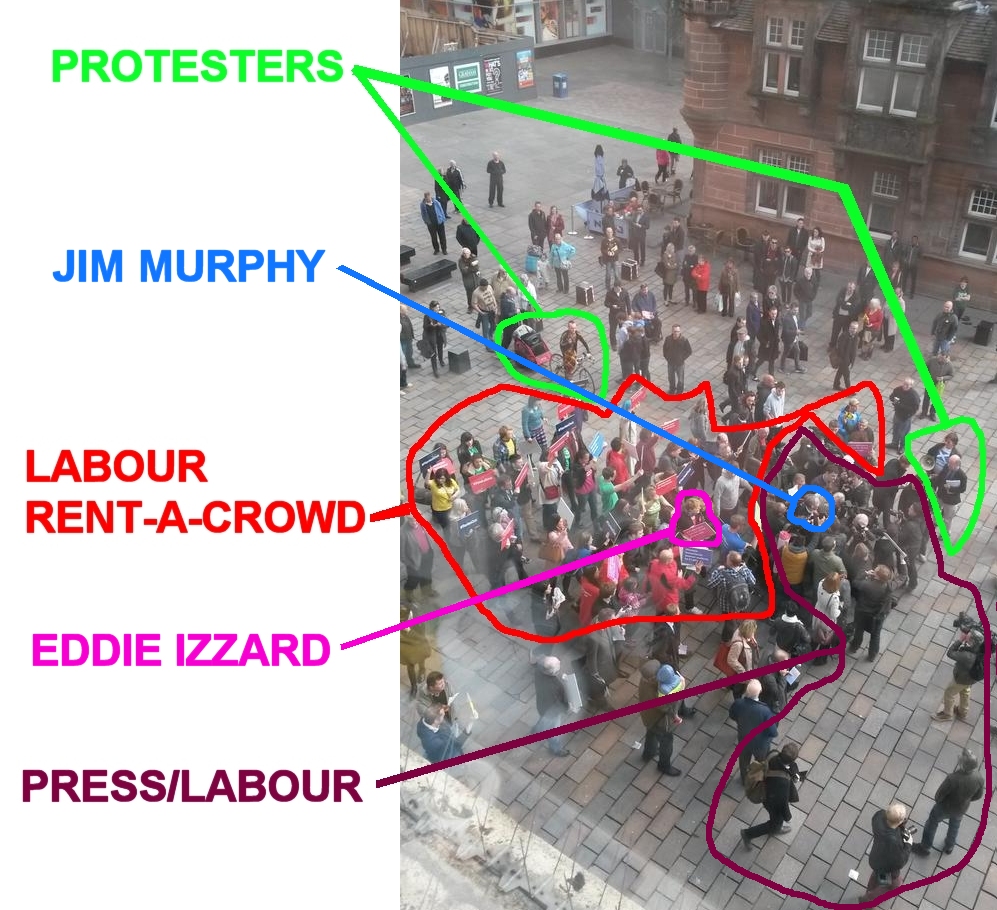 Above is the actual scene hyperbolically described by the BBC's James Cook as "absolute chaos on the streets of Glasgow". Channel 4's Alex Thomson, who knows perfectly well what Jim Murphy's "rallies" are about, unaccountably fired off a series of tweets and a blog entry about the hecklers "denying freedom of speech".
(Click the pic to enlarge, or here for the un-annotated version.)
Unionists then began circulating bizarre rumours that Clerkin had been "tipped off" about the event by SNP press officer Campbell Gunn, which he categorically denied.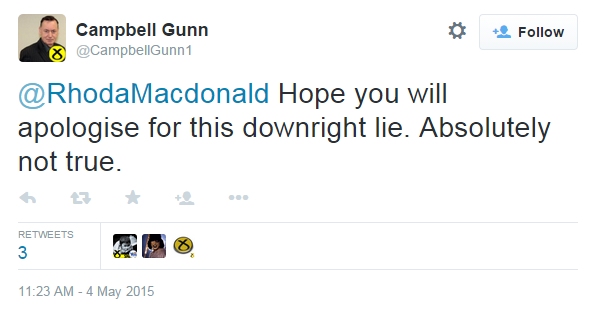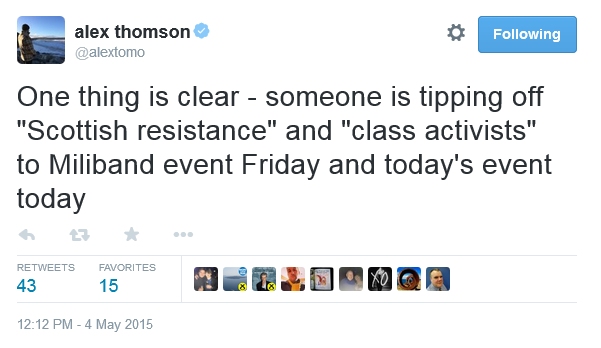 Within minutes Reporting Scotland was leading its lunchtime bulletin with talk of "scuffles" and Izzard was wailing about "waves of hatred" and "violence", though none had been seen or reported. (Thomson later tweeted there'd been none that he saw.) Cook tweeted that he'd been unable to get more pictures as he'd been "watching [my] cameraman's back", though he didn't specify who he'd perceived to be threatening it.
[EDIT 5.20pm: we've watched all the footage that's been uploaded, and so far the only physical aggression we've seen has been several Labour goons shoving Sean Clerkin around, away from Murphy and Izzard.]
And weirdest of all, the Basingstoke Gazette – legendary for its real-time coverage of events in Glasgow – had a hefty 900-word story (this post, for reference, is about 1000 words and the first draft took over an hour) on the cataclysmic events.
It wasn't alone, of course. The Press & Journal, Huffington Post, Guardian, STV, BBC, Daily Record and more also had pieces up within moments of the first heckle.
The inquiring reader will probably find all manner of questions arising in their mind from these events. Why is it suddenly major news that Sean Clerkin and his eejit pals have been yelling at Jim Murphy, as they've done a dozen times in the last few weeks? Why would someone need to have "tipped off" Clerkin, as he clearly ALWAYS knows about Labour events? Why would Campbell Gunn, of the SNP, be in on Labour's "secret" plans anyway? How did all these stories get written and published so fast without anyone establishing the fact that there'd been no "violence" whatsoever?
More to the point, how are six people shouting at 40 also-shouting people denying anyone "freedom of speech"? Glasgow's streets are as much the protesters' to protest on as they are Jim Murphy's to conduct press photocalls on.
(And why are the press following him around anyway? Is it news for him to shout the same script at the same supporters in the same place for the 20th time in a month? Or are they just desperate for this sort of thing to happen?)
Demonstrations being met with counter-protests are a regular occurrence, yet very rarely do journalists report that, let's say, anti-bigotry protesters noisily decrying racist marches by the BNP or Britain First are "denying them freedom of speech". (Let alone if there are only six of them and nearly 10 times as many of the racists.)
Murphy had no interest in reaching the wider electorate – he was surrounded on all sides as usual by an impenetrable wall/shield of his own supporters. He was conducting what was an essentially private activist pep-talk, he just happened to be doing it loudly in a public place, getting in people's way as they tried to go about their business and then scuttling off in a waiting car after five minutes as always.
Sean Clerkin and the "Scottish Resistance", while not known to be members of any political party, are a toe-curling embarrassment and a liability to anyone who wants the SNP to win the election. We have no idea what they think they're going to achieve by giving Jim Murphy exactly the sort of publicity he desperately craves.
(You can see the mile-wide grin on Murphy's face every time Clerkin's class-warrior collective turns up, and you can practically hear him thinking "Oh please God let one of them throw an egg or try to punch me".)
Nevertheless, they're as entitled to shout on the streets of Glasgow as Jim Murphy and his bellowing, screaming Labour Youth gang are. We're not aware of them being arrested at any of these events, even though their identities are well-known to the police and they'd be easy enough to pick up if any crime had been committed.
But they play so willingly into Murphy's hands that a reasonable observer might well come to the conclusion that they're either so stupid they can't see an obvious trap coming, or that they might want to do a little investigation into who it is that keeps telling them where Murphy is going to be. Because the only people who gain anything from them being there are Scottish Labour.