So this is a thing that happened yesterday: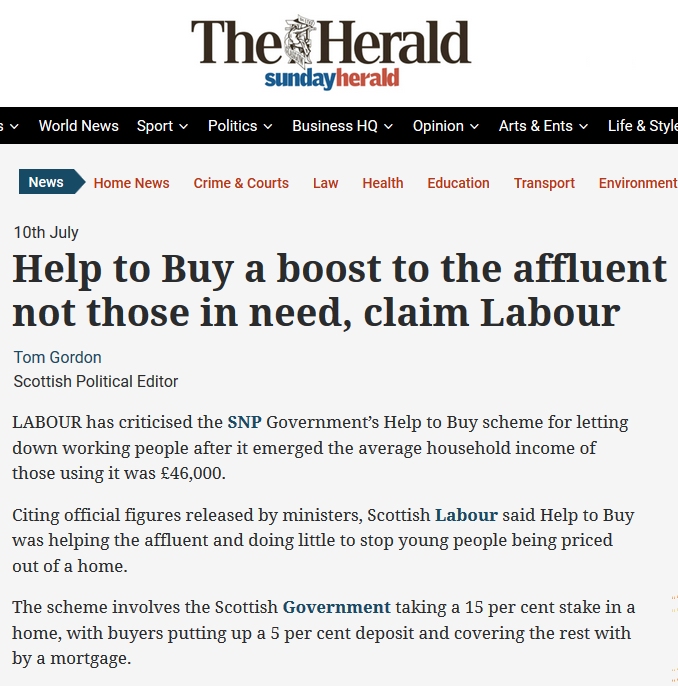 Because, as ever, Scottish Labour are absolutely certain that voters are morons.
We can't begin to tell you the toll that having to listen to the boneheaded parade of lies and insults to the intelligence that passes for Scottish political discourse has taken on us over the last five years, readers, so we'll be as brief as possible with this.
1. Labour complains that the households – not individuals – being helped are those with income between £41,000 and £52,000, which it describes as "affluent".
But for the typical two-adult home that's annual income of £20,500 to £26,000 a head, which is BELOW the official average wage in Scotland of £27,953.
(That's using the same version of "average" – the median, rather than the mean or mode – that Labour references.)
So Labour is complaining that people on below average wages are actually rich and shouldn't be helped by the Scottish Government.
2. The SNP scheme involves the Scottish Government taking a 15% stake in the home being purchased, which it retains until the (interest-free) loan is paid off. It is NOT a handout, and only applies to relatively inexpensive homes – those up to £200,000 if bought before next March, and up to £175,000 thereafter.
It's also only available to people who can't afford to buy homes otherwise, and eligibility is strictly controlled to ensure it doesn't lead to housing market inflation or to people buying homes that they can't keep up repayments on.
3. Conversely, when Scottish Labour proposed a Help To Buy scheme, barely over a year ago, it was a straight-up bung of £6,000 to anyone who could cobble together a tiny deposit – to be paid for from general taxation, ie subsidising homebuyers out of the pockets of poorer people who couldn't even afford to save up a deposit, and which would have inescapably inflated prices.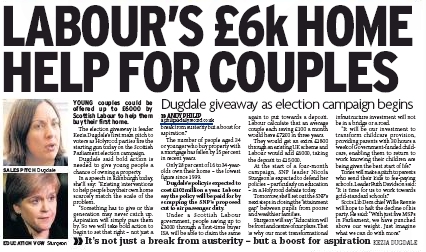 (And when we say "from general taxation", we mean "from £150m in completely fantasy money that Scottish Labour insisted would somehow be generated by keeping a tax the same as it is now".)
Unlike the SNP plan, which is only available to those who can't afford to buy a home without help, Labour would have given thousands of pounds of taxpayers' money even to people who could afford to buy comfortably by themselves. As far as we can tell, it's still officially Scottish Labour policy.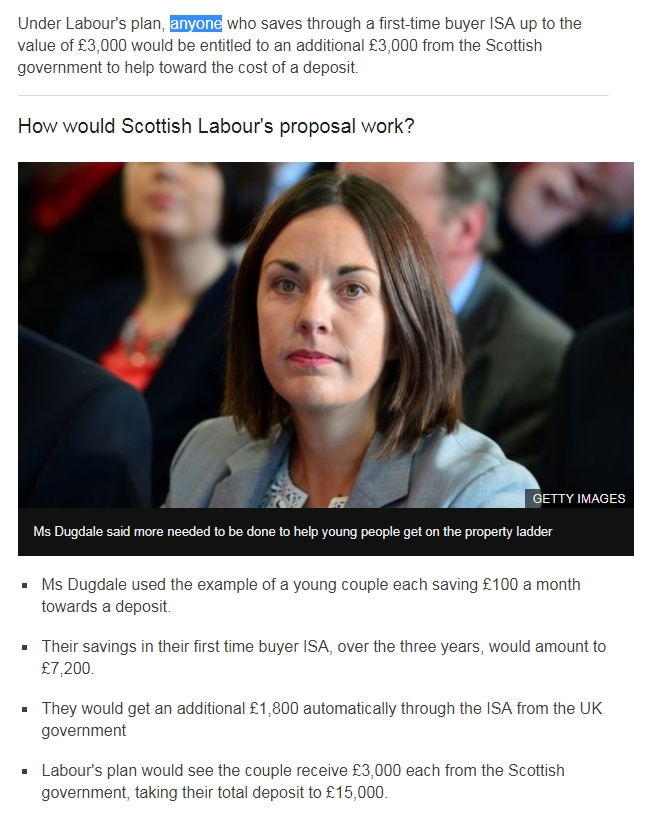 4. There is, of course, only a housing crisis at all because Gordon Brown did everything in his power to sustain the house-price bubble created by the Tories in the 1980s, and because during 13 years in power Labour built vastly less new social housing than even the Tories and did nothing about Right To Buy, which destroyed the public-housing stock.
The SNP, on the other hand, have ended RTB, lifted inexpensive homes out of stamp duty and built literally thousands of times as many new council houses since coming to power in 2007 as the last Labour administration at Holyrood.
Scottish Labour think nobody knows any of this. They think they can U-turn on every policy they propose within months, without anyone noticing or holding them to account.
The fact that they've lost the last five Scottish elections in a row, coming third behind the Tories in each of the last three, suggests that the electorate still has a rather better memory than they think.