This week on Wings has been altogether more navel-gazey than we're comfortable with, as various SNP MPs have mounted a series of all-out personal attacks on the site before the weekend's crucial NEC elections.
So we'll have a proper article for you a little later on today, but in the meantime it'd be remiss of us not to tidy up the last fragments of shrapnel, so we'll direct you to the right of reply to Alyn Smith's column that The National kindly gave us today:
(Sadly they chose to disable comments, we'd quite have enjoyed the reaction from the few remaining diehard leadership loyalists still posting there.)
They also covered the revelations about Wings being the favourite indy site of Scottish Government staff, in a piece whose bizarre last line gave us an excellent laugh.
We can offer the wokebearded young hack some help on that question: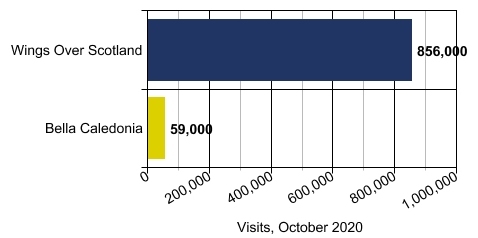 No. No it did not. (Bella never did produce any sort of evidence in support of that rather dubious 2014 claim, incidentally.)
A couple of newspapers, and also the Daily Express, run with Nicola Sturgeon's latest feeble dangling of yet another shrivelled indyref carrot in front of the gullible on the eve of the SNP's pseudo-conference.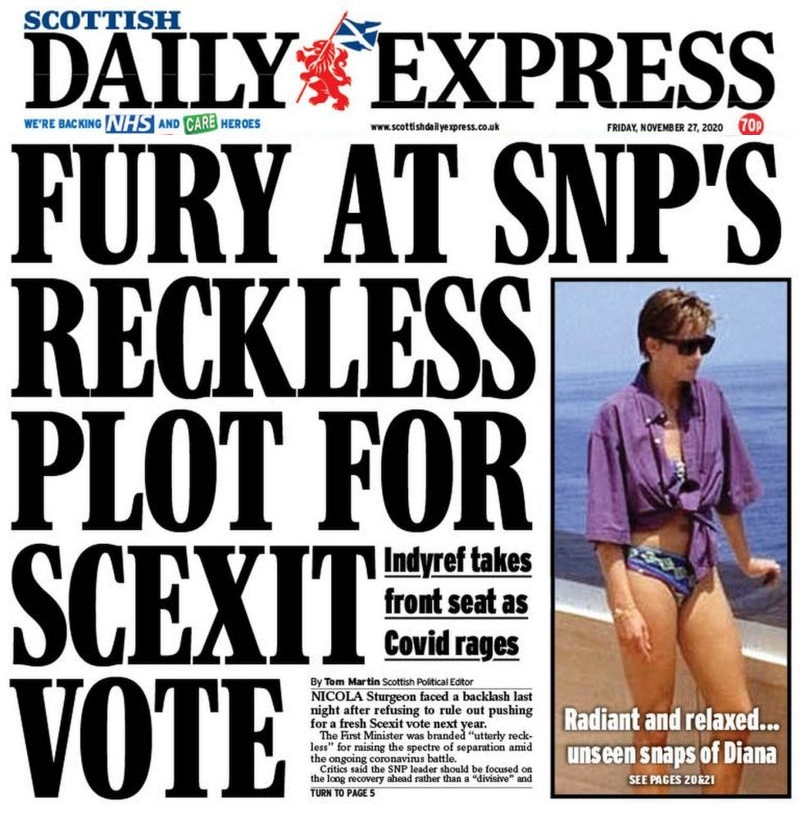 Goodness knows how many amphetamine injections and jolts of electricity it took for the Express to work itself into such a froth over what was in reality the most anodyne and weasel-worded "commitment" to a second referendum yet, based on a couple of TV interviews in which Sturgeon said she "hoped" it "could" happen by mid-2023, while refusing to detail anything she'd do to actually make it happen.
(The distinctly sub-whelming nature of such unusually lukewarm, undercooked activist-fodder may be because with nobody present at this weekend's conference in person, there's less need to whip up the crowd in preparation for a nice long standing ovation.)
The Telegraph had by far the most interesting of the day's front pages, which not only revealed what seems to be a real possibility of the Deputy First Minister being given his jotters by Parliament over the government's ongoing and increasingly desperate obstruction of the slowly-tightening Salmond inquiry, but also used a rather cheeky pic (actually from last year) to illustrate a story about the Scottish Government's ridiculous new "You can have a Christmas party but don't" policy, featuring what the Scottish Sun's Chris Musson archly described on Twitter as "the ghost of Christmas past".
(There was a very telling piece in The Scotsman in which the First Minister admitted that the idiotic stance was to avoid her getting any bad publicity.)
So that's the news. See you later on, folks.