The Scotland Office has today released yet another taxpayer-funded (though we're not allowed to know how much) document about how rubbish and useless Scotland is. Issued in the name of Alistair Carmichael, it reheats and repeats all the same lines from the previous papers, but this time dumbed down a bit for thickos.
You'd think that having been churning out the same thing for two years, the UK government would have at least managed to get its story straight by now.
Here's page 10:
Right. Crystal clear. No UK, no pound. Simple as that.
And here's page 11: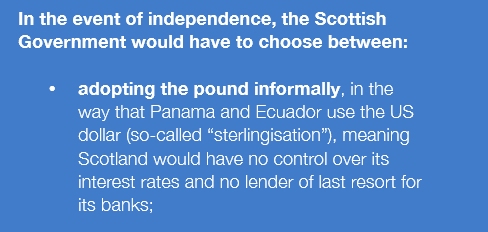 Oh. Actually we COULD have the pound after all. It's just that we'd have no control over interest rates, exactly like we have no control over them now.
We haven't got to page 12 yet. We'll let you know if things change again.