Alert readers will have noticed that we've been studying the UK government's latest independence paper today. The 24-page booklet comes with a foreword from the Secretary of State for Portsmouth promising that it contains "the positive case for Scotland remaining in the United Kingdom", so we thought it'd be fun to share some of our favourite snippets of positivity.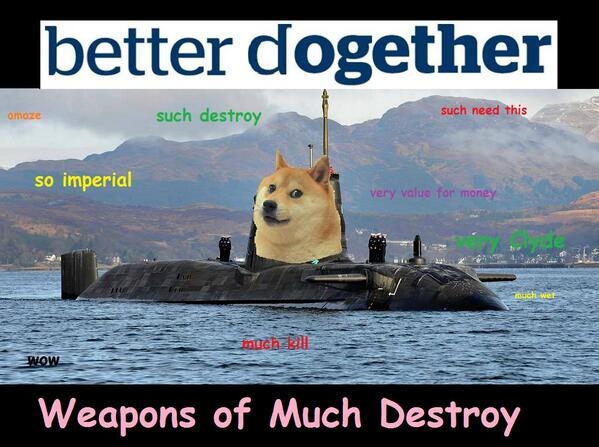 We could do with some cheering up.
"An independent Scotland would need to apply to all international organisations it wished to join and establish its own domestic institutions. There are more than 200 UK public bodies that currently perform functions in Scotland – the government of an independent Scotland would need to decide how many of these would need to be replicated. Creating and running these institutions would have to be funded by Scottish taxpayers."
There'll be paperwork! And things will cost money! Yay!
"The UK Government spent £45 billion recapitalising the Royal Bank of Scotland (RBS) in 2008, and the bank also received £275 billion of state guarantees and loans. In total this support would have been twice the size of the whole Scottish economy in that year, including North Sea oil."
We'd be too wee and too poor! Woo!
"All three major UK political parties have ruled out a currency union because it would not be in the interests of the continuing UK or an independent Scotland. For an independent Scotland, a currency union would make it more difficult to adjust to economic challenges, as we have seen for European countries in the euro currency union."
It'll be hard! Who doesn't enjoy hard work?
"The UK's large domestic market, with one currency and one set of rules, allows businesses to trade freely across the whole of the UK benefiting businesses, workers and consumers. In 2011, Scotland sold goods and services to the other parts of the UK worth over £45.5 billion. This is double the amount we export to the rest of the world and four times as much as to the rest of the European Union combined.

This trade is supported by a common business framework that is the basis for every stage of a business from hiring employees, to borrowing money, to getting goods to market either online or on the high street.

Regardless of the choice of currency, independence would put an end to all of this.

It would mean businesses that work across the UK having to deal with two sets of rules and regulations and two tax systems, all of which would increase costs and create uncertainty, making it harder to do business across the whole UK."
An end to everything we know! Uncertainty! Risks! But, um, positively.
"The UK Government's analysis puts the potential cost per household in Scotland every year of putting a border between Scotland and the wider UK economy, and establishing different regulatory and other systems, at £2000."
POSITIVITY FACTOR DANGEROUSLY HIGH. RISK OF POSITIVITY OVERLOAD.
"An independent Scotland would have a banking sector more than 12 times the size of its economy – far more than Ireland, Iceland and Cyprus when they got in to difficulties."
Bigger is better and therefore more positive, right?
"An independent Scotland would have to set up its own legal and regulatory framework for financial services, and its own tax system. This would mean that firms selling pensions, insurance and mortgages in an independent Scotland and in the continuing UK would face extra costs from operating in both markets – costs which could ultimately be borne by individuals (either as tax payers or customers)."
Our face is starting to hurt from all the smiling.
"There are also a number of UK-wide consumer protection and advice bodies – like the Financial Conduct Authority, the Financial Ombudsman Service and the Money Advice Service – which it would be costly to duplicate in an independent Scotland. The financial services industry estimates this would cost millions of pounds."
We might need to take a Valium in a minute just to damp down the euphoria.
"The UK also has well-funded arrangements which protect deposits in UK banks up to £85,000 if banks get into difficulties. If Scotland became independent, Scottish banks and their customers would no longer be covered by this protection.

An independent Scotland would have to establish its own deposit guarantee scheme under EU law. If one of the two large banks in Scotland were to fail, the costs for compensating depositors would fall almost entirely on the one remaining bank. If the scheme failed, an independent Scottish government could be required to step in. "
Especially if there was also a METEOR STRIKE! or attack by SPACE MONSTERS! at the same time. Which would be super-exciting, and therefore positive!
"Instead of risking these extra costs, firms could decide to focus on only one market. Companies like RBS and Bank of Scotland have spoken of the risks of higher costs in the event of Scottish independence. Others like Standard Life and Alliance Trust are considering how they might relocate parts of their business to England if there were to be a vote in favour of independence."
Think of all the office space that would become available!
"Independence could lead to reduced choice and higher costs for financial products for people in Scotland, including for mortgages, insurance and pensions. On the basis of independent analysis, the UK Government has estimated that an average annual mortgage payment in Scotland could increase by £1,700."
An end to the runaway housing bubble! Positive news!
"The institutions we share as part of the UK are deeply embedded into our daily lives. For instance, the National Lottery is played by millions of people across the UK, and the money it raises supports sport and culture across the whole of the UK, with over 50,000 individual good causes in Scotland receiving funding worth £2.5 billion in total since 1994. A new Scottish state would have no automatic right to continue being part of the UK National Lottery."
We assume that's positive because the lottery is a tax on poverty.
"The BBC is one of the greatest of our shared institutions. It is admired across the globe and informs, educates and entertains millions of viewers and listeners at home. In the event of independence, public service broadcasters – including the BBC – would serve the public in the continuing UK.

As a new separate state, an independent Scotland would not automatically be entitled to a share of the BBC. "
Possible unintentional irony, there.
"And, as part of the UK, we pool our resources to make a real difference with international aid, as the second largest aid donor in the world and as the first country in the G7 to hit the 0.7% GNI (Gross National Income) commitment.

In the event of independence, an independent Scottish Government would need to apply to join international organisations, including the EU, which would need the agreement of all 28 member states. The Scottish Government's expectations for the terms and timetable of EU membership are unprecedented, which is why the President of the EU Commission, the Prime Minister of Spain and others have raised concerns.

Instead of gaining from the UK's EU budget rebate, an independent Scotland would actually have to pay towards the rebate of the continuing UK."
So we'd still get to send aid to the rest of the UK? Well, that's nice.
"In the event of independence, the current boundary between Scotland and the continuing UK would become an international border between separate states.

Both a separate Scottish state and the continuing UK would have to make decisions about how to manage the flow of people and goods across that border. It is likely that over time, differences in tax and regulatory regimes would develop as the two different governments pursued different policies to suit their own circumstances. These differences could be exploited by criminals through smuggling."
Everyone loves a glamorous, sexy smuggler! It's like living in a Famous Five book!
So, in summary: there'll be loads of forms to fill in, everything will cost a fortune, we'll go bust if the banks collapse, our mortgages will go through the roof, there'll be no telly, no lottery and no jobs, we'll be awash in crime, we'll have to bail out the UK even though we'll have no money, and all our businesses will be bankrupted or leave.
We don't know about you, readers, but that's about as much positivity as we can take before lunchtime. We're off to do a little happy dance.