There's a story in the Herald this morning that wouldn't normally come within this site's remit, dealing as it does with a specific aspect of Scottish Government policy unaffected by independence. It reports a Celtic fan acquitted under the Offensive Behaviour (Football) Act after admitting singing a pro-IRA song at a game between the Parkhead club and Inverness Caledonian Thistle.
For reasons we must confess ourselves puzzled by, a great swathe of the Scottish commentariat, on all sides of the constitutional debate, has set itself against the OB(F)A, apparently in the belief that existing laws had done such a good job of eliminating Scotland's sectarian problem over the last 100 years that there was no need for additional action.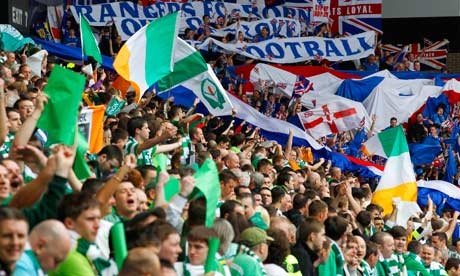 We expect this case will be used as further ammunition for their criticisms of it. But there's a crucially important line buried three-quarters of the way down the piece.
"Mr Graham, said to have never been in trouble with police before, told the court he had been to more than 300 Celtic matches and regularly sang the song.

After the case he said: "I'm relieved. The last 10 months have been terrible and I'm glad it's all over." But he added: "I will never sing the song again.""
(Our emphasis, of course.)
That's a win, is it not?
The Offensive Behaviour (Football) Act will not, and cannot, ever defeat sectarianism directly. If hundreds of fans all sing an offensive song, they obviously can't all be arrested and prosecuted – there aren't enough police present at games and the legal system simply doesn't have the resources. But that doesn't mean it's useless.
Mr Graham's experience is an important step in the "de-normalisation" of sectarianism. It's an approach that's paid dividends with other aspects of anti-social behaviour, most notably smoking. As such it is, in the wider analysis, almost completely unimportant that he was eventually cleared.
If convicted he'd have suffered a small fine, payable at a few pounds a week, which in itself would have served as no deterrent. But being dragged through the courts for months with the mere threat of a criminal conviction has, it seems, brought home to him that his actions are no longer considered acceptable in a civilised society.
Or at the very least, has taught him that singing songs praising the suicide of murderers at Scottish football matches – in pursuit of an agenda related to the internal politics of another country which was rendered obsolete before Mr Graham was even born – is more trouble than it's worth, which in practice has the same effect.
Every time one young man is dissuaded from singing sectarian songs by stories like that of Calum Graham – either because he realises his actions are ugly, brutish and retarded, or simply because he doesn't want to risk the possible consequences – the voice of bigotry literally gets quieter, and volume is its lifeblood.
This site hopes the Scottish Government stays strong in the face of sustained criticism of the Act, both by those whose motives are clear and those whose are more opaque. Even if there's never a single successful conviction under the OB(F)A, it can still make a huge contribution to achieving the goal for which it was designed.
It's a relatively heavy-handed application of the nudge theory, to be sure. But decades of ingrained, corrosive hatred in Scottish society won't be shifted without a more full-bodied shove.
As a tackle, it's crude and decidedly late. We gave the alternative approach – tutting piously and shaking our heads – at least a hundred years, despite its manifest failure. But while nobody ever cheers and applauds their team's centre-half for hauling down an opposing striker 40 yards from goal when he's about to break through the last line of defence, wise commentators will note that "it was a good foul to give away", considering the inevitable yellow card a good trade for a near-certain goal.
Sometimes it's wise to step back and look at the bigger picture, to candidly appraise the flawed action that's ultimately in the team's best interests. And that's a lesson which has resonance far beyond the world of football.