It's an almost impossible task to identify the most despicable sewer-dredging piece of "journalism" that the Scottish press has spewed out in the past 10 days or so of demented obsession with as-yet-unsubstantiated allegations by two unnamed women against Alex Salmond, but today's Sunday Mail must be a strong contender.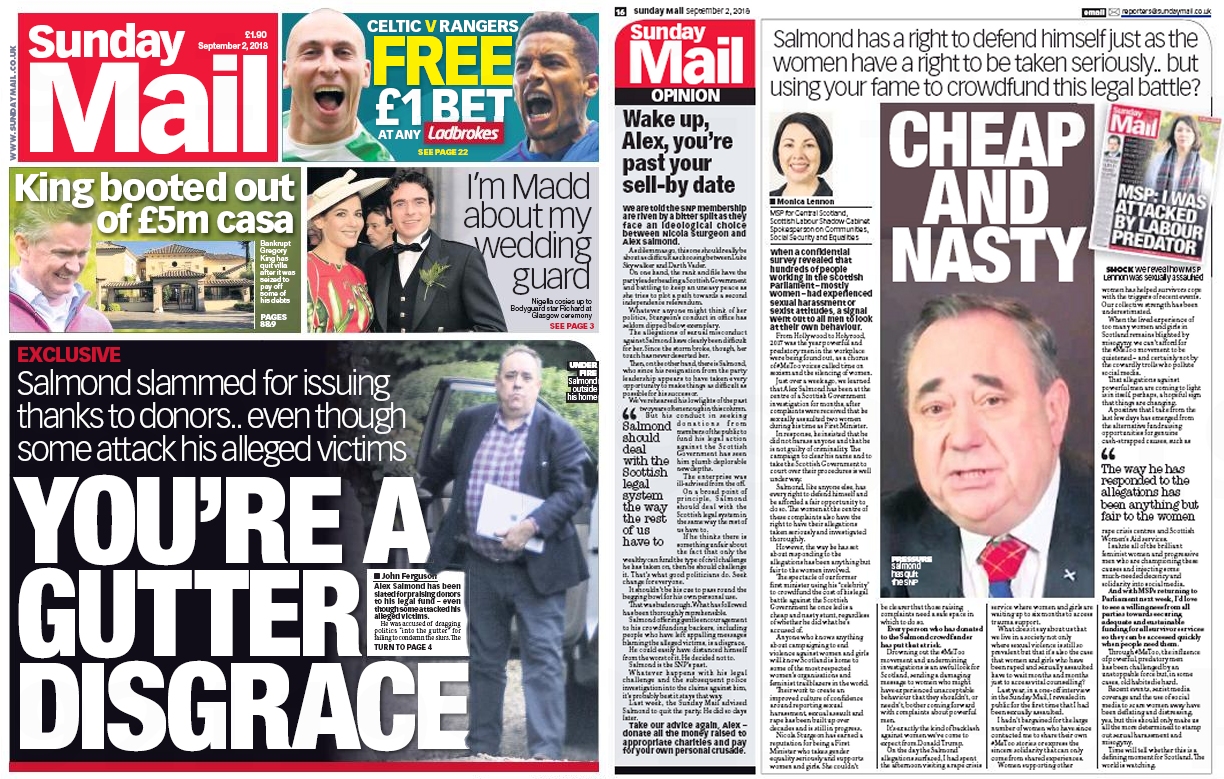 The paper runs a four-page orgy of hypocritical moralistic shrieking based on Salmond's outrageous and unacceptable behaviour in, um, thanking the people who donated to his crowdfunder to challenge the process by which the story was improperly leaked to the media. The monster.
And if you think that's a ludicrously thin basis on which to create a front-page splash and three pages of screaming drivel inside, wait until you actually see some of it.
The main thrust of the lead story is that Salmond apparently hasn't carefully scrutinised every single one of the 2,378 comments (at the time of writing) posted on the fundraiser page, some of which are mildly disobliging about the anonymous accusers.
(The worst example the Mail can actually scrape up is "Kick their lying butts, Alex", which the paper comically describes as "violent".)
Therefore, his thanking of donors is bizarrely interpreted as an endorsement of every single individual comment and duly "slammed" as a crime against humanity by obscure Labour list MSP Rhoda Grant, as if anyone in human history had ever cared what Rhoda Grant thought about anything when she wasn't fully occupied hiring Christian fundamentalists who think homosexuality is a disease.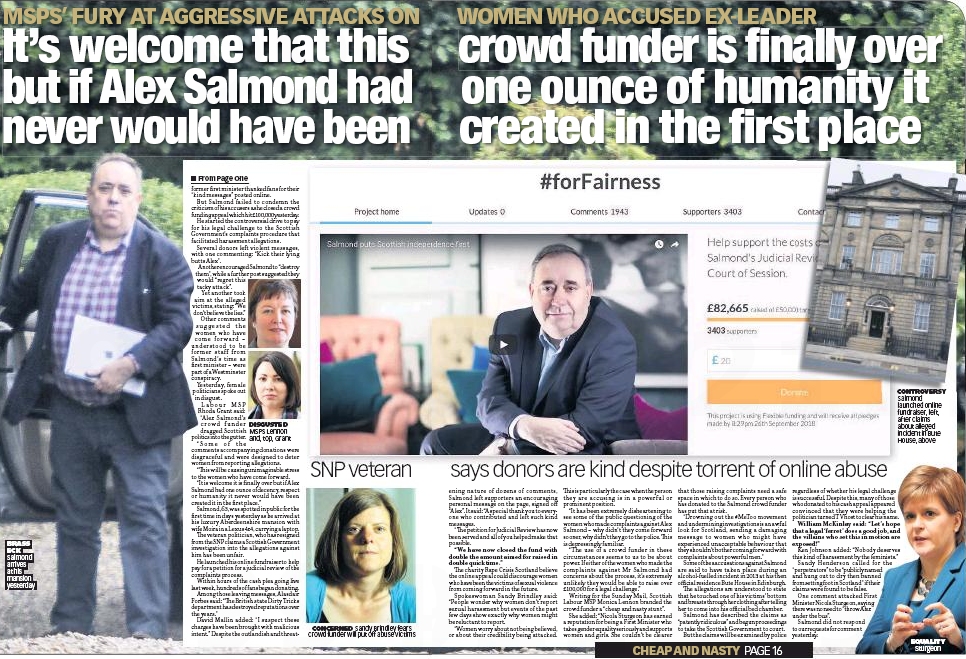 But from that low starting point, the Mail somehow manages to sink further.
Next up is Monica Lennon, another Labour list MSP, who rages furiously at Salmond for crowdfunding the challenge on the grounds that somehow it will dissuade women who've been attacked from coming forward.
"Nicola Sturgeon has earned a reputation for being a First Minister who takes gender equality seriously and supports women and girls. She couldn't be clearer that those raising complaints need a safe space in which to do so. Every person who has donated to the Salmond crowdfunder has put that at risk."
Quite how this ludicrous conclusion is reached isn't explained by Lennon. The judicial review has nothing whatsoever to do with the allegations themselves. Whether Salmond wins or loses will have absolutely no impact on whether the allegations result in a prosecution, or what the outcome of that prosecution would be.
The review, in short, simply cannot POSSIBLY have any result that will reduce the ability of women to raise complaints.
The absurd excuse for this patently mad suggestion is that Salmond crowdfunding is a demonstration of his "power" that will frighten the complainers away, even though the money won't be deployed against them in any way. (The opposing party in the review is the civil service/Scottish Government, not the two alleged victims.)
Even more weirdly, it's simultaneously being insisted that Salmond is so rich he should be paying the costs of the review himself – something which if true would surely be a demonstration that he was MORE powerful, not less, and therefore even MORE evil. He's damned if he does and damned if he doesn't. It seems the only acceptable way for him to defend himself is to not defend himself at all.
But Lennon's position is more cynical even than that. She herself claims to have been the victim of sexual assaults from a senior Labour colleague in 2013 – around the same time as Salmond's alleged misdeeds – but still refuses to identify the alleged perpetrator, leaving them at large to present a threat to other women.
Lennon says she didn't pursue a complaint because "she felt she would not be believed", which seems to obviously be a much more damaging and offputting message to send to victims than people choosing to donate money to Alex Salmond for something else entirely.
After all, if even a relatively powerful figure like an MSP with a considerable public platform and a supportive media isn't prepared to take that risk, then it wouldn't be unreasonable for ordinary women to assume they had even less chance of success.
Which makes these lines all the worse:
"Drowning out the #MeToo movement and undermining investigations is an awful look for Scotland, sending a damaging message to women who might have experienced unacceptable behaviour that they shouldn't, or needn't, bother coming forward with complaints about powerful men."
There isn't a single word of that sentence that isn't nonsense. How can Salmond raising money for a judicial review into a legal process "drown out the #MeToo movement"? Only the media can do that, by focusing endlessly on the crowdfunder instead of anything else.
How on Earth can the way he funds his defence "undermine investigations"? Will the police go "Oh, Salmond's paid for a judicial review thanks to public donations, so there's no point in us even looking at the evidence"? Of course they won't. The two things are completely mechanically unconnected.
Why would any of it send a message to women that they shouldn't come forward? Only Lennon has said anything like that, by not pressing her own case because she thought it wouldn't be believed. Yet nobody had taken out a crowdfunder over it. She's simply told women that it's not worth bothering whether that happens or not.
Remarkably, though, the Sunday Mail has even less grasp of basic logic (or how crowdfunders work) than Lennon does. An atrocious editorial leader alongside Lennon's column cranks the stupidity up to 11.
"[Salmond's] conduct in seeking donations from members of the public to fund his legal action against the Scottish Government has seen him plumb deplorable new depths.
On a broad point of principle, Salmond should deal with the Scottish legal system in the same way the rest of us have to.

If he thinks there is something unfair about the fact that only the wealthy can fund the type of civil challenge he has taken on, then he should challenge it. That's what good politicians do. Seek change for everyone.

It shouldn't be his cue to pass round the begging bowl for his own personal use."
Firstly, of course, a minor point which appears to have escaped the ostensible newspaper is that Alex Salmond ISN'T actually a politician. He isn't an MP or an MSP and he holds no office in the SNP. He's a TV presenter. He has absolutely no power whatsoever to effect political change any more.
But the notion that crowdfunding is somehow only available to the rich might be the most obviously cretinous idiocy yet aired in this entire situation. The entire POINT of crowdfunding is that anyone can do it, regardless of wealth or fame, and by doing so gain access to justice that would otherwise have been out of their reach.
The Orkney Four were neither wealthy nor famous nor powerful when they raised over £200,000 to tackle Alistair Carmichael in court. Catalan minister Clara Ponsati had never been heard of in Scotland when the Spanish government tried to persecute her and ordinary citizens again raised over £200,000 for her defence.
Salmond quite plainly HAS "dealt with the Scottish legal system in the same way the rest of us have to", because the rest of us are just as able to launch a crowdfunder (and for anything, not just court costs) as he is.
Indeed, this site did exactly that to help with our legal costs for a defamation case against Kezia Dugdale when she made outrageous false allegations in… the Sunday Mail's own weekday sister paper, the Daily Record.
And the big juicy cherry on the massive irony cake is that Kezia Dugdale's costs in defending that case are being paid by someone else.
NOT by an open public crowdfunder, where thousands of ordinary people kick in a modest few quid of their own free will, not even out of the money she grabbed by leveraging her modest fame and power to abandon her constituents and go on a celebrity TV show, but by a shady backer who hasn't been officially identified, isn't answerable to anyone, and isn't available to ordinary members of the public.
That same Kezia Dugdale, alert readers will recall, is also protecting a number of alleged sex pests in Scottish politics by refusing to identify them despite claiming to know about their history of sexual assaults on women. She, like Lennon, is doing far more to convince women that there's no point in reporting sexual harassment than Alex Salmond could ever dream of.
The levels of hypocrisy in the Mail's coverage in particular are almost off the scale, but Scottish Labour (whose track record of pursuing its own harassers is dismal beyond belief) give the paper a real run for its money. We wish there was any reason to believe anything was going to improve, in any sense at all.