When we first saw this video on Twitter through bleary half-asleep eyes this morning, we thought it was a well-done satire. But no. He actually put it out himself.
There can surely in history have never been anything that demeaned both the office of President and the USA as a nation more than the image halfway through that video of him prancing around in front of Air Force One.
Today America decides its future. And dear lord, what a choice it has.
Joe Biden (77) is a weak, senile, historically homophobic idiot. He's totally in thrall to the transactivist agenda, and has said that if elected he'll pass an "equality" act within his first 100 days that will essentially end all women's rights as a sex class as well as demolishing the freedom-of-belief protections that have been in the US Constitution since it was written, along with the entire concept of empirical science.
(It's almost his only concrete policy.)
But the only alternative available is Donald Trump (74), whose presidency has been simply a different form of reality denial. Trump is a borderline actual fascist who has openly encouraged violent racist militia while trampling over just about everything else in the Constitution. The most positive thing we can think of to say about him is that to a great many people's considerable surprise, his first four years as the chief resident of the White House didn't actually result in a nuclear war.
Imagine, then, the dilemma of a sane woman living in the US today and being asked to vote for one of those two options.
Last December I couldn't bring myself to vote for either of the only two candidates who could win in Bath, because one of them was a brainless militant transactivist and the other was a Tory. The only thing my conscience would let me do was this: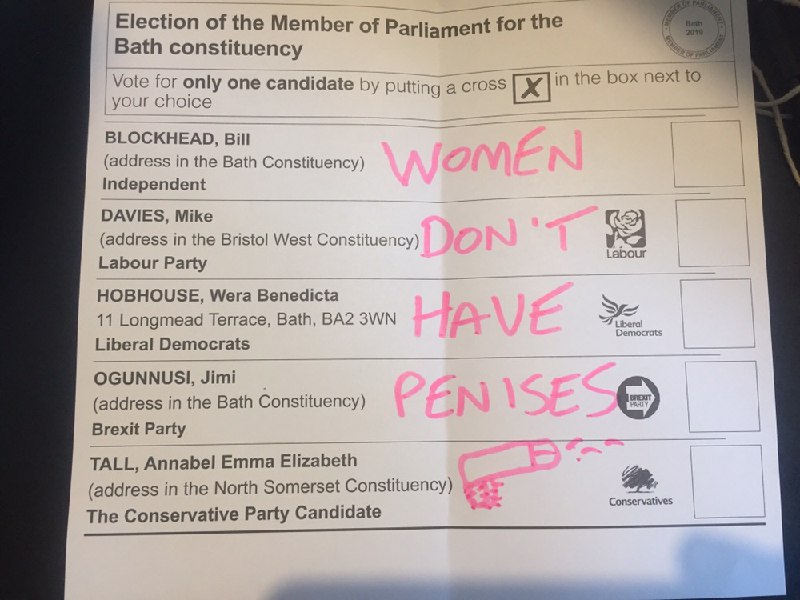 If a significant proportion of left-leaning women in America can't, when push comes to shove, bring themselves to go out and vote away all their rights today – and voting has been made so absurdly hard that there's actually a noticeable barrier to doing so – then the opinion polls will be confounded just like in 2016 and Trump will win again.
(Or the result will be sufficiently close that Trump might do God knows what rather than concede defeat. Parts of the nation are already convulsed in violent turmoil in the wake of the murder of George Floyd, it really isn't that big a leap to imagine a full-blown civil war, especially if encouraged and inflamed by the President.)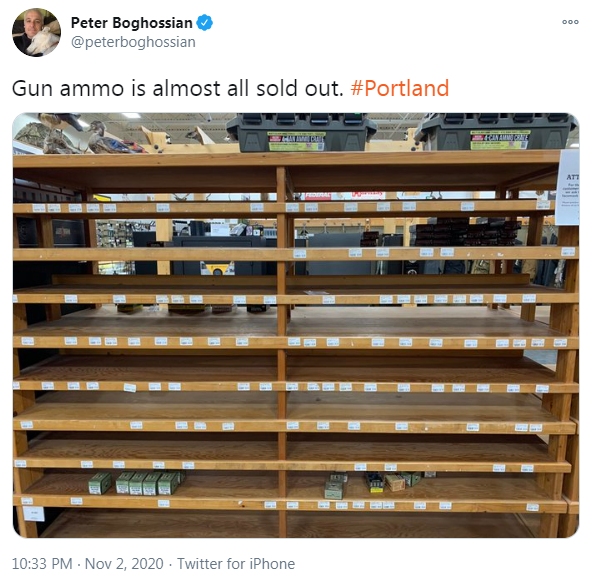 We know that that sort of thing can happen. In 2017 almost a third of the SNP's voters, unimpressed with the party's manifesto, simply didn't bother to turn out – its vote share dropped from 50% to 37% and the party shed 40% of its MPs.
(And nobody saw it coming. As little as a week before the election the SNP had been polling at 43%. Just seven weeks before the vote it was on 47%.)
Last year, when faced with the choice between a Tory government of demonstrable and spectacular incompetence, obviously hell-bent on a disastrous no-deal Brexit, and a useless Labour party being torn asunder on multiple fronts by idiotic, self-indulgent, factional identity politics, UK voters gave Boris Johnson a hefty five-year majority.
And it's important to note that the Tory vote had barely moved – 13.97m compared to 13.63m at the previous election – but Labour shed more than two and a half million votes and collapsed from a wafer-thin two-point hung-parliament deficit in 2017 to one of the worst results in its history, winning seven fewer seats than in its historic 1979 defeat to Margaret Thatcher.
This site cannot urge American women to "wheesht for Biden" and vote to sacrifice themselves by undoing centuries of progress in the name of stopping Trump for the good of everyone else. It's not our rights that are on the line.
To be honest, we're not even sure that a Biden win would be better for the world as a whole – while what Trump has done has been uniformly awful, it's at least been mainly domestic and had little measurable impact on the world beyond US borders.
Trump, almost uniquely, hasn't gone to war with anyone the US wasn't already at war with, while Barack Obama failed to close Guantanamo in eight years and sent drones to bomb most of the Middle East. "Liberals" like Bill Clinton and Tony Blair have been the main drivers of war in the past generation. And most of Trump's damage is also undoable by a future President. The harm that Biden would do would – because of the nature of democratic politics and the media – be less reversible.
So we don't envy our cousins across the water their situation. They're literally being asked to pick one of two evils – the destruction of women's rights and material reality versus the destruction of decency and sanity, embodied in two old rich mad white men. Trump is the more obviously personally despicable, but the only rational response to either of them winning today is horror.
And while Wings rarely comments on politics beyond the shores of the UK, it doesn't take a genius to see the parallels coming our way all too soon.