As readers may have noticed, it's been an extremely slow news week this week. The papers, having strung out the Michelle Thomson "crisis" beyond all endurance, have been reduced (in the case of today's Daily Mail) to printing shock-horror pictures of her still sitting beside SNP MPs in the Commons, so little else is there to report.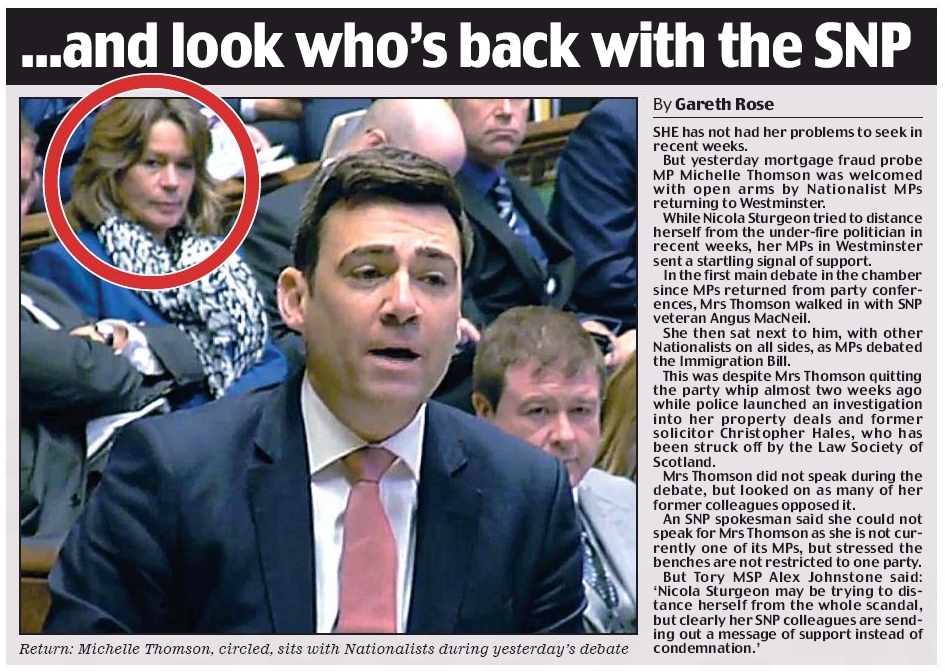 (As far as we're aware the Commons doesn't have an official naughty step, so even if Thomson HAD been found guilty of doing anything wrong she'd have had to sit on the opposition benches just the same.)
But it seems the dastardly Nats have been getting up to something even worse than associating with a (currently) former colleague.
The Scotsman and Daily Record both have "SNP ACCUSED" stories on the same subject in today's editions. And readers might think that's nothing out of the ordinary, until they get to the small print.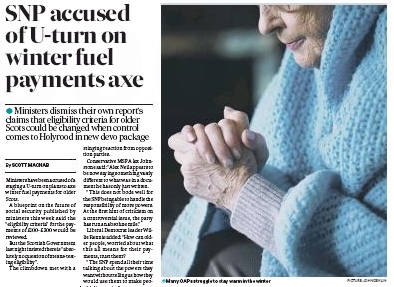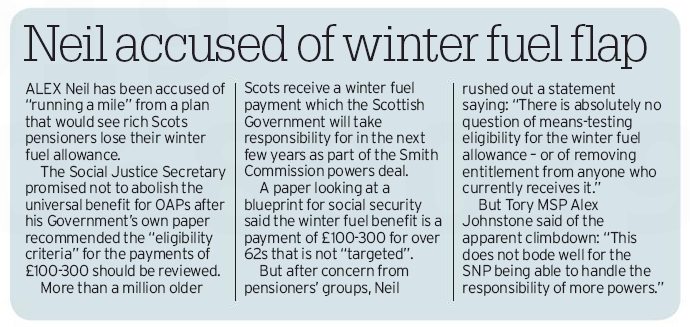 Yes, the latest scandal is that the Nats AREN'T going to introduce means-testing of the OAP winter fuel allowance, predictably enraging omnipresent Tory spokesclown Alex Johnstone, who can always be relied on to express fury at anyone receiving state benefits for any reason.
Impartial observers may feel that there are more logical and obvious headlines for such a story. Means-testing is widely regarded as an undesirable course of action for benefits, because the bureaucracy tends to cost as much as it saves and also reduces take-up of the benefit among people who are entitled to it, whether through stigma, ignorance or fear of red tape.
Something like "NO MEANS-TESTING FOR OAP FUEL BENEFIT" would be a simple, informative and politically-neutral take on the decision. But it appears that Scotland's press is incapable of writing any headline without feeding it through an "SNP ACCUSED" template first.
(Unless, of course, it can be fitted into the "BLOW FOR STURGEON" category.)
The stories above are pretty small beer in terms of some of the stuff we expose on this site. But they're still an enlightening glimpse into the mindset of the Scottish media. And like we say, it's a slow news week.