After we highlighted the ridiculous inconsistencies in press reports last week regarding Edinburgh MP Michelle Thomson's business dealings with a couple in Cumbernauld, we've been in a lengthy dialogue with Sunday Mail editor Jim Wilson over the plainly utterly wrong claim in the latter paper that:
"Wright, 61, and husband Douglas sold their flat to Thomson and business partner Frank Gilbride for £21,000 because they wanted to sell quickly."
After we provided the Mail with documentary evidence of the sale price, we naively expected a tiny mealy-mouthed correction buried in a corner of this week's edition. But what we got was something very substantially worse even than that.
The "clarifications & corrections" column on page 2 contained nothing other than a correction to the score of a Hearts vs Partick Thistle football match in 1958. We thought the issue of the Wrights' house price was just going to be totally whitewashed, but then we got to page 4, which contains a full-page hatchet job on the Law Society – naturally illustrated with a picture of Michelle Thomson, who isn't a member of it.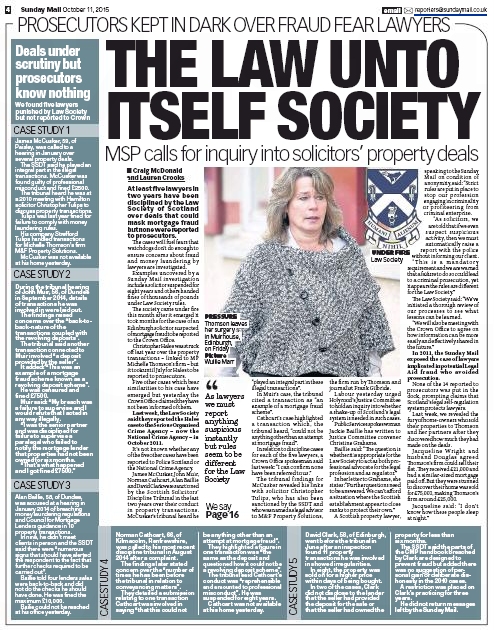 And if you read right to the end of the article and pay attention very closely indeed, there's something of note in the last two paragraphs.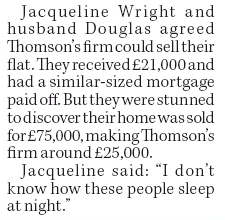 Did you spot it? In four sentences phrased as another bitter attack on Thomson, the Mail quietly and sneakily sort-of corrects its lie of seven days earlier:
"Jacqueline Wright and husband Douglas agreed Thomson's firm could sell their flat. They received £21,000 and had a similar-sized mortgage paid off."
Let's look at that first paragraph again. If Thomson's firm made "around £25,000" on a £75,000 sale, that'd mean they gave the Wrights something close to £50,000 – as far as we'd previously established from other evidence the precise sum was £51,000.
So if the deal was £21,000 plus the paying-off of a mortgage, then the mortgage must therefore have been £30,000.
So firstly, the Mail is calling £30,000 a "similar-sized" sum to £21,000 – which is a bit of a stretch, as it's actually around 43% bigger. If someone owed the Mail £30,000 and only paid them £21,000 we doubt they'd say "Oh, what the heck, that's similar".
Secondly, in an incredibly roundabout and opaque way, tucked in at the tail end of an article about something else, the paper is admitting that the sale price from the Wrights to Thomson was £51,000 rather than the £21,000 it told us last week – almost two and a half times as much – without at any point acknowledging that the original figure was a serious falsehood.
If you sell your car to someone for £10,000 and use £9,000 of the money to pay off a bank loan, leaving you with a thousand quid, the sale price is still £10,000. It's not £1,000. Yet that's the absurd deception the Mail is trying to pull off over the sale of the Wrights' house.
The fact is that the couple made a handsome profit of £30,000 on it in four years, but are now belatedly griping that it wasn't enough. Given the "social justice" angle the press and political opponents are trying to put on the story, that may seem to readers like a pretty rapacious attitude – particularly as the Wrights' profit came off the back of a taxpayer subsidy of their original purchase of the house for just £21,000.
We suppose we should be grateful that the Sunday Mail has at least kind of told the truth now, albeit in the most dishonest, misleading and grudging manner imaginable, and that last week's article has now been amended with the new weasel wording. (We'd make a complaint to IPSO, but we've filed three before and every one of them has vanished into the ether without a trace, so it hardly seems worth the bother.)
The best we can do is make sure that we, at least, print it nice and big.
.
[EDIT 13 October: ironically, we made an error ourselves in this piece. Jim Wilson is the Sunday Mail's actual editor, not its "complaints editor" as we originally stated. We have of course corrected the first paragraph of the article accordingly.]