With apologies to Jason Donovan, we felt we should probably have a look at the latest election leaflet Scottish Labour are putting through people's doors.
We wouldn't want voters to have too many broken hearts.
Let's break that down, shall we?
——————————————————————————————————–
Misleading. The NHS is devolved to the Scottish Government, which makes all the decisions about who it employs. You CANNOT get 1000 more nurses for Scotland by voting Labour in this election.
That's illiterate – if prices can move, in any direction, they're not "frozen" – but also pretty meaningless, because energy prices are falling right now, and the chances of them being above the current level by the end of the "freeze" period are pretty slim.
The plan is also illogical. If prices can be reduced voluntarily but not increased, then companies will choose to avoid passing on any saving in costs for fear that they won't be able to increase the price again if costs go up, actually making energy MORE expensive than it should be.
If you FORCE them to cut when costs fall but then don't let them increase again when costs go up, they might go bust. And if you let them both reduce AND increase bills dependent on the wholesale price, then in what sense have you "frozen" anything? It's a total mess.
Woolly drivel. What is a "job-creating power"? What are actually being referenced here are some feeble partial powers around workfare, not actual jobs that get people into real employment.
A whole extra fortnight off work for new dads. Big whoop.
Unbelievably dishonest. No mention of the fact that the £8 figure won't be reached for half a decade, and will in fact be lucky to just barely keep pace with inflation, making it no increase at all in real terms and therefore no more "fair" than the current one.
And what does "And a Living Wage" mean? Who for? How much? And if the Minimum Wage scheduled for 2020 is "fair pay", why isn't it enough to live on?
A barefaced lie. Six months of  minimum-wage forced labour for 25 hours a week isn't a "job", it's workfare with a new name. The minimum wage for young people is £2.73 to £5.13 an hour, and £68.75 a week (or even £128.25) isn't a working wage.
Empty vague waffle. Every government always promises to tackle tax avoidance and close loopholes. It never actually happens, partly because they massively understaff HMRC's pursuance department and partly because they're hand-in-glove with the huge accountancy firms who shape the new policies and then promptly tell their clients what the new loopholes are.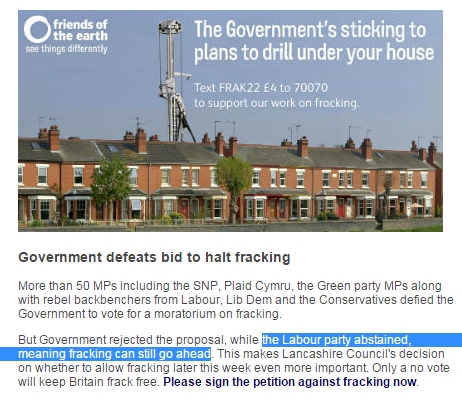 Talking about "the SNP's housing shortfall" takes quite some nerve, considering that Labour infamously built just SIX new council houses during its last term of power in Scotland, a number the SNP has increased exponentially in government. It's highly disingenuous too, since – like the hiring of nurses – housebuilding is devolved to the Scottish Government and nothing anyone can do at this election will cause more homes to be built in Scotland.
But we also can't actually find any details of this pledge anywhere. The last time Labour spoke about building 100,000 new houses – in the whole UK, not Scotland – was way back in 2012, when they were going to fund it using £4bn from the auction of the 4G mobile-phone spectrum. But that sale happened in 2013, and only raised £2.3bn, which has been spent by the coalition government anyway.
We've scoured the internet for anything about this supposed new promise and drawn a complete blank on any mention of it, let alone how it'd be paid for.
[EDIT 11.44am: see here]
Hollow weasel words again. What's an exploitative zero-hours contract? Who decides? When will we be told the definition of what's an "exploitative" one and what's an acceptable one? In interviews and speeches Labour politicians have a very nasty habit of saying they're just going to "end zero-hours contracts", skating over the caveats. But they're not.
In practice we can't see how any legal distinction can ever be drawn between the two. A zero-hours contract is fundamentally exploitative, even if there are some individuals whose personal circumstances it actually suits. It can never be fair in principle to have a "job" which has no entitlement to earnings whatsoever.
——————————————————————————————————–
And that's that. Ten "reasons" of which one is a triviality affecting a tiny proportion of the population and all the others are either actively dishonest, cynically misleading or so vague as to be totally meaningless.
We're not sure it's the "game-changer" Scottish Labour is counting on, frankly.