As alert readers will already know, this site's core long-term aim is to eventually render itself redundant, by showing people how to read between the lines, spot what isn't being said and understand the various tricks that newspapers use in order to get the public to believe things that aren't true without ever doing anything so crass (and more to the point, legally-actionable) as directly lying.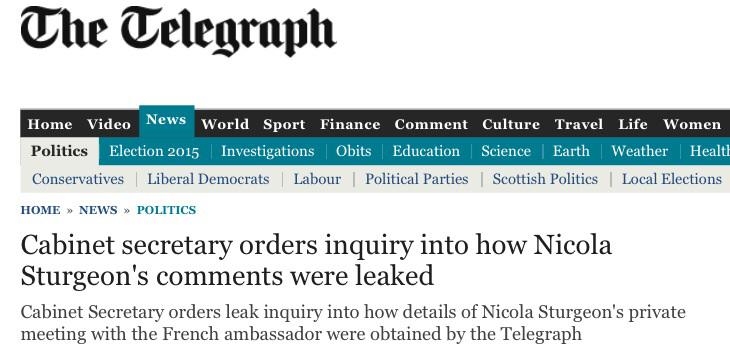 Today's papers provide an especially clear-cut example.
Pretty much everyone reports the ongoing developments in "MemoGate" (the Nicola Sturgeon leak scandal that nobody's managed to make a single hashtag stick on). And it's possible to discern, from nothing more than the headlines and straplines each one uses, which are at least attempting to provide something approximating to journalism and which are simply cheap propaganda and smear sheets.
Let's illustrate:
SCOTLAND ON SUNDAY
"Inquiry launched into leaking of memo showing Sturgeon backing Cameron"
SUNDAY MAIL
"Civil Service boss orders probe into leaked memo which claimed Nicola Sturgeon wanted to see David Cameron remain in power"
SUNDAY EXPRESS
"Inquiry launched into Nicola Sturgeon's leaked memo 'backing David Cameron'"
SCOTTISH SUNDAY EXPRESS
"Hunt for source of leaked memo claiming Nicola Sturgeon backs Tories"
SUNDAY TIMES
"Inquiry ordered into 'dirty tricks' against Sturgeon"
SUNDAY POST
"Hunt for Sturgeon 'dirty tricks' mole"
SUNDAY HERALD
"French diplomat: I told 'friend' in Scotland Office about Sturgeon meeting"
SUNDAY TELEGRAPH
"Cabinet Secretary orders inquiry into how Nicola Sturgeon's comments were leaked"
MAIL ON SUNDAY
"Cabinet Secretary orders official inquiry into how memo claiming Nicola Sturgeon wants David Cameron to stay in No.10 was leaked… as she continues to deny saying it"
Our readers are pretty bright, but for the benefit of any Scottish Labour MPs reading (and we know they are), we'll spell it out. With the facts hotly disputed, some papers report the story neutrally, as they should – "hunt for mole", "leak claims". But others, most notably the Telegraph and Scotland On Sunday, treat the alleged comments attributed to the First Minister as facts.
The Telegraph – understandably defending its own story – says unequivocally that they were "Nicola Sturgeon's comments", something everyone who was in the room when the remarks were supposedly made has absolutely categorically denied.
Scotland On Sunday, though, has no dog in the fight, yet runs a headline saying that the memo SHOWS – not claims or alleges – Sturgeon backing Cameron. Interestingly it's almost word-for-word the same as the Sunday Express', but crucially the Express puts the claim in quote marks where SoS doesn't.
And it's no slip of the tongue. The paper also carries an editorial leader emphasising its doubts about whether the First Minister, the French ambassador and the French consul-general might be lying.
"It will take many more days before the full facts of this saga are known and a judgment can be made about whether the British government memo leaked to the press this weekend was an accurate account, or an invention, or a simple misunderstanding."
Will it? What will we find out? Everyone in the room is telling exactly the same story. Nobody else was there to witness it. Unless it was being covertly recorded – which would be a whole other scandal – nobody will ever be able to prove that Nicola Sturgeon said what every witness present says she didn't.
The fact is that we already know everything we're ever going to know, except the name of the Telegraph's source. (Which we may never discover.)
The leader goes on to add:
"Yesterday Sturgeon struck an outraged tone, saying she had been fighting against the prospect of a Tory government all her adult life and would continue to do so. And yet a reasonable suspicion remains."
Does it? On what grounds? A fourth-hand claim by someone who wasn't there, from a UK government civil service that's known to be actively hostile to the SNP and the Scottish Government? (A fact already willingly revealed by Sir Nicholas MacPherson, but also amply proven by the very fact of the memo being leaked.)
It's a serious enough matter to accuse the First Minister of lying (something heavily implied by both the first six words and the last six words in the above paragraph). But there's at least a motive for Nicola Sturgeon doing so.
What absolutely nobody's been able to explain is why the French ambassador and consul-general would also do so. They have nothing to gain from supporting the Scottish Government over the UK one – the latter is plainly the more powerful.
They could have simply refused to comment, proclaiming honourable confidentiality but in reality leaving Sturgeon swinging in the wind. Yet in the strongest terms that a diplomat will ever use, they instead chose to unambiguously and repeatedly deny the claims in full public view.
Any newspaper which talks of the memo "revealing" or "showing" what Nicola Sturgeon said is purposely misleading its readers. The body text of the story will of course be full of disclaimers noting everyone's denials, but by then it's too late – we all know that it's the headline readers take in and which sets the frame for the story.
(Basically people expect a headline to be a summary of the facts below, so if the headline says it's so, they assume that that's the balanced conclusion to be drawn from the detail, no matter what that detail then says. And as the link above shows us, the chances are they won't have read the detail anyway.)
Headlines are the distilled essence of newspapers. Not a single word in them is there by accident. And they're how you tell honest journalists from liars.