Last night's edition of Scotland Tonight saw a clearly nervous, rambling and seemingly well-refreshed ex-Labour spin doctor Simon Pia called upon to defend "Better Together" chairman Alistair Darling ("as good a frontman as I can imagine to save Britain", said the Spectator's Fraser Nelson in that extraordinary accent of his) from a series of attacks by his own side over his stewardship of the No campaign.
Pia played the usual cards that Labour types do when called upon to defend a man who is now distrusted by a majority of Labour voters. Darling was "substance not style", a serious man with "cross-party appeal" (if you exclude Labour, the SNP and now seemingly a lot of Tories) who had "filleted" the White Paper (without reading it or understanding the one page he did look at) and saved the nation in 2008 "when we looked into the void".
But not everyone shares Pia's view of Darling's integrity and competence.
Labour loyalists across the UK had leapt to join Pia in defending Darling against the Tory criticisms. "Dull but reassuring", said the New Statesman's chief Labour cheerleader George Eaton. A "safe pair of hands", said Labour List, claiming the Tories were simply attempting to rubbish Darling because they were scared of having a "formidable foe" in Parliament after the referendum campaign.
They may, like us, have missed a piece in this weekend's Sunday Herald that for some reason didn't make it onto the newspaper's website and therefore escaped wider attention. (Unusually we didn't buy a copy, not being in the mood to wade through page after page of gloomy coverage of the Clutha tragedy). But the author, Ian Fraser, has now posted the full unedited version on his own blog, and we suggest Simon Pia gives it a once-over, because it makes sobering reading.
It's a long and involved story involving lots of complicated financial shenanigans, which is well worth reading the whole of if you have the time and understanding of such affairs, but we'll try to strip it down to the brass tacks.
In late November several media outlets carried disturbing stories about the Royal Bank of Scotland forcing a number of basically-healthy small and medium-sized businesses into insolvency for its own financial gain, in a scheme now being investigated by the Serious Fraud Office.
In essence, it's alleged that fundamentally-sound companies which needed some short-term help from the bank during the economic crisis were ravaged by crippling fees and charges from RBS's supposed rescue team, the Global Restructuring Group (GRG), which were designed firstly to extract cash quickly for the bank's balance sheet but ultimately to collapse the business so that its assets could be bought over cheaply by RBS subsidiary West Register.
"Businesses which that have had their accounts transferred to GRG, of which the Sunday Herald has spoken to 60, compare the experience to being mugged by a 'hit squad'. Once there, they are hit with extortionate extra fees, charges and higher interest rates on loans, none of which are conducive to recovery. 

An email leaked to the Sunday Times suggests West Register developed an 'appetite' for certain types of developments, while the May 2009 document revealed it was targeting offices, retail and industrial premises, pubs, hotels, nursing homes, car dealerships and hospitals.

There is [a] perception the bank set out to 'purposefully distress' business borrowers to put them in GRG and 'subsequently take their assets for West Register at a discounted price.'"
What none of the stories either knew or chose to mention, however, was that the heart of the plan was conceived and approved by Alistair Darling.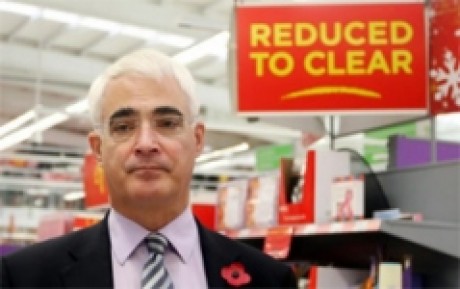 Ian Fraser's story notes:
"The scandal owes its origins to an over-riding strategy signed off by prime minister Gordon Brown and chancellor Alistair Darling in February 2009. It was approved by UK Financial Investments, a vehicle for holding the taxpayer's stakes in RBS and Lloyds. The aim was to bring about a turnaround of RBS as quickly as possible in order to 'flip' the bank back into the private sector at a profit within three to five years of the bailouts (so by 2011-13).

To achieve this, the government and UKFI ordered the bank to focus on short term maximisation of profit and shareholder value. 

And Darling is familiar with GRG. He spent two hours being briefed on GRG's activities by Derek Sach, who has run GRG since 1992, in January 2010, but is thought to have failed to asked the right questions about its modus operandi."
In short, then: Alistair Darling devised a strategy to get RBS back into the private sector as fast as possible in order to save his own political skin after he failed to foresee the economic crash. He was briefed on the underhand, immoral methods that would be used to achieve that end (or, at best, was too inept to appreciate them), and gave them his approval, leading to catastrophic and possibly criminal damage and destruction for countless small and medium-sized businesses across the UK.
Those, readers, are the "safe hands" lauded by Simon Pia and his Labour chums. That's the sort of integrity and trustworthiness you can expect from the man who tells us the Yes campaign's sums don't add up. (But who never misses a trick on his own expenses claims.) This is the man who says we're only safe in the UK.
"Comatose"? "Dreary"? If only.