It's a pretty desperate day for news in the Sunday papers. The Sunday Herald has a rather overplayed piece on the already-tepid T In The Park "scandal" for its front page, while Scotland on Sunday falls back on its standard last-resort panic move of getting Gordon Wilson – who last led the SNP more than TWENTY-FIVE YEARS AGO – to blather on about something or other.
In the Observer, Kevin McKenna (who seems to be experiencing voter's remorse over switching to the Nats in May after a lifetime backing Labour) appears to have written the exact same column as last week – a vague and woolly "SNP bad, Labour fightback starts here" spacefiller –  and the Mail On Sunday digs up the ever-reliable boss of the CBI to warn that the sky will fall in if the SNP does anything ever.
Over on the Sunday Times they're really scraping the barrel in a desperate attempt to somehow flog yet another week out of the Michelle Thomson story, prominently (and entirely gratuitously) mentioning the MP in a piece about an allegedly-dodgy house sale which she has not even the slightest sliver of any sort of connection to.
But it was something else in the same paper that caught our eye.
Rather oddly located in the Scottish News section of the paper (though it's curiously vanished from the website) is a piece entitled "Bake Off medic warns of meltdown in NHS". It quotes a blog – written more than two months ago – by former Great British Bake Off contestant James Morton, a trainee doctor, who complains strongly about the UK government's latest health reforms:
"The 7-day NHS proposals in England amount to little more than a huge pay cut for junior and trainee doctors… Cutting doctors' pay would probably drown any remaining morale. Already, so many talk about leaving for Australia or Canada, the private sector or industry, for a wage several times their own… Many will not return."
Morton notes that as he works in Scotland he'll actually be protected from the changes. But throughout the referendum campaign Scots were warned in doom-laden terms that independence would have a catastrophic effect on their healthcare, excluding them from all sorts of treatment in English NHS hospitals.
Who warned them? People like James Morton.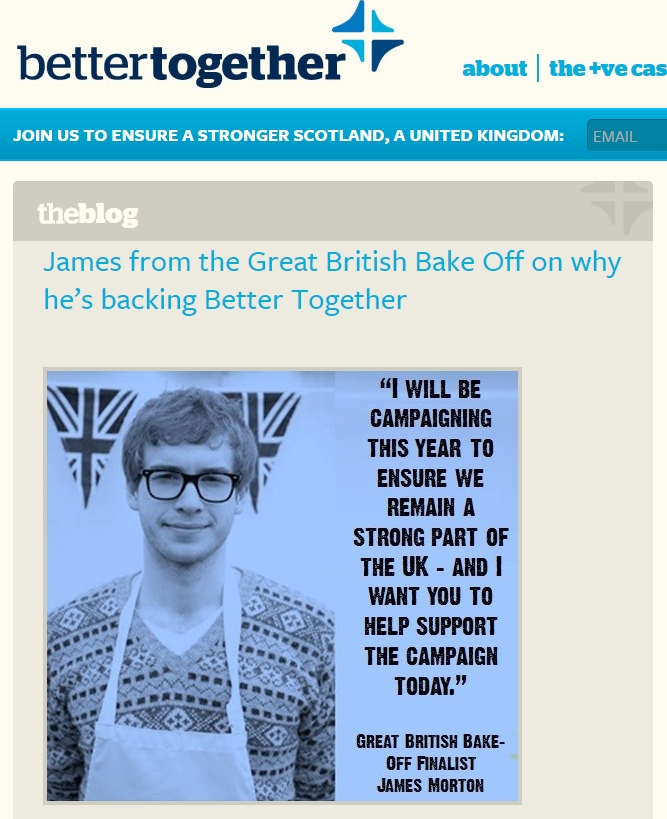 James Morton was very keen for Scots to vote No so that a Labour government could save Britain from the Tories, and that voting Yes was just too much of a risk to Scotland's "health and economic equality". There's a discernible degree of irony in the fact that only the Scottish NHS being completely independent now protects him from the terrible consequences of his choice.
We're sure if he explains it to English NHS patients wondering where all their doctors have gone they'll understand.