The strain of keeping up a three-year campaign of fearmongering and bile is starting to tell on the stout media defenders of the Union. This week the Telegraph's blustering "Scottish Editor" Alan Cochrane flopped out a particularly limp effort on the subject of the scare du jour, an independent Scotland's defence.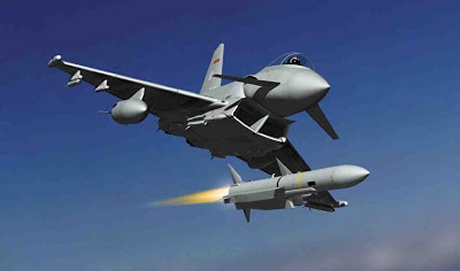 Never one to shy away from the sort of hyperbole you'd normally associate with some anonymous Twitter loony, Cochrane leapt straight in by dismissing the SNP's proposals for Scottish defence as "the most ludicrous of all" of their policies, rating them 11 out of 10 for madness. But it was his attempts to put some numerical meat on the bones of this bold assertion that showed up just how lazy the Unionist narrative of Scottish inadequacy has become.
As any halfway-respectable propaganda lie does, it started out with a tiny speck of truth. Cochrane pointed out that while defence spending in Scotland is barely over half what is attributed to Scotland in the national accounts, Scotland notionally benefits from money spent elsewhere in the UK, in so far as that the UK's armed forces protect all of the UK – ie a warship built in England still provides defence for Scotland.
While we learned earlier this year that that particular theory wouldn't necessarily hold up in practice, it's a semi-valid point in itself, except that it misses the key difference between the UK military goals and those of an independent Scotland – namely that one of them is focused not on "defence" but on aggressive force projection across the globe in the name of international status, a significantly more expensive undertaking.
But we digress. The interesting bit of Cochrane's diatribe was this passage:
"The planes and ships of the RAF and Royal Navy currently protect all of Britain, including Scotland.

To take just the aircraft, the RAF's Tornados and Typhoons are responsible for the air defence of the entire UK and as each NATO country, under the terms of membership, must be responsible for its own air defence, how would an independent country meet that obligation?

The Nats say they would be entitled to a share of Britain's defence assets. Again, assuming they're right, that might mean an independent Scotland being entitled to 10 of the UK's 100 fast jets. However, as a former senior RAF commander told the committee, proper air defences would require 30 of such warplanes – costing between £780 million and £1.7 billion."
Let's take that at face value for the sake of argument. Now, for a start Cochrane doesn't make clear whether his figures are the cost of 30 fast jets, or just the 20 extra ones we'd need to top up the 10 we'd be getting as our share of the UK air forces. According to the Mail in 2011 a Tornado costs a modest (in military terms) £9.4m, so even 30 of them wouldn't get anywhere near £780m, let alone £1.7bn.
The Typhoon, on the other hand, comes in at an eye-watering £126m a pop, according to the same paper, so we certainly wouldn't get 20 or 30 of those for a mere £1.7bn. (In fact the off-the-shelf cost of a Typhoon seems to be more in the region of £65m, with the higher figure being one including development costs.)
But the same story notes that the entire UK only has 20 Typhoons available for service, so the idea that Scotland would have to have that many (or even more) seems palpably absurd. Indeed, it's highly doubtful that we'd require any at all – Scotland's defence needs wouldn't plausibly involve air-to-air combat, only fast air support for the navy, for which the Tornado (with a top speed over MACH 2, the same as the Typhoon) is more than adequate.
But let's keep indulging poor Mr Cochrane's imperial delusions. Let's say Scotland really does need a massively oversized, overpowered inventory of fast jets. Let's  buy the Scottish Air Force five Typhoons (actual procurement cost £325m), plus 25 Tornados at £9.4m each to make up Cochrane's 30-plane fast-jet wing.
That's £560m, far less than even Cochrane's low estimate of £780m. It's just 22% of the SNP's proposed defence budget for ONE YEAR. As the one-off setup cost of one arm of a new nation's defence force, it seems eminently affordable, leaving almost £2bn to spend on naval and ground forces.
But that's the scratch cost, discounting the in-cash-or-in-kind 8.4% share of the UK's armed forces that would be due to Scotland as part of the independence negotiations, which would see us take ownership of either actual units of military hardware or the monetary equivalent. What would that share be worth? Helpfully, we're told the answer to that question in today's Sunday Herald.
The paper carries an extraordinary report from a new defence think-tank, Scotland International, which we highly recommend reading in full. But here's the key part:
"A newly independent Scotland would develop its military capability backed by its 8.4% 'population share' of UK defence assets, assets which are (conservatively) thought to total around £90bn."
(As a passing aside, those assets are so numerous that the UK has managed to simply lose track of £6.3bn worth of them, and write off billions more.)
So Scotland's fair share of the UK military assets it has helped to pay for is £7.6bn. That's an enormous amount of money for a nation of five million people to have at its disposal for creating a defence force, even one large enough to contribute to UN peacekeeping operations. The UK's Type 23 frigate (of which 13 are currently in service, and which are intended to be used for the next 20 years) comes in at £130m per ship, with the advanced Type 26s slated to cost £260-350m each.
Again, the Type 26 is likely to be massive overkill for a Scottish navy which would be primarily deployed defending oil installations and on simple patrol duties, but even at £300m a pop we could afford an awful lot of them out of our £7.6bn. More realistically, Type 23s or other off-the-shelf vessels (the Royal Navy insists on expensively commissioning bespoke ships) would do the job fine at a fraction of the cost.
But what we've seen from even the most superficial glance is that with close on £8bn to spend on setting up a military from nothing, an independent Scotland could afford a generous measure of the most state-of-the-art units currently available, far more of them than we could ever actually need, with cash left over, and with a lavish £2.5bn a year available to maintain and upgrade them. (And of course, the physical bases and infrastructure that would be needed are already in place.)
(And remember, that £2.5bn would still see an extra £800m a year in an independent Scottish Government's coffers, compared to what's currently attributed in spending.)
Alan Cochrane's feeble, "will this do?" attempt at painting a picture of a defenceless nation fails dismally on every level. (And as always, the question "Who is it we need defending against anyway?" is the elephant in the room) Scotland could easily afford a powerhouse military, restoring its historic regiments and reversing many of the swingeing cuts made by UK governments in recent years.
Whether we'd want to is another question entirely. But it's a decision that would be well within the options available to us, were we to ever take it into our own hands.