WARNING: this post isn't about football, but it will refer to football for quite a while in order to illustrate its point. Get over it or go outside for some fresh air.
Today is the opening day of the SPFL Premiership season, and will see the top-flight debut of a four-year-old club which is legally entitled under company law to use the name and trademarks of a much older one which went into liquidation in 2012 owing creditors tens of millions of pounds.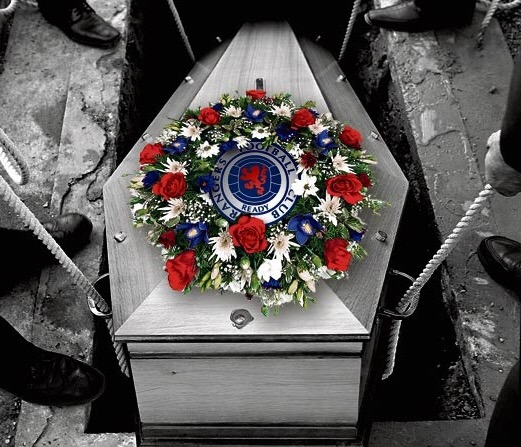 The facts of that matter are beyond any empirical dispute, but human beings are adept at arguing things which are demonstrably not true and so the truth is hotly and furiously rejected by a substantial group of people, weirdly including the club itself (even as it insists that it can't be held responsible for the old club's debts because it's not the same club).
We're not going to attempt to settle that argument here, because (a) it's already been settled, and (b) we have nothing new to say that would remotely convince the people who've already steadfastly refused to acknowledge any of the proven facts.
Instead, we're going to talk – not for the first time, sadly – about why the "debate" around "Rangers" won't die, and what it tells us about the Scottish media.
Because we had a bewildering discussion with STV's sports reporter Grant Russell yesterday and this morning, which concluded with this tweet:
It had been triggered by a mostly-innocuous new-season preview piece on the STV website (not actually written by Russell but promoted by him on Twitter) which had started with the line "Can the Ibrox side take on reigning Premiership winners Celtic in their first year back?"
Unsurprisingly, a number of (mainly) Celtic supporters took some justifiable umbrage at the use of the word "back", because the current "Rangers" is a new club which was created by Sevco Scotland (aka Sevco 5088) in 2012 using assets that Sevco bought from the old bankrupt club when it failed to exit administration – the new "Rangers" started life in the old fourth division (SFL3) and is playing in the top division for the first time, having won three promotions in four years.
And the complainers seemed to be on very strong ground, because at the time the media was extremely unambiguous about what had just happened:
Grant Russell himself had also made the facts abundantly and repeatedly clear:
We quote these tweets not to prove anything about the status of "Rangers", but to illustrate that these were Grant Russell's own words. He wasn't being argued with by chippy Celtic fans, but by his own past self.
It's unfair to single out individual reporters, though, because the entire Scottish media – abandoning everything it said in 2012 – has now taken the same line, namely that the new "Rangers" is the old one because Neil Doncaster says it is (while he doggedly refuses to answer any of the awkward questions on the subject), and that everyone should shut up and move on because frankly it's tedious that people should have the sheer temerity to expect their newspapers and broadcasters to stop lying to them.
(To which our response, incidentally, that if a hundred people all get together in a room with a hamster in it and agree that they're going to start calling it an elephant, it still isn't going to grow a damn trunk.)
And that's partly understandable, because a howling mob of "Rangers" supporters lies in wait, ever ready to threaten, bully and intimidate anyone who recognises reality.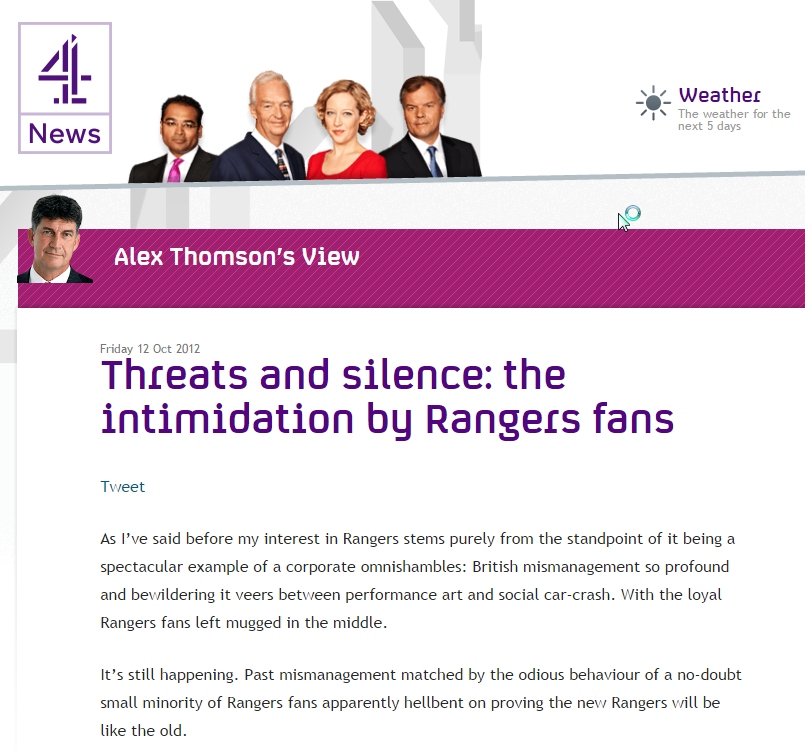 Journalists don't want their offices or homes burned down, and media companies don't want to waste huge amounts of time and money defending legal complaints any time they dare to repeat the news.
All of which is quite rational, if a bit dismaying from a professional body which still likes to portray itself as the fearless and incorruptible defender of freedom. But as we pointed out in our discussion with Russell, that doesn't explain why they'd actively take one side – especially the wrong one – rather than remain neutral.
Because fairly obviously, there's no need for anyone in the course of normal football reporting to actually express a view one way or the other. If the new Rangers are playing Celtic, you can just report that fact. You can say "Rangers are playing Celtic tomorrow, with three crucial points at stake" or whatever.
There's absolutely no need to say either "Rangers are playing Celtic tomorrow for the 200th time" or "Rangers are playing Celtic for the third time". You don't need to say "Rangers are trying to win their first Premiership title" OR that "Rangers are trying to win their 55th Premiership title". You can just say they're trying to win the title and leave other people to fight over the numbers.
Neutral reporting is a bit cowardly, but it doesn't give either set of fans any reason to yell at you on Twitter and Facebook. It doesn't make anyone threaten you. It lets you get on with talking about the football with the minimum possible amount (it'll never be none) of what must be really tiresome moaning whichever side is doing it.
So why don't they? Why would someone like Grant Russell, who we've never been the least bit unpleasant to in our lives and who we were genuinely just trying to help, get so prickly about it as to say something as extraordinary as the first tweet in this article – a journalist for a national television company openly proclaiming in public that he couldn't care less about either accuracy or impartiality?
There are lots of possible explanations, involving varying levels of tinfoil-hattery and use of the words "succulent lamb". But at the end of the day it comes down to the same thing as when David Torrance executed his Great Twitter Flounce earlier this week – the modern mainstream media is on the side of the powerful, not the public, and it holds the latter in barely-disguised contempt.
Partly that's because of the still-recent development of readers being able to hold hacks to account via social media – nobody likes some smart-arse pointing out when they've got something wrong. And partly it's because it's much more fun to hobnob with the politicians and celebrities that a TV or newspaper job brings you into contact with than with the grubby hoi polloi.
(Of which there's no better illustration than the awful packed-solid logjam of simpering Scottish political journalists to be found battling the rest of the press for a cosy spot up super-millionaire JK Rowling's fundament, licking for all they're worth.)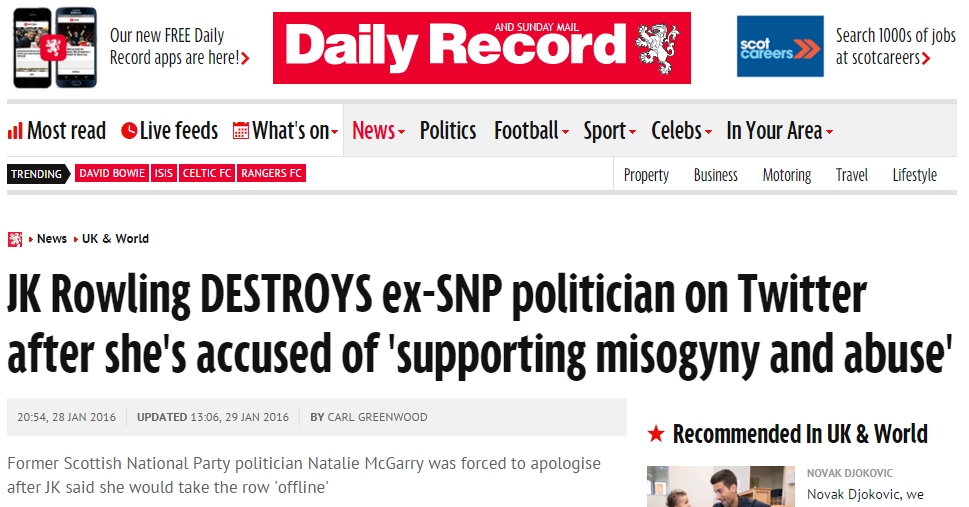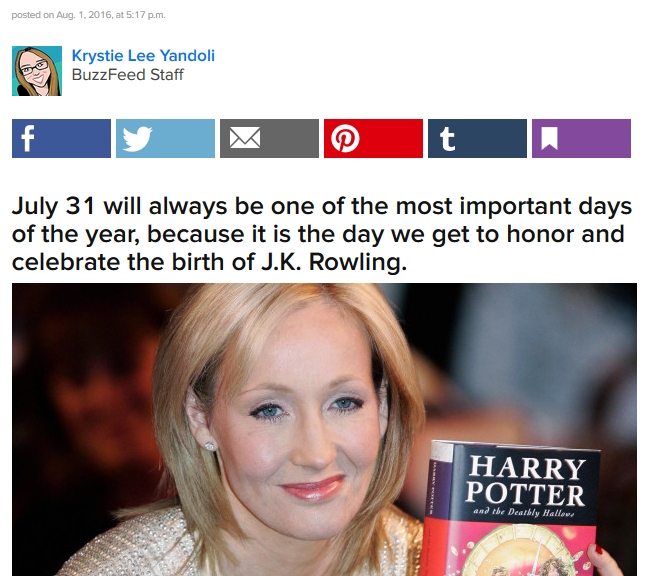 But the biggest reason is that you no longer pay the media's wages. Papers now sell a tiny fraction as many copies as they used to, and the vast bulk of their money comes from internet advertisers, not readers. Clickbait, not truth, is now their product, and you don't make clickbait out of neutrality.
Grant Russell is no worse than any other journalist, he just let the mask slip. The press doesn't give a damn what you think because you're not the ones writing their paycheques any more. The rich and powerful, whether it's with advertising revenues or the friendly access to the stars that enables empty celebrity "stories" to pad out dozens of pages, are their masters now.
And if that means they have to put up with a few angry tweets when they toss every last shred of journalistic integrity or impartiality overboard, it's a price worth paying.