If you'll forgive one of my very rare switches to the first-person view, readers, I've found the last few days in the independence referendum particularly weird.
That's because my current life is curiously mirroring my previous one as a videogames journalist. The gaming community is at present mired in a convulsive orgy of the most mindboggling horror over something called "GamerGate", which I couldn't even begin to decribe adequately to you, because frankly you wouldn't believe me and I'm not sure the words exist to do it justice anyway.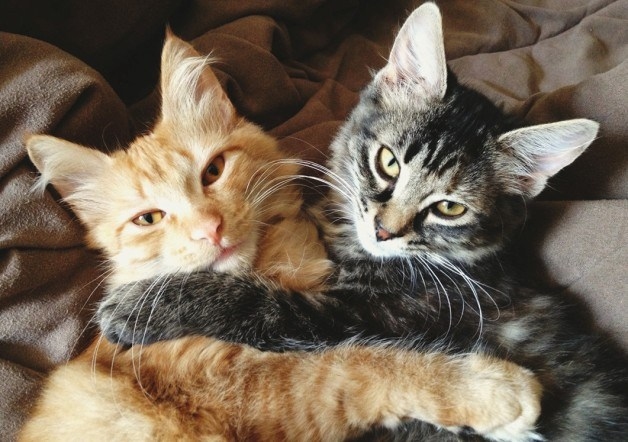 By way of illustration of that fact, this article on games website VG24/7 is, genuinely, by far the best, most accurate summary and analysis of the situation that I've read. (Twitter followers will already have seen me tweet a couple of random samples of what's going on. I urge you, if you can, to endure the entirety of that second link, and note that it's had almost FOUR HUNDRED THOUSAND views.)
But while proving that the sort of abusive insanity pervading the world of videogames makes even the absolute worst of indyref name-calling look like two kittens with woolly hats on having a meow-off over who gets first shot at a saucer of milk, the core principles are the same – a tiny handful of total boneheads having their actions blown out of all proportion by the press in a shock-horror frenzy bearing no relation to the actual experiences of 99.9% of people.
Here's a "Better Together" spokesman in today's Sunday Times, describing Jim Murphy being hit with an egg during a mildly shouty incident attended by a suspiciously large number of journalists and photographers during his otherwise tumbleweed-strewn tour of Scottish street corners.
"The scenes we have witnessed over the past couple of weeks, with organised nationalist mobs trying to close down debate and intimidate people, tells us that this move is necessary.

It is thoroughly depressing that it has come to this. What makes it even more depressing is that the SNP won't lift a finger to stop the abuse."
Readers will be wearily familiar with the BT modus operandi being deployed here. Baseless accusations, wild exaggerations, and the ever-present smearing of the SNP as being directly responsible, despite there being not the slightest, tiniest scrap of evidence that the as-yet-unidentified culprit has the remotest connection to the party.
(What is it that the SNP's supposed to do even if the egg-thrower IS a member? Alex Salmond must be worn out from repeating publicly, over and over again, that any form of intimidation/abuse is unacceptable. What else can he say?)
Politicians have been getting hit with eggs since eggs and politicians existed. So unremarkable was the incident that it caused nothing more than a couple of tuts from the crowd, and nobody made the slightest attempt to apprehend or even pursue the offender as he strolled off at walking pace.
(We'd show you, but the YouTube video now strangely displays this. Also, none of it addresses why the Yes movement would WANT to "silence" Murphy's tour, which has been providing it with a rich vein of hilarious photographs of Jim talking to three Labour activists and a dug, demonstrating just how uninterested the people of Scotland are in his tired old fearmongering schtick.)
But aided and abetted by an all-too-willing media, the No camp has inflated this unwelcome, stupid but fundamentally non-violent act into something more akin to the scenes of near civil war unleashed on the streets of Germany by the Nazi brownshirts of the 1930s and their Communist opponents.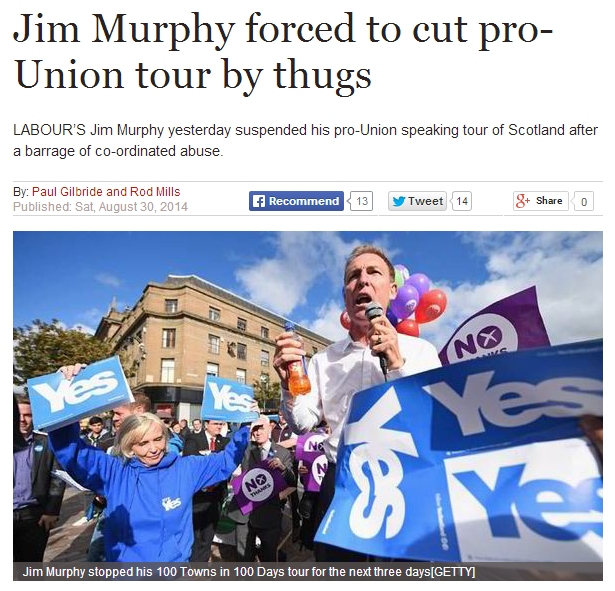 Note how the Express story above doesn't even trouble itself with any qualifiers like "Better Together claimed that…" or similar. The "barrage of co-ordinated abuse" is stated as an undisputed fact. With just a bare sliver of remnant journalistic integrity, the Telegraph reports that:
"A dossier circulated to journalists by Better Together appeared to show local Yes Scotland social media accounts encouraging Nationalists to attend meetings which subsequently became heated."
Note that it doesn't say "encouraging nationalists to go and abuse him", but merely "to attend meetings which subsequently became heated". (Though we do note the sneaky capitalising of "Nationalists", which is only a proper noun if it specifically refers to members of the SNP, even though the quote talks of Yes Scotland.)
The truth, as pointed out by Alex Massie in the Spectator in an article which appeared for a couple of hours yesterday and then mysteriously vanished, is that given the stakes, the independence campaign has been remarkably mild-mannered:
"Of course there has been stupidity and dishonesty aplenty and some unpleasantness but, in the main and on the whole, the notable feature of the campaign has been its civility. There will be some fraying of this decency in the final, fevered, weeks but that too is only to be expected from this kind of democratic carnival.

It is certainly no more unpleasant than anything you'll find in the United States. Much less hysterical and unpleasant, in fact. If people really think this campaign – even the No campaign – has been unpleasantly negative they should look at what happens elsewhere." 
But people disagreeing – heatedly, passionately, but peacefully – with each other doesn't sell many papers, and nor does it serve the interests of a side increasingly in a panic as the polls tighten, and which has been desperate for the entire duration of the campaign to smear its opponents as subhuman monsters.
I urge you all again to read/listen to the last two links in paragraph 3 of this post. While admittedly those examples are at the extreme end, they're very much the sort of thing that I experienced in the world of videogaming for over 20 years before I ever wrote a word about politics. (Seriously, Unionist trolls are amateurs by comparison.)
The independence debate isn't horrible. People are horrible, even over something as absurdly trivial as videogames, let alone the future of their country and their children. But the horrible people are a tiny minority, and of no actual consequence. The first link in paragraph 3 perfectly encapsulates the level of respect and attention that should be given to their demented rantings.
But that can only happen in a world where journalism is part of the solution rather than part of the problem, and that's a world from which Scottish political coverage currently and distressingly finds itself a very long way distant.