I'd waited a long time for an official independence meeting to take place in my home town of Stonehaven, so when I read on Monday morning that Better Together (or No Thanks or SNPSNPSNPBOOO! or whatever they're calling themselves this week) were holding just such a thing at the town hall that evening, I bounded along Allardice Street with all the enthusiasm I could muster.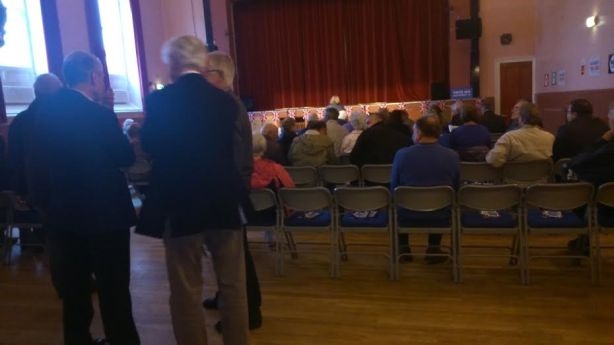 Why had it taken until just five weeks before the vote to have such a meeting? I wasn't sure. But since the Commonwealth Games I'd seen a rise in the amount of Yes signs, posters, car stickers and flags in the town. Maybe Better Together decided it was time to do something. Which side would take claim Stonehaven's finest creation – the deep fried Mars bar – as their own?
Considering I only found out about it on the day, I thought there'd be hardly anyone there, but to my surprise the town hall was bulging with comfy chairs. Maybe two thirds were full. I felt like I was back at school as almost everybody refused to sit in the first couple of rows for fear of… well, it turned out most of these people were feart beyond belief already.
As I looked around for people I recognised while taking my seat (I maybe knew around 6 or 7 folk), I missed the name of the chair. I wasn't really fussed, but later on he did say he was appointed Lord of the Shire about two weeks ago. Or it might have been Laird. Or Lollipop Man or something. An old couple sat to my right (although they left a space between us) and nobody sat in the four seats to my left. The Lollipop Man offered us the one rule of the evening – don't speak unless told to.
No Better Together Thanks had arranged two august speakers to perform a rap battle (I wish) of 15 minutes each. First up was ordinary voter Tommy Pennington. Tom – full title Professor Thomas Hugh Pennington CBE FRCPath FRCP FMedSci FRSE – introduced himself by saying he's from England, and the only reason he came to Scotland for work was that he couldn't get his first-choice preference of a job in The Gambia. Good start.
Prof Pennington continued his introduction and, in what seemed to be one long continuous sentence, managed to talk about Bonnie Prince Charlie, people who speak German, border wars and King James before ending it with "So – that's my background." Evidently the academic was a lot older than he looked.
The second speaker stood up and introduced himself. Alex Johnstone, Conservative MSP for the area, pointed out he was Stonehaven born and bred, a "Stoney loon" as it were. He knows the area like the back of his hand, and loves it dearly. I was almost expecting him to declare himself a proud and patriotic Stoneyonian, or Stoner as we're never called. But instead he sat back down for the Prof to begin his speech.
"I'm certainly not a Stoney loon", Pennington snorted, weirdly. The professor, with a background in microbiology, focused the first part of his presentation on science funding in the UK. He confirmed that Scotland has some of the best scientists in the world. He pointed out that Scotland gets fantastic funding in scientific research. He explained that funding ignores borders, doesn't care about borders. And then he confirmed that after a Yes vote, all funding will stop.
Wait, what?
But there was no elaboration forthcoming, and Tommy quickly moved onto the other thing he knows a bit about – being on the telly.
"The BBC is the best in the world," Pennington exclaimed, without saying exactly what it is he meant by "best". In fact it turned out that he only picked the BBC as a topic because the founder of the corporation, Lord Reith, was born in Stonehaven. If he'd been anticipating some sort of applause, it never came. Pennington told us that the BBC has improved over time, and that it would simply be too complex to start again.
"I dread to think what will happen if we don't have the BBC," he summed up. Having used, I'd estimate, a bare seven minutes of his allotted 15, the professor sat down for a little nap. (Well, he's 350, after all.)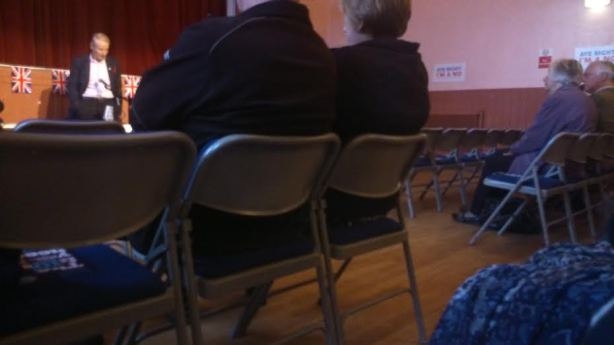 Alex Johnstone, being a politician, had a bit more to say for himself. "Let us talk about passion," he began. Now there's an unsettling thought.
"The Yes campaign like to think they have a monopoly on passion, but I passionately believe that our side, the right side, is as passionate as the Yes campaign, if not more passionate."
The following sentence contained "passion" another four times. Johnstone said he wasn't just British, but very British. As many on the Yes side (including myself) have pointed out, the idea that Scotland governing itself means your Britishness – whatever that is – vanishes or is stolen from you is absurd.
"The nationalists fail to give numbers," Johnstone continued. "But I have numbers…from the nationalists' own figures no less!"
Johnstone quoted some GERS figures, admitting that he was being selective. The atmosphere wasn't exactly electric to start with but the room seemed to get more lost the more Johnstone went on about selective numbers. He told us that if Scotland was independent in 2008 "we'd not have been able to bail out our banks".
I wasn't shocked by this blatant lie. I was shocked, however, when he said, clear as day, "Scotland can be a successful independent country." He didn't just say it once. He said it at least four times. He's on our side! I relaxed a little, and picked up the Better Together leaflet on my lap.
"The Facts You Need", it said. "Scotland will not be allowed to use the pound", it said. "Scotland can use the pound it if wants to and nobody can stop that," Alex said.
Wait, what?
Contradicting the literature his own campaign had provided for the meeting, Johnstone offered to "clear up confusion" over the currency issue. Hilariously, he said any confusion over currency was the fault of… you guessed it, Alex Salmond. I let out a "Ha!" as the woman next to me looked over to me with a stern face. Whoops.
Johnstone confirmed that John Swinney would be the first Finance Minister of an independent Scotland (apparently having conceded the 2016 election on behalf of all the other parties), before moving onto the main event of his speech – the dreaded Plan B. He referred to Plan B even more than he referred to being passionate. He was very passionate about Plan B.
"We simply don't know what Plan B is," Johnstone thundered. "But I can tell you – Plan B is something called sterlingisation."
Wait, what?
Johnstone ended his speech by saying we just can't vote Yes if we don't know the answer to every single question anyone has on the issue. "I can understand why some people would want to vote Yes. But until we get the answers we need, now is not the time." So presumably if you vote in June 2015 or something, that'll count.
The exciting Q&A session was next. First up was a timid but curious lady who was sitting just behind me.
"I was interested in the bit about science. We have these great bodies and charities such as the British Heart Foundation, UK Cancer Research, and companies like British Telecom. Scotland won't have these after a Yes vote. What would happen to these things with British or UK in the name? I asked the Yes campaign and didn't get a reply."
To his credit, Prof Pennington pointed out most charities or bodies requiring substantial funding are remaining neutral and will wait until after the vote to act in any particular way, but also added that England funds these things the most. Pennington acknowledged that Scotland has some of its own charities, but repeated his earlier nugget that funding doesn't respect borders except for the imaginary future one between Scotland and England.
"The world is getting smaller, and Scotland only has five million people!" squealed the next lady. She rambled on and on for a few minutes, mainly criticising Better Together. "There's complacency in the No camp," she believed. Bloody hell, don't let Blair McDougall hear you say that. "The Yes campaign are everywhere. When are we actually going to DO something?"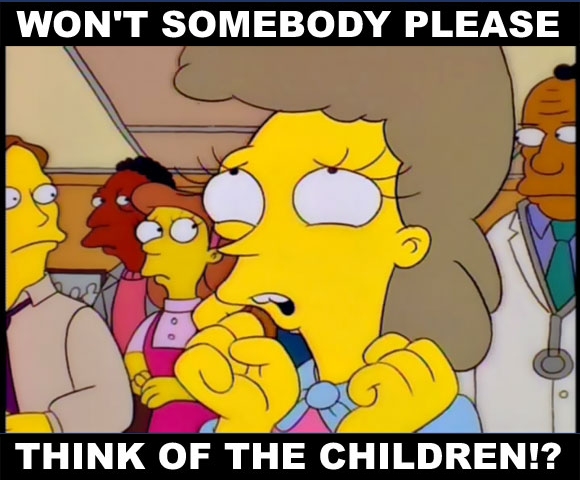 Johnstone and the Prof had a couple of boring thoughts on that, before The Laird Of Somewhere leapt into action. The chairman seemed quite angry at the criticism.
"The Yes side are only ahead in funding and marketing because of a couple of lottery winners," he ranted.

"Folk are reluctant to come out for a No because they are scared, but I know from these two weeks in my new position that many people are quietly signalling to me that they are voting No. Sometimes they walk past and just, you know, give us the thumbs-up.

So we're attracting more people. More people are taking No Thanks stickers from us, for their cars, and they say they don't care if they get a brick through the windscreen because of it."
There must have been some sort of secret signal or code because our chair sprung back down as quickly as he'd sprung up. Another audience member spoke up.
"I am siding with a No vote, but I also want Trident removed from Scotland. What do you say to that?"
Johnstone told the crowd that the argument over Trident nuclear missiles was a bogus one, for two reasons. First, the vote is about structure of government and not policy. Secondly, if there was a Yes vote, Scotland can ask for negotiation over Trident but would no longer influence UK policy. Johnstone said if the UK wants to do something (like keep Trident where it is), Scotland could do nothing about it. Righto. Let's have another question.
"The Yes campaign thinks Norway is great! Well – that's just silly, isn't it?"
Prof Pennington stood up. "I've been to Norway, I can tell you a bit about that place. It's nothing like Scotland. For a start, their microbiology infrastructure is tiny."
Well, that's my Yes vote in the bin, then. Why didn't you say something before? Other differences included Norway not being in the EU, and its being pummelled by the Germans nearly a hundred years ago. "The only way we'll be the same as Norway is if Salmond gets his way – then our taxes will be sky high!"
The audience finally made a noise. They liked that one. Johnstone wanted in on it:
"Yes, Norway has this massive oil fund. But if Scotland was independent since oil was discovered and had an oil fund, it would all be gone by now because the SNP would have used it on things like maintaining roads and propping up the shipbuilding industry."
On maintaining jobs and protecting industry? Those bastards! He continued:
"The nationalists say Scotland would be something like the 8th, or 14th richest country in the world after independence. Well, in one way using this other ranking system I've seen, Scotland would be the 47th richest country in the world – ahead of Kazakhstan and behind Algeria. All Salmond does is pick and mix his stats to suit his argument."
We didn't get to hear which ranking system this was. More questions.
"Why couldn't Alistair Darling say on television that Scotland could be a successful independent country?"
"The answer is yes – of course Scotland could be as successful as Kazakhstan and Algeria," Johnstone smirked, "But I don't want to impose a Yes vote on my children or grandchildren."
"The Scottish parties are really, really bad right now. I'm as big a No voter as you'll get but even after No, the SNP will probably win a landslide."
That wasn't exactly a question, but Johnstone still had an answer – "Politics in Scotland has been hijacked by the SNP's referendum". Yes, apparently it's the SNP's fault Scottish Labour is so useless. After some more Nat-bashing, Prof. Pennington told us that he thought Margaret Thatcher was great.
The next question was a little strange. A well-spoken man in a tweed suit appeared from nowhere and asked a question about Rosyth shipbuilding. It was like the sort of question/statement you'd read in a Better No leaflet. It wasn't very relevant to the location but that was okay, because Alex Johnstone had a belter of a reply.
"Shipbuilding has faced some difficult times, for several reasons. The main one being that Norway started building ships…"
Wait, what? The same Norway you've just been trashing? The same Norway who stupidly decided in 1905 to vote for independence even though they were the second-poorest country in the whole of Europe at the time? It can't be.
The Professor popped up.
"I used to live in Faslane!"
He popped back down.
There was time for one final question. A young lad at the other side of the room began talking. I couldn't see him, but the words were timely.
"I have listened to a lot tonight – a lot about history, but not one thing about the future whatsoever. There has been nothing on rising poverty, illegal wars, the UK government wasting billions here and there. There doesn't appear to be a positive case to stay in the Union. Do you have one?"
It was worded so well, compared to most of the other speakers, that I thought this was a plant too. It gave Johnstone an opening for a final speech, in which unfortunately he mainly talked about the past. Syria was mentioned, and the indication that Scotland ruling itself would mean situations like the one in Syria would get worse. Things have been rocky in the UK, but together we can overcome the difficulties, he insisted.
Thankfully, after some applause for Johnstone, Professor Pennington got a final say. I was hoping for a peach and I got it.
"Look. We haven't had a civil war in the UK, but this Yes vote malarky is dangerous. It's a very dangerous situation indeed. And what we'd end up with is almost like a one-party state."
There was a "hear hear!" and applause. I shook my head and smiled and stood up to leave, thinking the event was over, but the chair wanted a few more words. After his last interjection, I decided I needed to hear them.
"Before you go, I want to encourage you to get out there and spread our message. I'm a proud Scot. They don't own my flag. They don't own my kilt. Don't get suckered in to their propaganda – the propaganda you get through the door is absolutely ridiculous."
Haha! I laughed out loud. I was finally happy. I was so glad to hear a couple of proper batshit-mental pieces of gibberish to make this whole dull affair worth sitting through. I stood up and tried to shuffle my way quickly past the couple next to me, to get out of their way. And that's when it happened.
I was yanked back. The old woman grabbed my jacket arm. I thought I'd accidentally stood on her toes or something. I turned to look at her – her male companion said nothing. She scowled at me. She looked back at my chair, back to me, then hissed:
"Sit."
I went back to my seat. It was comfy so I didn't mind.
"What were you doing?"
"I…I was listening to the speakers."
"No, what were you doing with your phone?"
"Oh! I was taking notes."
"Are you a reporter?"
"Ha, no, sorry."
"So – you're in the SNP."
I stood up and chuckled. "Never voted SNP in my life," I replied, with a truthful grin. She grabbed my arm a second time. The man was still looking elsewhere. I was beginning to think he was a closet cybernat too.
"What you were doing was very distracting, I was trying to listen to the Professor and you kept using your phone."
"But… but my phone doesn't make any noise. It's silent."
"No, it wasn't noisy – it was the light. The light distracted me from the speakers up there."
"Why didn't you just nudge me and tell me?"
"You…should…have…KNOWN," she seethed. Bloody hell.
I began to say "Well next time just nudge…" when I realised this was the only time I'd ever be at the same type of meeting as her. I shrugged. "I'm sorry."
She pulled me closer one final time. "You've not been very nice." She let go. Shaking with fear from the traumatic episode of vile abusive nationalist intimidation, I fled into the night, never to return.