The media coverage of the first TV debate between Alex Salmond and Alistair Darling was a classic, but transparent, stitch-up. A poll which had a majority Unionist sample before the debate began duly reported a "victory" for Darling, even though among the sample's small number of undecideds most thought Salmond had won.
But that crooked measurement was enough to justify a week-long frenzy of front pages portraying the debate as a fatal disaster for the First Minister and an epic, decisive triumph for the angry former Chancellor. Inconveniently, two new polls this weekend both showing a swing to Yes and a single-figure No lead somewhat undermine that narrative, but the No campaign is nevertheless desperate to quit while it's ahead.
This site has been documenting for the last year the anti-independence side's tactic of avoiding debates wherever possible, whether by refusing to participate in the first place or pulling out for the flimsiest of reasons. But today's Sunday Times reports perhaps the most absurd and comical excuse yet.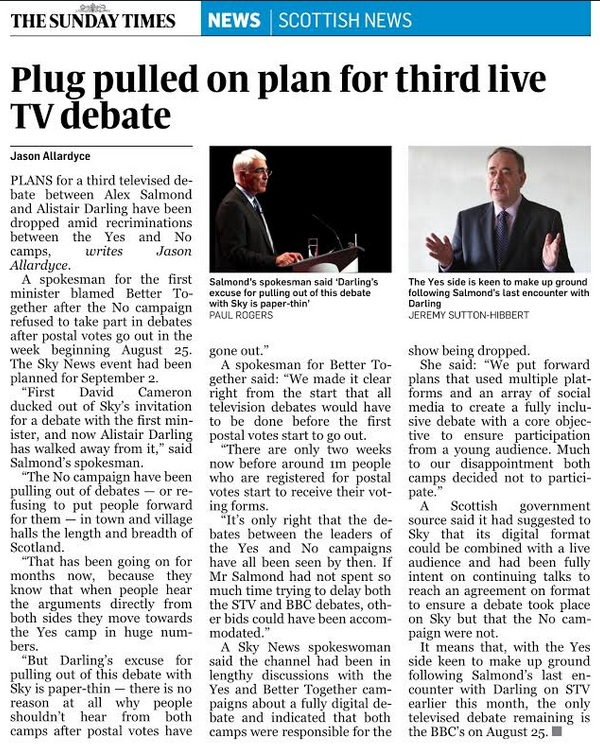 By this mind-boggling rationale, "Better Together" will have to stop campaigning entirely on August 26, more than three weeks before the actual referendum. Because if the argument is that you can't debate anything once the postal vote forms go out, that must logically apply to ALL forms of debating, not just televised ones.
(Are we to presume, incidentally, that all TV will be ruled out after August 25? Will "Better Together" decline to send representatives to current-affairs shows like Scotland Tonight and Scotland 2014 for the last three weeks of the campaign? Or is it fine to debate independence on television as long as it's in short soundbite formats? If so, what's the cut-off point at which it's no longer acceptable? 10 minutes? 20?)
A vote won by a TV debate performance counts exactly the same as one won by a leaflet or a doorstep conversation or any other method. Yet apparently the proud and patriotic defenders of the Union are happy to give up on a million potential votes – 25% of the entire electorate – the moment ONE of them might already have been cast.
That you can't have a TV debate once the postal-voting forms have been delivered is perhaps the most jaw-droppingly stupid, ludicrous thing the No camp has ever asked the people of Scotland to believe, and that's no small accolade. Readers who aren't howling-at-the-moon insane might feel that the real explanation is altogether simpler.