One of the more persistent scare stories deployed by the No campaign is the claim that Scottish higher education will be crippled by a Yes vote, thanks to the weight of applications to Scottish universities from students in the rest of the UK, who will then be entitled by EU law to free tuition, whereas they currently have to pay up to £9000 a year (with the figure set to increase).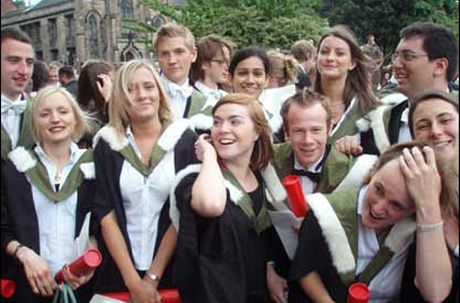 For good measure they also claim that tens of thousands of young Scots will be "frozen out" of university education by the flood of incomers from, in particular, England. Those damn foreigners, eh?
It sounds like a solid argument. But is it?
Under European law it's possible to discriminate between students from different parts of one state – but not between students from different parts of each state. Accordingly, the notoriously truth-modifying "Better Together" campaign has insisted that such an exemption would end should Scotland become independent – while simultaneously, of course, insisting that a Yes vote would leave Scotland outside the EU, and therefore not bound by EU laws.
A Scottish Government study examined how funded university places in Scotland would be divided under a number of different scenarios taking account of potential increases in demand from English students wanting to study in Scotland. It found that thanks to the current policy of charging rUK students, the numbers of English students choosing to study in Scotland has remained at 2%.
If there were no such restrictions in place, the numbers of English students choosing to study in Scotland could easily dwarf the indigenous population's student base. Due to the disparity in population sizes, an increase in English students from 2% to 10% of the total would indeed see up to 93,000 non-fee-paying students descend on Scottish universities from south of the border.
So how is this circle to be squared? One possibility is that EU law allows member states to continue to selectively charge student fees in certain circumstances. Essentially the Scottish Government would have to prove to the European Commission that fees must be maintained in order to avoid the university system in Scotland becoming "distressed".
The figures above suggest this distress would be real and severe, so would hopefully result in a special dispensation from the EC on charging fees. But should the dispensation not be forthcoming, there are other avenues available. So let's have a look at what another European country does.
Germany operates a system of charging fees, but offset for German students through the "Bundesausbildungsförderungsgesetz" (Federal Training Assistance Act) which is mercifully shortened to "BAföG" by those using it.
BAföG-loans are usually given out in two parts; half as a zero-interest loan (repaid only after the graduate exceeds a certain income level, as in England), and half as a grant. High school students, however, get the full amount as grant money if eligible.
To qualify for BAFöG, a student must generally be a citizen or permanent resident of Germany, or have lived in Germany for five consecutive years. This dodges the rules about discrimination, because citizens of any EU nationality can apply, subject to meeting the residency criteria.
This same system of grants for study is also used in the Republic of Ireland. It was examined by the Westminster Scottish Affairs Committee (chaired by Ian Davidson MP) in their analysis of university funding post-independence. The report was typically negative and resulted in a fierce backlash from Professor Bryan McGregor – vice principal of Aberdeen University – and his Glasgow University counterpart Professor Murray Pittock, who branded the report "hyperbole and fiction", saying:
"One has to admire the doggedness of the Committee in its efforts to make the most of the bad material it has had to use but its conclusions are not supported by the limited evidence presented."
Before going on to note:
"In the evidence in the main body of the report we discover that 'legal advice sought by Universities Scotland provides a potential way forward for the Scottish Government. It notes that the Scottish Government could use a maintenance grant based on residency requirements to offset fees charged to Scottish students' – this is the current position in Ireland.

So the worst outcome that the Committee appears to suggest is that a Scottish government would have to charge fees but could compensate Scottish resident students by paying them a maintenance award."
The lessons for Scotland are obvious. Scotland could, if it lost the case for dispensation, charge all students fees but then make maintenance grants available to students based on residency parameters rather than nationality basis. Scottish students would then technically be charged, but get the full amount back as a grant, making their tuition free in practical terms.
The threat to Scottish university funding/Scottish student places, then bears no relation to reality. One way or another, it will remain possible to keep tuition free for Scottish students but charge others in order to prevent "tuition tourism".
Alex Salmond might face some jeering about his "rocks will melt with the Sun" line on fees, as technically they'd be back. But for Scottish students still able to get a top-quality education without being burdened by tens of thousands of pounds of debt by the time they were in their early 20s, we suspect that's something they could live with.