You tend to expect legal professionals to be a bit more careful with their words than this. Over the last few days we've been documenting the bizarre mental collapse of staunch Scottish Labour activist Ian Smart, a practising solicitor from Cumbernauld who's managed to arrive at the conclusion that there won't be an independence referendum at all, but if there is and there's a Yes vote then Scotland will almost instantly degenerate into a poverty-stricken fascist dictatorship with no elections, 100% unemployment, compulsory Gaelic in schools and cannibalism in the streets.
We don't plan to carry on doing so beyond today, because right now it's starting to feel like laughing at a car crash while the fire brigade are still frantically trying to saw bodies out before the petrol tank goes up. But the extraordinary breakdown Mr Smart suffered late last night on his Twitter account isn't an isolated incident among Labour figures at the moment, and we're a bit worried there could be a toxic leak of some sort in the water system at John Smith House which might harm innocent visitors.
The trigger was Finance Secretary John Swinney's appearance on a fractious edition of Newsnight Scotland, in which presenter Gordon Brewer didn't make even a token effort at concealing his contempt for, well, just about everyone. At some point early in the proceedings, Smart reached a conclusion the rationale for which escapes us:
As we write we still have no idea what that tweet means (Mr Swinney's first words on the programme were "There will be a referendum in the autumn of 2014"). But it wasn't until 13 minutes later that Mr Smart finally lost all grip on reality, embarking on a long string of increasingly-shrill posts shrieking that the Finance Secretary was a "liar".
The above represents just a small fraction of the sustained toddler-like outburst. Perhaps the deranged, over-excited tone at a late hour was the result of drink being taken, perhaps not. (We'd like to make clear that we have no reason to believe such a suggestion, because we're at least passingly acquainted with the laws on defamation, something Mr Smart seems not to be.)
But over a series of exchanges with ourselves and others, it at least became clear that the grounds for this hysterical attack on Mr Swinney were that the timing of the forthcoming independence referendum, specifically the fact of it taking place in the second half of the parliamentary term, had not been in the SNP's "manifesto".
We're not sure how that would reflect on Mr Swinney's competence as Finance Minister in any event, or how it was relevant to anything anyway (given that manifestos are not legally binding documents), particularly given that Mr Smart insists the referendum isn't going to happen at all. But let's take the accusation at face value and see if it's at least factually true. To do that, we'll need some definitions.
Here's the Oxford Dictionary one: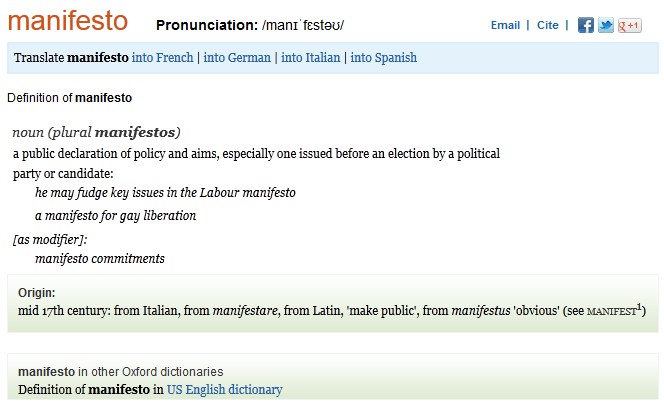 Here's the dictionary.com version: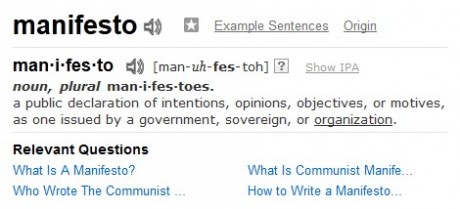 And these, courtesy of The Free Dictionary, are the definitions from the Collins and American Heritage dictionaries:
You get the idea. According to all the most authoritative sources on the English language, "manifesto" is not specifically a written document, but merely a "public declaration" of a policy or policies. So what we need to establish is whether the SNP made such a declaration before the 2011 election or not. And that's easy enough.
"I believe that the Scotland Bill legislation going through Parliament just now is an immediate priority, because we've got to get economic teeth into that legislation, in order to assist Scottish recovery. That pushes the referedum bill into the second half of this Parliament."

– Alex Salmond, speaking (from 3m 00s) on a live party-leaders' debate on BBC 1 Scotland on May 1st 2011, four days before the election.
The announcement wasn't missed. Scotland's second-biggest tabloid splashed with it the next day, as did the Telegraph, among others. Between them and the national TV broadcast, we think it's fair to say the policy was "publicly declared", and that it thereby formed part of the manifesto on which the SNP was resoundingly elected in a historic landslide victory four days later.
(And while we don't have the figures to hand, we'd be prepared to place a hefty wager that far more people saw and read of Salmond's declaration on the TV and in the newspapers than ever read the printed version of the manifesto.)
Ian Smart, in other words, is lying. (Since we feel it's safe to discount the alternative explanation that he's incapable of reading or understanding an English dictionary.) Yet he continues to make the allegations, flatly denying empirical reality with the sort of absolute conviction that's normally the province of the clinically delusional.
The only figure in this whole sorry farce meriting an apology is John Swinney. And perhaps also the people of Scotland who still believe in the Union, because regardless of whether we disagree with them about the country's constitutional future or not, they deserve to have a better champion to speak for them than this.