In a post earlier this morning we made passing reference to the Scottish "cringe" – a sociological phenomenon by which Scots develop a subservient inferiority complex about their culture and abilities, predominantly compared to England. It's not something we've ever suffered from personally, but every once and a while its malevolent force can still be felt nagging at the corner of even the strongest psyche.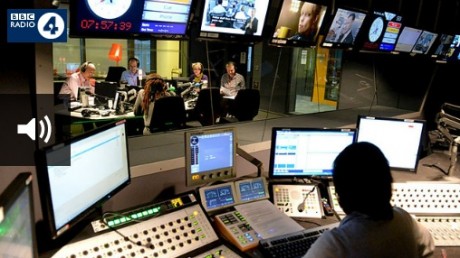 An illustrative example was provided by an interview that Liam Byrne, the Labour spokesman for work and pensions, gave to Radio 4's "Today" programme yesterday on the subject of the party's proposed reforms to social security should it somehow win the 2015 UK general election.
For those of us who regularly subject ourselves in the name of journalism to the speeches and interviews of the likes of Margaret Curran, Johann Lamont (regularly) and Anas Sarwar – as well as Scottish Tories like Ruth Davidson – it came as something of a shock to be reminded that the UK parties possess, outside of Scotland, some elected representatives who aren't incoherent, inarticulate, witless, pathologically-evasive stammering cretins whose main function is to serve as a stinging indictment of the state of the nation's education system.
The shadow Secretary of State was calm, confident, unflappable and even deigned to give more-or-less direct answers to Evan Davis's questions, albeit that the content of the answers – ie the policies themselves – were a little on the shifty side. You can listen to the whole ten-minute segment here, but the reason we were interested was to see if Byrne had really said something he'd been quoted on Twitter as saying about rent controls, and it turned out he had.
—————————————————————————————————
LIAM BYRNE: If you take my home council in Birmingham, they spend about £200m on housing benefit in the private rented sector, and what councils like Birmingham are saying is 'Look, if we had some more power to regulate the private rented sector, use some kind of collective purchasing, we could drive that bill down, and what we could then do is use the savings to build more social housing, which would bring rent levels down over the long term.
EVAN DAVIS: I think there's been some scepticism about whether that's going to make any difference – I mean, if you reintroduce rent controls it might make a difference, but you're not going to help the longterm problem of supply by capping rents and making it less profitable to build and to produce rented accommodation, I wouldn't have thought.
LB: But these are medium-term changes, these are not kneejerk, overnight success stories, and that's why –
ED: Are you talking about a regulated rental sector – the reintroduction of rent controls and the like?
LB: Um, I think that might be going a bit far. What we're saying is that local councils are saying that they've got lots of ideas for how they can make savings, and they'd be prepared to kinda crack on with that if there's a promise on the table to share in the savings to build more houses.
—————————————————————————————————
In short, then, Labour plans to do nothing about the fundamental cause of the UK's enormous housing benefit bill. The vague waffle about "collective purchasing" is clearly meaningless in reality – where would councils find the huge sums needed to buy up private rented homes en masse (knowing that they wouldn't recoup the money in rent for years), and how could they force landlords to sell without effectively destroying the entire construction industry as builders refused to build houses they'd then have to sell at knock-down prices?
(We established yesterday that for as long as housing demand continues to massively outstrip supply, there's no leverage with which councils could "negotiate" lower rents for private tenants.)
In the current climate of austerity (which rules out either bulk purchasing or massive building programmes), rent controls are the ONLY practical measure which could bring down the housing benefit bill. Buy-to-let profits are so enormous that there's plenty of room to restrict them without wrecking the market – there is simply no conceivable rationalisation of a situation where renting costs more than buying, and the need for a correction is morally, ideologically and economically incontestable.
Labour of all parties should be shouting that from the rooftops. Buy-to-let is the starkest possible illustration of how wealth attracts more wealth, resulting in the dramatically accelerated redistribution of money from the poor to the rich with almost no benefit to the wider economy.
(Because the more money you give to rich people, the less gets spent.)
Already the Tories have set to work recreating the housing "boom" that Labour built before them and which was the root of the global economic crash. House prices, incredibly, are on the rise again, while homelessness is soaring. Astonishingly, the UK appears to be gearing up for one last squeeze against the have-nots.
Rent controls are moderate capitalist socialism in its purest, most direct form, and Byrne's refusal to contemplate them is a convenient shorthand for Labour's total abandonment of the last of its principles. We're not alone in that view, either:
"This is the week Labour turned its back on the welfare state"
(Red Pepper)
"Miliband makes his play: do everything the same"
(Mark Steel, the Independent)
"Ed Miliband Fuck Off"
(The Void)
We could have listed a dozen more in similar vein, and possibly will later. We know we go on about this quite a lot, but there is no longer any meaningful democracy in the UK. Labour and the Tories have policy programmes that are barely different except on the most superficial cosmetic levels, and ideologies that aren't different at all.
Only Scotland has an escape route. Pray we use it.