As a right-of-centre English conservative, there are Scottish National Party concepts I haven't so far been able to comprehend. Perhaps it's because I don't follow Nicola Sturgeon and Ian Blackford. Should I keep an eye on what The Scotsman is saying?
SNP leaders talk in the same sentence of a "free" and "independent" Scotland having a future as a member of the EU. My grasp of those words is not theirs. Distinguished lawyers – be they Remainers, Leavers or Don't-Care-Just-Pay-My-Billsers – all agree that a series of European Court of Justice decisions have established the unqualified supremacy of European Union laws – disguised as "Regulations and Directives" – over the national laws of EU states.
By 1970, the court ruled that Community law must take precedence even over the constitutional laws of member states — including basic laws guaranteeing fundamental rights, such as in Internationale Handelsgesellschaft mbH v Einfuhr- und Vorratsstelle für Getreide und Futtermittel.
I see this as vassalage, not independence.
I can't understand why the SNP hasn't seen how Brussels – and the European Central Bank – deals with small countries it thinks have not grasped the programme. Perhaps they didn't hear Greece's former finance minister Yanis Varoufakis talking about his country's euro crisis:
"Europe, in its infinite wisdom decided to deal with this bankruptcy by loading the largest loan in human history on the weakest of shoulders … What we've been having ever since is a kind of fiscal waterboarding that has turned this nation into a debt colony … What is being offered to the Greek people is circuses with no bread. And the circuses are not even funny."
Or:
"Why did they force us to close the banks? To instill fear in people. And spreading fear is called terrorism."
Would the Scots be content surrendering their sovereignty in the EU envisaged by Guy Verhofstadt, the European Parliament's Brexit co-ordinator?
"The world of tomorrow is not a world order based on nation-states or countries. It is a world order based on empires … in which we as Europeans, and you British, can only defend your interests, your way of life, by doing it together, in a European framework and in the European Union."
I was confused, during the 2014 referendum, when Alex Salmond said an independent Scotland would retain sterling as its currency. When he said "It's Scotland's pound and we're keeping it", he was envisaging an arrangement whereby the Finance Minister in an independent Scottish government would have interest rates in his or her free country set by the Bank of England under a governor appointed by the Chancellor of the Exchequer in London. The suits at the European Central Bank were probably puzzled, too.
But as someone who's been a Brexiteer since before the UK made the great mistake of joining the embryonic European Union in 1972, I can't see a scintilla of a moral or logical case justifying the rejection of a demand for a second independence plebiscite, if made manifest in a mandate given to the Edinburgh government next year.
It was the Brexit vote that first put the state of the Union and its profoundly flawed devolution settlement on the agendas of the chattering classes in London, Edinburgh, Cardiff and Belfast – and, doubtless, Dublin. The Scottish independence movement got a reviving wind, as did conjecture around dinner tables and at the BBC about the ways in which Mrs May's "precious Union" might crack up.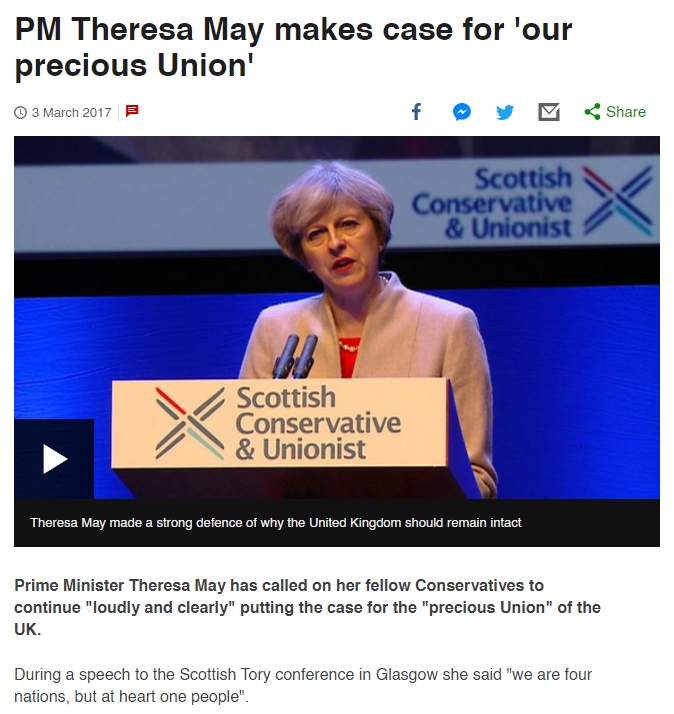 Older readers might remember what a British prime minister, Harold MacMillan, said when he was asked what would fix his government's course. "Events, dear boy," he replied, "events." The 1956 Suez fiasco put MacMillan into Downing Street, and a spies-and-sex scandal in 1963 would help to turf him out.
The COVID-19 event and the different ways in which the UK's four governments have stumbled from one blunder to another has shone a powerful torch on the union's creaking foundations, and what's been revealed has come as a bigger surprise in England than elsewhere in the union.
"Why," a traveller returning to London from Portugal recently asked, "can't there be a single UK quarantine policy?" The question was put to a BBC Radio 4 reporter, which was appropriate because one of the intriguing achievements of the BBC since its creation in 1927 has been to render – south of the Solway-Tweed line – "British" and "English" interchangeable.
The word "England" was heard rarely on the corporation's radio stations before the plague other than in contexts in which it couldn't be dodged: cricket, football and rugby coverage, and weather forecasts.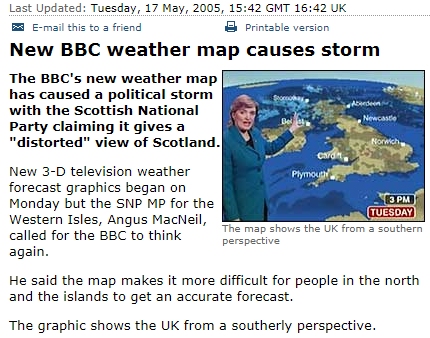 More significantly, the reality of the UK's constitutional muddle is beginning to bubble up in public discourse. An English Tory MP this month, while talking about the different and ever-changing quarantine regulations across the UK, referred to the "English parliament". It was, patently, a slip of the tongue, since he must know – I assume – that the last time one of those was seen was 1707.
MPs in the three Unionist legacy parties – I fear we must acknowledge the existence of the Liberal Democrats – now talk about the Four Nations, which brings me to the problem Brexiteers on both the right and left have when denying Scotland another opportunity to make a choice about its future.
For a great many of us in the Brexit movement, the argument was not fundamentally about immigration numbers, the financial cost of EU membership, or the best ways in which to sell and move cars, kettles, cows and Cognac across Europe. Neither was it about any particular EU law that might or might not be useful or useless.
It was at its heart a struggle to restore the right and liberty of a country – albeit at this point a polity comprising four nations – to elect directly the people who make the laws of their state and remove them. It was about restoring the democratic government of a free nation state.
Our philosophical starting point could be best summarized in the words of two English politicians who sat on opposite sides of the Commons chamber but who shared a deep regard for the warp and weft of the democracy as they saw it rooted in these islands.
One was Peter Shore, a nonconformist left-wing minister in the Labour governments of the 1960s and 70s, and an unwavering opponent of UK involvement in the European project. The other was Margaret Thatcher. Both could be described as nationalists.
Shore said when the Commons was asked in 1972 to accept the Treaty of Rome:
"It is a treaty – the first in our history – which would deprive the British Parliament and people of democratic rights which they have exercised for many centuries.

I can think of no treaty, to cite only one characteristic of the Rome Treaty, in which the British Parliament agree that the power to tax the British people should be handed over to another group, or countries, or people outside this country, and that they should have the right in perpetuity to levy taxes upon us and decide how the revenues of those taxes should be spent."
He added later: "I did not come into socialist politics in order to connive in the dismantling of the power of the British people." He voted against all of the European treaties and opposed UK participation in elections to the European Parliament.
Mrs Thatcher, meanwhile, in 1988 delivered a speech at the College of Europe in Bruges that set the Conservative Party's Eurosceptic fuse alight:
"We have not successfully rolled back the frontiers of the state in Britain, only to see them re-imposed at a European level with a European super-state exercising a new dominance from Brussels.

Working more closely together does not require power to be centralized in Brussels or decisions to be taken by an appointed bureaucracy.

We want to see Europe more united and with a greater sense of common purpose, but it must be in a way which preserves the different traditions, parliamentary powers, and sense of national pride in one's own country."
What both of these people – Thatcher somewhat later than others such as Hugh Gaitskell, Tony Benn, Enoch Powell and Ernie Bevin – could see coming down the track was the step-by-stealth creation of exactly what the project's founders had in mind from its origins in the 1920s: a country – or a state – called Europe, its ancient nations reduced to mere counties.
The decades-long struggle by EU-sceptics to regain the sovereignty of the nation they called Britain might, once upon a time, have been recognizable in Ireland as a quest for nothing other than Home Rule.
But now we know there is no such nation as Britain. It was a construct cobbled together by England for three centuries and its end is approaching, if not imminent. It is being seen off by the Brexit vote, the coronavirus plague and the very devolution settlement that was designed to preserve it but that would inevitably fail to do so.
Westminster's devolution legislation was a recognition of the legitimacy of nationalism, at least in Scotland, Wales, and Northern Ireland. It had not a clue – and still hasn't – what to do about England, where the so-called main parties have failed to come up with a satisfactory answer to the West Lothian Question, a phrase coined by Enoch Powell after the then Labour MP for that constituency raised the problem repeatedly in devolution debates.
One Labour politician – albeit a former one – who has subjected the devolution mess to a forensic study in the light of the Brexit vote is Professor John Denham, a minister in Blair and Brown administrations and now Director of the Centre for English Identity and Politics at the University of Winchester.
In a 2018 lecture, "A nation divided? The identities, politics and governance of England", he explained concisely what a parliament is for and, in the context of West Lothian Question, which might also be called The English Question, noted:
"England is now the only part of the UK governed permanently on most domestic policy by the UK government and not by its own elected parliament or assembly.

Of course, people say that England is so big within Westminster that the distinction is a technicality, a matter of form not a matter of substance. This is to miss the point about what a national parliament is. English Votes on English Laws have given English MPs a veto on legislation but, in the words of one authoritative study, it has not yet given England a voice.

The Commons does not provide a forum and focus for the politics of England in the way that the elected bodies of Scotland, Wales and, Northern Ireland do for those parts of the union. There is no crucible for England's national debate."
So this is the tangle my Brexiteer friends – Tories, Labour, UKIP folks – appear unwilling or unable to unravel. They fought for the right of what they thought was a nation – Britain – to make a choice about its future. Their philosophical case was flawless, it was just that the nation they believed they were safeguarding didn't and doesn't exist.
But the moral basis of that campaign has been established and is there to be taken and asserted by the SNP with the voice Scotland's parliament, the country's crucible for national debate, gives it.
What makes the Union so "precious" for those who see it as such? Mere history and sentiment? They undoubtedly have weight in the affairs of nations and their alliances, but they do not fix constitutions in stone.
Or an intellectual inability to accept the mortality of all unions, even those that have survived for three centuries? Possibly; it was quite beyond the comprehension of EU Remainers that Britain's obviously unhappy 48-year marriage with Brussels could ever be brought to an end.
Yanking Britain out of its place in the Brussels Empire – a servitude Oxbridge and the BBC judged everlasting – was the act of radicals. That radical spirit on the Tory right will be needed again if it's clear that the majority of Scots are as displeased with the British union as the British – or chiefly, the English – were with Europe.
What could the UK's prime minister do if the Scottish government went ahead with a referendum without Westminster's consent? The Madrid Solution – send in the riot police to drag old women out of the polling stations? There is no coherently defensible alternative to saying Yes when Scotland asks for the opportunity to say "We're out".
.
Soapbox is a weekend column designed to provoke debate on (usually) non-party-political issues. The opinions expressed are not necessarily those of Wings Over Scotland, except when we write them ourselves, obviously.
If you'd like to contribute a Soapbox piece (ideally 800-1500 words), send it to us via our Contact page, INCLUDING THE WORD 'SOAPBOX' IN THE SUBJECT LINE.