FOREWORD: SNP MPs writing for this website about anything, especially a Plan B for independence, shouldn't be controversial. We as a party should welcome diversity and inclusion – as indeed we do by giving quotes to every daily UK newspaper and broadcaster, as well as occasionally providing articles and financial help for them.
I for one would prefer it if people would get over posturing about the messenger and deal with the more important message. So let's get to it.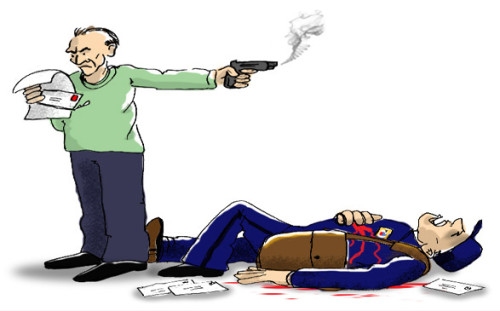 Away from the vacuous fuss and back on Planet Reality, Scotland needs to get out of the current UK parliamentary union. It is notable that among our similarly-sized near neighbours Ireland – who of course led the way on leaving the UK union – are at #2 on the UN World Human Development Index and Norway are at #1. We have nothing to fear but dithering. 
It's already obvious that Scottish democracy once again will be utterly ignored by the UK Government after May's election – for such is the nature of the Union – if we stick to a referendum-only plan.
Fortunately, the Scottish Government does now indeed recognise this reality, after quite a period of unsubstantiated and baseless hope that the UK Government would grant a Section 30 order.  It now seems to have been belatedly accepted that the UK Government is not going to write its own funeral notice.
However, the notice everybody has to pay attention to – and seemingly no matter how often it's repeated, blind optimism seems to glide over the reality – is that nobody in the Scottish Government, or at any level in the SNP, can look the voters in the eye and honestly tell them that there will be another referendum before 2026.
There is still time, however, to use the upcoming election for a proper Plan B rather than wait until the 2026 election for one. "Plan B" is of course using the ballot boxes of the May election to let the Scottish people choose between remaining with the Boris Union or independence.
Democrats, firstly and fundamentally, must all agree that the ballot box, whether at elections or referendums, must be respected. Elections and referendums are democratically equal. Logically it follows that either a referendum or an election are legitimate processes to determine the will of the people.
Clearly, after 21 opinion polls on the trot for independence, Scots are owed a chance to vote for it at the next available ballot box, whether that be an election or a referendum.
The moment is now. Brexit has given, and continues to give, a multitude of reasons to leave the UK, whether it be the non-continuation of Erasmus for Scottish students or the shellfish debacle (which I warned the PM about in July 2018).
We cannot wait for an uncertain referendum, or for five years until the next election. That would mean a lot of students missing out and a lot of shellfish fishermen and companies gone bust, to name but two areas of Scottish life damaged by our remaining in the UK.
The current "Plan A" concedes that a referendum is not guaranteed. Point 10 of the "11-point plan" is to go to court, which is the equivalent in Monopoly of going to jail indefinitely until you throw a double six. As a plan to secure a vote any time in the next five years, it's doomed.
So do we gamble that after the election the long shot of a referendum granted by Westminster succeeds, understanding that a (more probable) failure would mean no available ballot boxes for independence until 2026? As the late Seamus Mallon might have said, we in Scotland are at risk of making the 2026 election the 2021 election for slow learners.
One fortunate thing recently is those who used to bandy about terms like "illegal referendum", "wildcat referendum" and "gold standard" have dropped this tomfoolery, and for that at least we must thank Mike Russell and his 11-Point Plan.
Such tomfoolery missed the very obvious point that the most democratic and internationally legitimate acts that can happen in a country are its elections. Everyone recognises democratic results when the people are asked. There's one aspect of tomfoolery that still lives on however, and it's when some postulate that Westminster or the international community might say "No" to the legitimate, democratic expression of the people of Scotland in a plebiscitary election.
However, unlike Boris Johnson's consistent (and convincing) assertions that he'll grant no more referendums for decades, nobody has actually said – either in Westminster or internationally – that they wouldn't respect a Yes vote in such an election, and those who lack the strategic guile to use the elections for independence have underlined that lack of guile by not having the wit to check their baseless assertions by asking.
Indeed, Boris and his boys have been very careful NOT to say that they'd disregard an answer from the Scottish people on independence the way that they'd disregard yet another Section 30 request from the Scottish Government.
They obviously don't want to be put in the same bracket as Lukashenko in Belarus, or Donald Trump recently in the USA, of denying the ballot box. Indeed, we can be certain that many senior English politicians have the common decency to make sure that doesn't happen, so that their own reputations aren't traduced internationally by such a stance.
If it's not clearly established before 31 March that this year's election can guarantee a referendum in the lifetime of the next Parliament, then the election will have been a massive wasted opportunity and there's unfortunately a huge chance that the nation will have been sold down the river for years to come.
There is everything to gain for the SNP by making the election about independence. It's a general truth that the party isn't as popular as independence, so there's nothing to lose by hitching the party to its primary reason for existence and riding its coat-tails. It's a win-win for the SNP.
We could be on the way to independence just 11 weeks from now, on the strength of a clear and explicit mandate from the people that neither London nor the wider world would have any grounds to refuse – but Plan B is the only thing that can deliver it.
21 opinion polls in a row say that the people of Scotland want independence. In May, let's just ask them straight out. Tha fior dheagh chothrom ann airson saoirse na h-Alba a nis, nach robh ann riamh rethid.
Angus MacNeil is an SNP MP.