Michael Glackin of the Sunday Times is the only serious contender to the Scotsman's demented Brian Wilson as the most poisonously, blindly instinctive hater of anything even passingly connected to the SNP or independence in the Scottish media. His weekly bilious rants in the paper make even Scottish Daily Express hacks wince and say "Blimey, that's a bit strong".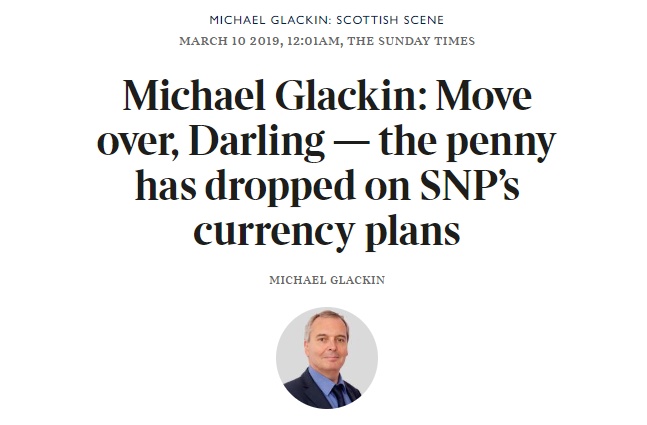 But even by those standards, this week's column is quite something. So let's take a little look at just how much of an idiot you can make of yourself if you never allow facts to get in the way of your rage.
After a brief panegyric on how wonderful and principled Alistair Darling is (no, really), we start with a sneery reference to an independent Scottish currency as the "silver merk", a pre-Union Scottish coin.
(The story he refers to is a ridiculous piece of drivel from Darling making the endlessly-debunked assertion that an independent Scotland would have to join the Euro.)
But then it gets good.

It appears not to have occurred to Glackin that perhaps Scotland having a higher deficit than similar small nations while its economy is under the control of the UK is perhaps a sign that UK control isn't working out all that well for Scotland. But what does he think that deficit is?
The dictionary definition of "notional" is "not existing in reality".
In fairness it's an extremely good word to use when referring to Scotland's deficit, because Scotland doesn't and can't have a deficit, and certainly not one of 7.9% of GDP. The Scottish Government is only allowed a tiny amount of borrowing, in very restricted circumstances and only for certain purposes, and the most it can run up in one year is £600m, which is just 0.4% of its GDP. Its "deficit" is determined solely by the UK government on the basis of being a region of the UK.
Even the most deranged diehard Unionists now accept that nobody has any idea what an INDEPENDENT Scotland's deficit would actually be: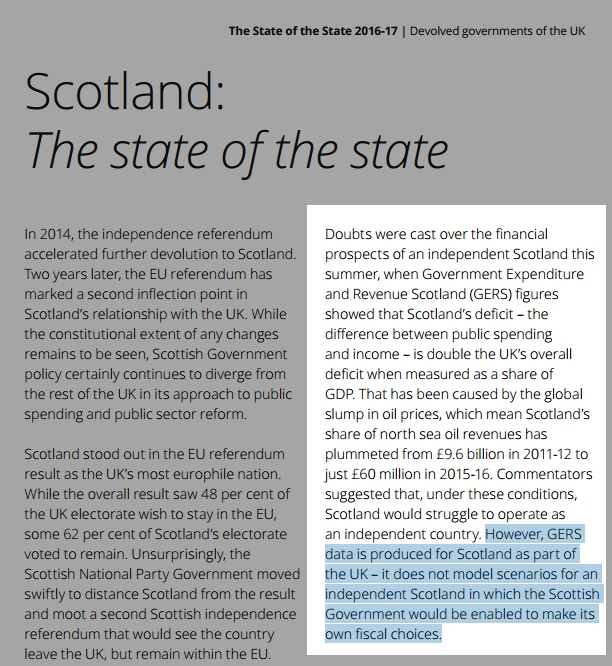 But Glackin is operating at an intellectual level below the most extreme anonymous Twitter troll. And then he really loses it.

Another thing that even the dumbest of internet zoomers knows by now is that an independent Scotland has no obligation whatsoever to take on a single penny of the UK's debt. We know that not only because it's obviously true – you're not responsible for loans your landlord or your next-door neighbour took out even if they spent some of them on buying you presents – but because the UK government itself told us so, more than five years ago.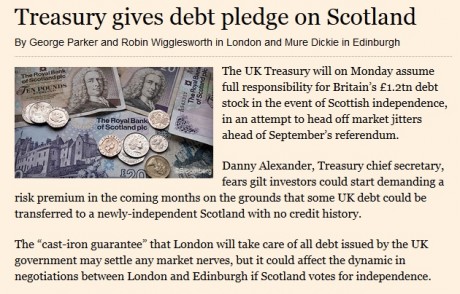 Any debt share we agreed to inherit would be voluntarily negotiated in exchange for something else, and it's very hard to see why it would be agreed at all, given the strength of Scotland's negotiating position, something we've known since 2012:
But of course Glackin's point is far more idiotic even than that, because the GERS figures he's using to establish Scotland's "notional" deficit already include billions of pounds of UK debt repayment – around £16.5bn in the last five years alone.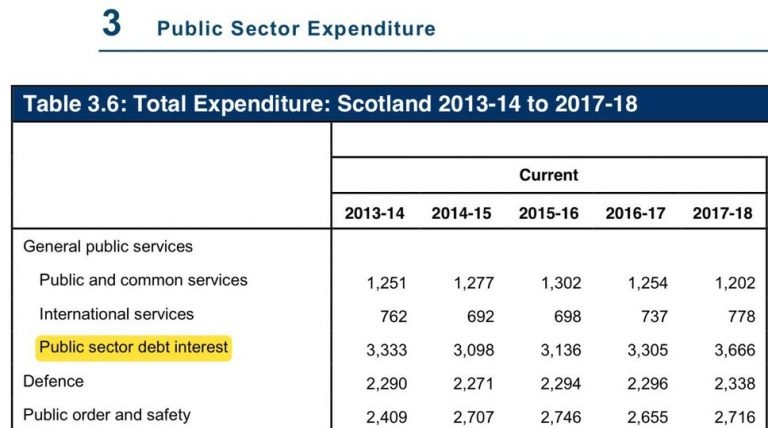 In other words, even if Scotland generously took on a population share of UK debt that wouldn't INCREASE its deficit, it would leave it the same as it is now because we're already paying it.
So that's an awful lot of stupid to cram into three short paragraphs. The deficit claim is wrong, the debt claim is doubly wrong and the logic is absolutely cuckoo. But it's a pretty good illustration of just how doggedly the Scottish media will ignore reality in order to rubbish their own country and its prospects.