Even in a sluggish news season, it's somehow extra-dispiriting to see a once-august newspaper like the Sunday Times fill its pages by trying to flog its readers reheated old cobblers from the previous day's Daily Mail.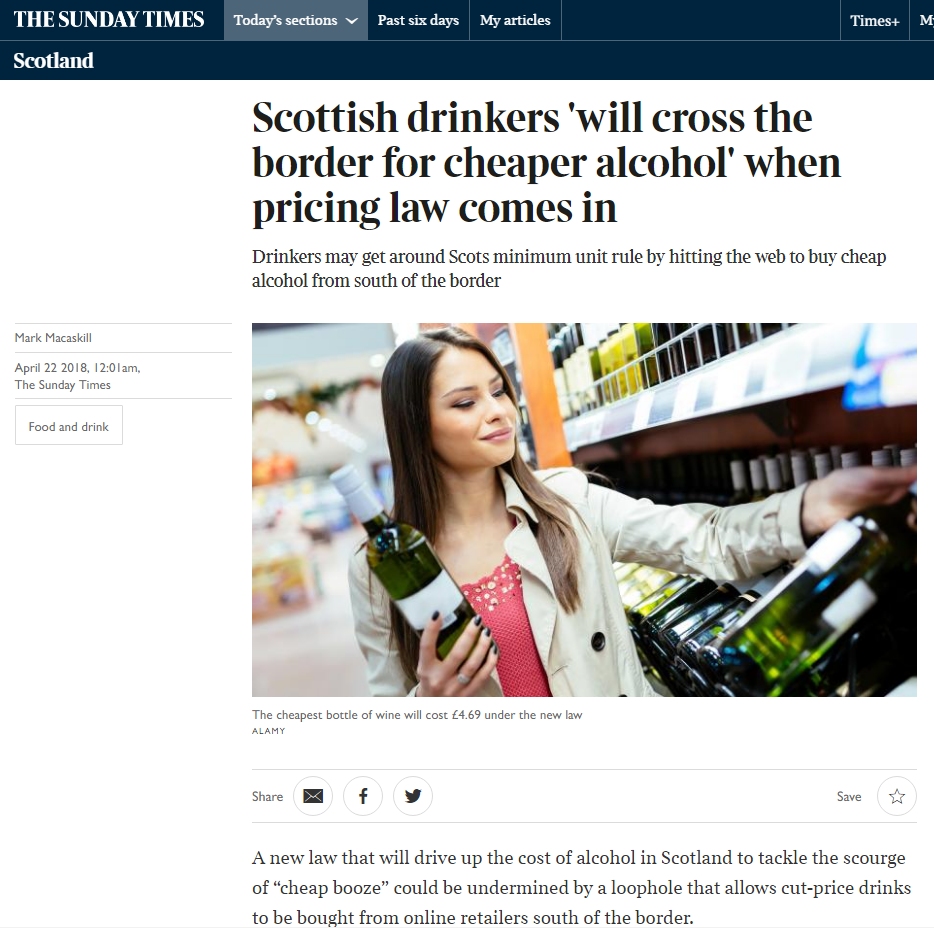 We've already shredded the towering stupidity of the story itself (the Times dutifully repeats all the exact same drivel about meal deals and loyalty vouchers), so we were pleased when social media presented a new angle on it.
"Social commentator and freelance journalist" Lt-Col Stuart Crawford (ret'd) drew the attention of the paper's Scotland Editor to a letter he'd had published in the (the) Times last year on the subject: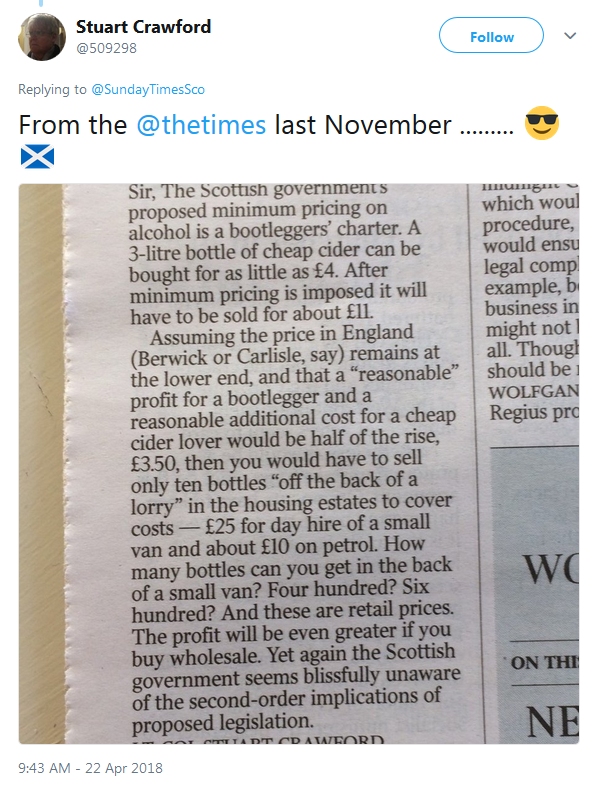 And just for the sheer mental exercise, we thought it might be interesting to examine that business model.
For a would-be bootlegger to procure these lavish profits (Lt-Col Crawford suggested over £1000 a trip) by exploiting the new law, they'd need to satisfy several criteria.
———————————————————————————————————–
 1. SUPPLY
This one's easy enough. Anyone can hire that "small van" (say a Renault Kangoo) for around £40 a day, drive it over the border to Berwick or Carlisle and stuff it with giant bottles of dirt-cheap chemical "cider" at the nearest cash'n'carry. You can get 3 litres of Omega 7.5% ("It'll be the end of you") for £3 a pop, for example.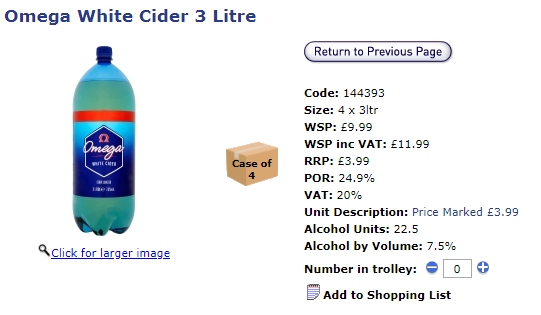 2. MARGIN
The Kangoo has a payload of 650kg, so it'll hold about 216 bottles (not the claimed 400 or 600). In order to collect our £1000 profit, therefore, we need to make £4.63 on every bottle before costs, ie we need to sell it to our thirsty connoisseurs for £7.63.
 3. DEMAND
And that gives us a big problem straight away. Because where are you going to find a market that's both close enough to the border to make the venture cost-effective for you, but also far enough away that punters couldn't just hop into their cars or on a bus to Berwick themselves and buy the product legally and conveniently for less than half of what you're charging?
(Plus Berwick is quite a pretty place to pass out and you'll have some nice sea air to help with your hangover when you wake up.)
The Borders, after all, isn't a famously very densely-populated region. We're not sure there's a massive wino community in Hawick or Wigtown that's going to be sufficiently easy to reach that you could get over 200 of them to congregate in the same Lidl car park or lay-by at midnight one evening to buy illicit booze at an inflated price.
To get a big enough audience you're pretty much going to have to go to Edinburgh, a 120-mile round trip to your nearest supplier in England. Realistically that's at least £20 in fuel a time, added to the £40 cost of hiring the van, which means you need to hike the cost to punters by another 30p a bottle to cover your expenses, assuming you're doing all the work yourself.
If you're paying some other sap to do all the lugging (or provide you with security, which you'll probably want to if you've got 200 desperate alkies on your hands) you're going to have to be making it worth their while, given that they're risking arrest while you sit at home watching telly, so that's probably another £100 a time onto your costs.
So we're now near or above £8 a bottle, and your customers are saving barely £3 for all the hassle of having to somehow know where and when to go to buy illegal cider from a dodgy bloke in a van, surrounded by some highly questionable characters in an environment that's obviously very attractive to predators as well as the police.
 4. RISK
Oh yeah – the police. They're unlikely to look very kindly on this entire operation, and it's not exactly going to be tricky to uncover. Even the dopiest bobbies aren't going to have a hard time sitting in an unmarked car outside the Berwick wholesaler spotting the guy loading hundreds of bottles of white cider and nothing else into a van on a regular basis and heading for the border.
(Or just bribing the local boozehound in Edinburgh to spill the time and location of the latest impromptu boot sale.)
So you better factor quite a few fines, at the very least, into your margins. Suddenly the profitability of this business is looking fragile.
———————————————————————————————————–
In short, then, it's a complete imbecile's plan. Your potential market is tiny and almost entirely comprised of poor people, the margins are trivial and the risk of capture high.
Your customers can realistically only buy a few bottles at a time (because they're big and heavy), so you need to somehow gather a huge number of punters together in one place at a time, which is going to be somewhat conspicuous even if you were able to get the information out.
(Obviously there's no motivation for anyone – shopkeepers, say – to buy from you in bulk, because you're charging twice what they can get the product for perfectly legally. Minimum pricing isn't a tax – the money doesn't go to the government, it goes in the retailer's pocket, so they have no reason to dodge it.)
Suggesting it as a flaw or loophole in the legislation, then, is some distance beyond even the common-or-garden level of moronic SNP BAD kneejerkery we've all come to wearily expect of the Scottish press, and we're a bit alarmed to have such a ludicrous idea given credence not only by a supposedly-respectable broadsheet newspaper but also by someone who used to be in charge of weaponry and soldiers.
The Sunday Times costs £2.70 (which is incidentally almost three times as much as the Daily Mail you'd have got the same story in a full 24 hours sooner). We'd suggest spending the money on Frosty Jack's instead. It won't be any more enlightening, but it'll leave a less unpleasant taste in your mouth.