Scottish schoolchildren start their exams today. We wish them good luck, because if any of them have taken their lead in language skills from the nation's media they're going to be in a lot of trouble.
For 10% of extra course credit, let's find out why.
This is what Nicola Sturgeon actually said about the election yesterday, as quoted by almost every source:
"The issue at the heart of this election is — whether you support independence or oppose independence — surely that decision should be taken by the Scottish people and the Scottish Parliament, and not by a Tory government at Westminster."
Now, unless you're bottom of the remedial English class there's only one sane way to interpret those words. They're not ambiguous or equivocal. They clearly and directly state that PEOPLE'S POSITION ON INDEPENDENCE IS IRRELEVANT TO THE POINT SHE'S MAKING, namely that the issue is which of Scotland's two conflicting governments should make important decisions.
She says it with spectacularly explicit, unmistakeable clarity: "whether you support independence or oppose independence". It couldn't be any plainer – independence isn't the topic of discussion, the hierarchy of parliaments is.
"Independence is at [the] heart of [the] election campaign", then, is just about the wrongest possible summary of her comments that anyone could produce. It's like taking the words "I am not a banana" and headlining your story "I AM DEFINITELY A BANANA, SAYS STURGEON". It's that level of wrong. It's very nearly impossible on a technical level to exaggerate how empirically, unarguably wrong it is.
So by both Occam's and Hanlon's Razors (we're throwing these top study references in for free, exam kids!), the simplest explanation is that Daniel Sanderson, the Times' reporter, is an illiterate idiot. And that would be fine (and very believable on his track record), except that every other journalist in Scotland has somehow come up with the exact same monumentally cretinous misrepresentation.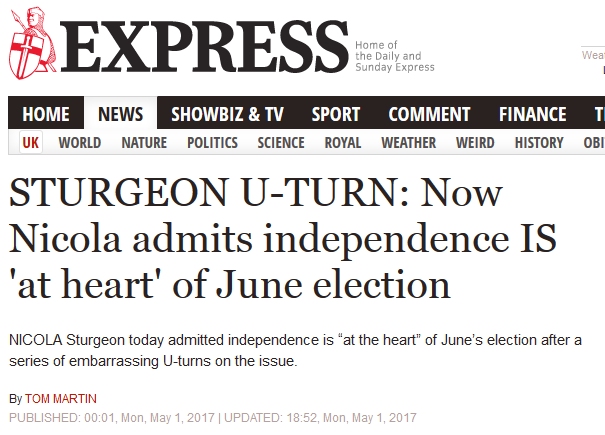 (It's passingly noteworthy that most of them also frame it as an "admission", implying guilt and either indirectly or directly accusing her of lying previously.)
The Scottish Sun's version, mindbogglingly, actually manages to go one step further by printing the literal exact opposite of what Sturgeon said as its headline, even though its own story has the accurate quote. But there was worse.
Because the Times piece backed up its misleading headline with a doctored version of the quote which completely reversed its meaning.
Not only does altering the punctuation to break one sentence into two make that quote false, it also makes it nonsense. Independence itself, despite what Adam Tomkins might want, is NOT a decision for the Scottish Parliament, it's one for the electorate to make in a democratic referendum.
Now we could, of course, generously put that down to an honest misunderstanding, a genuine accidental mishearing of Sturgeon's words that led to them being transcribed wrongly and therefore misreported in the story. People are human, sometimes they're not listening properly (or they hear what they want to hear, which isn't the same thing as deliberate malicious misrepresentation).
But if that's the case then it's quite a coincidence that every journalist in the Scottish press managed to come to the exact same misunderstanding even when they heard and quoted the First Minister correctly.
Or maybe it's not a coincidence at all. Make up your own minds.