Alert readers will already be aware that former Labour MP, minister and nuclear-power lobbyist Brian Wilson is one of our least favourite figures in the independence debate.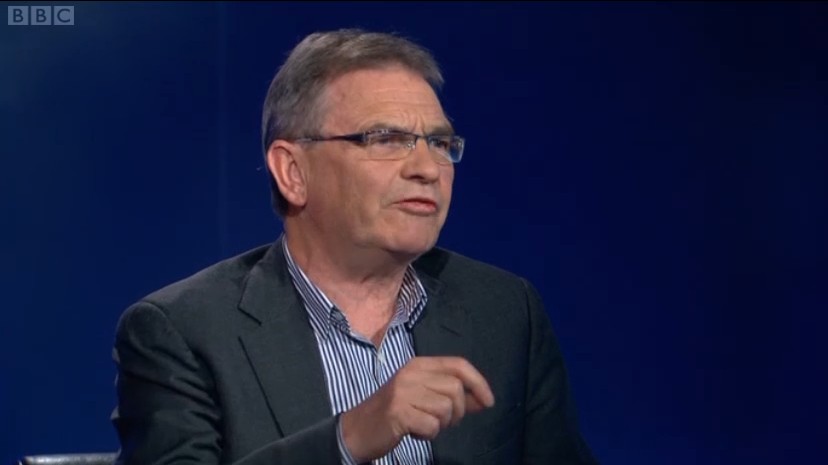 A man utterly consumed by tribal hatred of the SNP – even by the standards of Scottish Labour, which is no mean accolade – his Scotsman columns are some of the most mendacious, bilious propaganda to be found in the country, to the extent that we don't even link to them in our "Zany Comedy Relief" section.
Today, however, he's outdone himself in spectacular style.
Wilson's latest article for the newspaper is a foaming-mouthed diatribe about postal charges, based on the price of sending a letter from Northern Ireland to the Republic.
"Consider the plea of a local politician in County Tyrone who paid £2.38 for a stamp that would have cost, at most, 62p if the letter had stayed within the UK. "It's crazy," she complained. 'It is very expensive and nobody can understand it'. To which one might reasonably have replied: 'It's the border, stupid'."
This is a lie. The only stamp on the Royal Mail's price list costing £2.38 is the one for a 1st Class "large letter" between 500g and 750g, delivered INSIDE THE UK: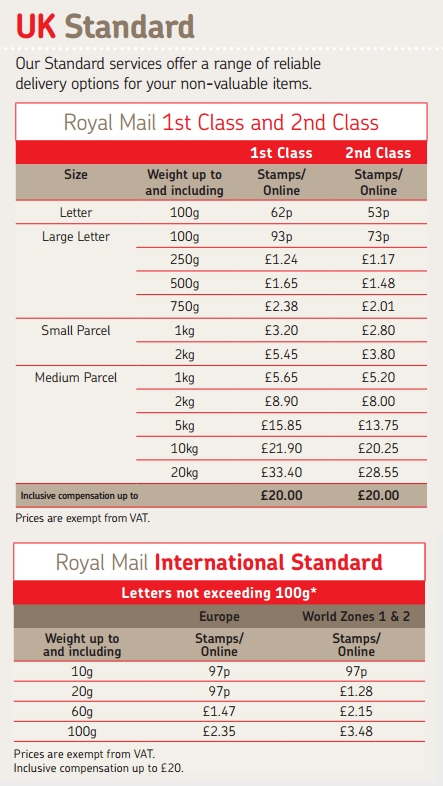 The nearest thing for a letter to Ireland  – which is "Europe" in Royal Mail terms – is £2.35 for one between 60g and 100g (which would be a very heavy letter indeed, coming in not much below the weight of a quarter-pound bag of Wine Gums). The same letter would have cost either 62p or 93p in the UK depending on its physical dimensions, although at that weight it would have been pretty much a miracle if it didn't come under the "large letter" category and incur the higher cost.
Now, Wilson's complaint is in itself obviously fundamentally nonsense. There isn't any actual REASON why the Royal Mail should charge so much for mail between Northern Ireland and the Republic, it simply CHOOSES to. In the other direction, mail from the Republic to Northern Ireland is more sensibly treated as "internal" mail and charged at the same rate as post within the Republic itself – 68 Euro cents, or 54p (which is 13% cheaper than internal mail in the UK).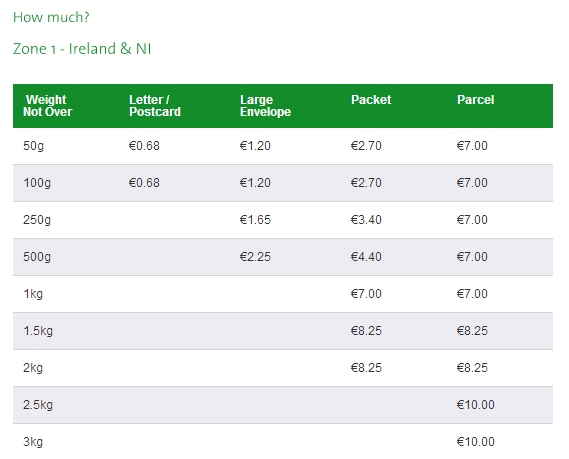 (We're converting all Irish prices to Sterling here for ease of comparison, and because we can never remember which bloody shift key to press to get the Euro symbol.)
Even for mail going across the sea to mainland UK, the Irish postal service charges far less than the Royal Mail does – a 100g letter is just 79p, or £1.55 for a large envelope, compared to the Royal Mail's £2.35 going the other way.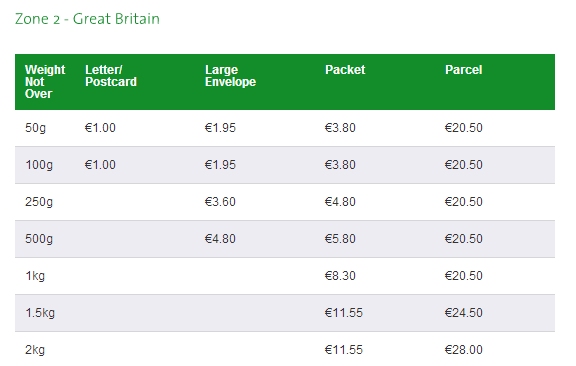 But scaremongering over stamp prices is by far the least of the lies in the article.
Wilson then goes on to extrapolate to a wider point about the impact of independence on the costs of cross-border trade outside a currency union (so it's essentially a moot point anyway), and he's characteristically doom-laden about it:

4% of GDP? Wow, that's a pretty hefty blow to be sure. But wait a minute – if £600m is 4%, that would mean that Scotland's entire GDP was just £15bn, which is plainly complete tommyrot – the Scottish block grant alone is around £25bn. In fact, the real GDP figure is almost exactly TEN TIMES what Brian Wilson says it is. Surely the Scottish Government wouldn't have come up with such a sloppily erroneous claim?
And indeed, a UK government document from May 2014 shows that they didn't: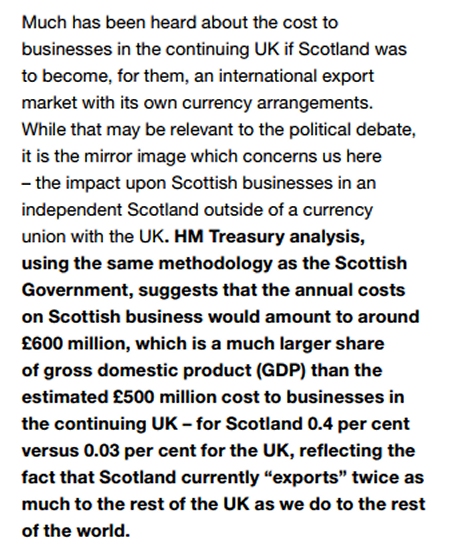 What Wilson describes in the Scotsman as "Scottish Government" figures were actually produced by the UK Treasury, allegedly "using the same methodology" as the Scottish Government, which is a rather different proposition. And the UK Treasury's report correctly identified that the claimed £600m sum represented 0.4% of Scottish GDP, not the much scarier 4% suggested by Wilson.
Of course, we can't expect Brian Wilson to be up on the finer detail of every last UK government report. There's no reason he'd have those sorts of figures at his fingertips, so it's perfectly understandable that as a normal fallible human being he might accidentally misinterpret something and massively inflate the figures as a result. It'd be an unfortunate error, especially if it resulted in a claim that caused undue fear and alarm about independence, but these things happen.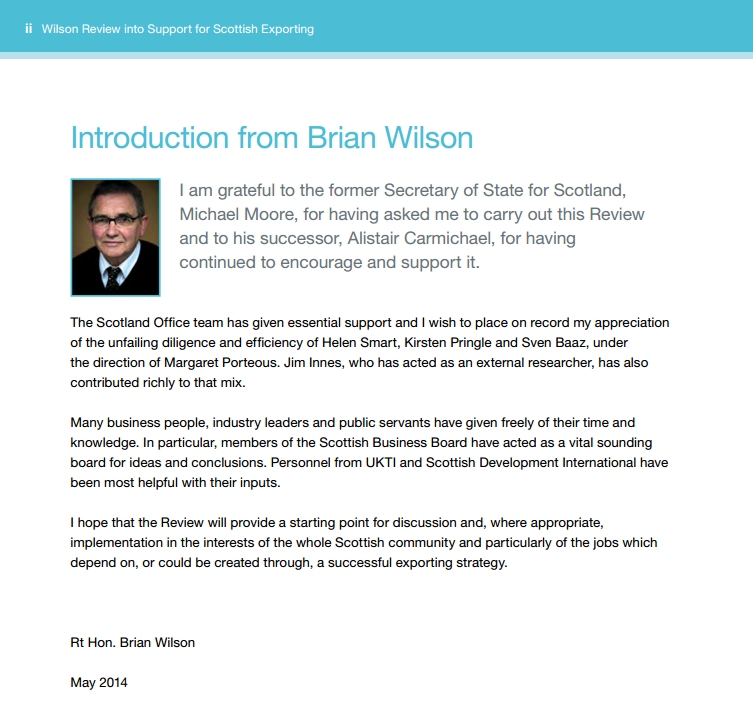 Oh. The UK government's report was produced by… Brian Wilson.
It seems somewhat unlikely, then, that Wilson would multiply the true figure by 1,000% accidentally. Given that it's the entire focus of the article, you'd imagine that it'd be the one figure he'd definitely get right, particularly as he's the one who produced the figure in the first place. But "0.4% of GDP" doesn't sound very frightening, and if you multiply it by 10 and then correct your "mistake" in a tiny corner of tomorrow's paper, the damage is done.
Alternatively, of course, Mr Wilson is just a clangingly stupid, clumsy buffoon. After all, we already know he can't even read a table of postal charges accurately. So if it turns out that he wasn't deliberately lying in order to fearmonger, he can drop us a line to let us know and we'll happily change the title of this article to "Brian Wilson is an idiot".