We struggled to summon up much more than a weary sigh about a story in a couple of the minor papers today (the Herald and Express), about a micro-scuffle at Saturday's pro-indy rally in Glasgow. The most interesting thing about it appeared to be that the Express had written its article several hours before the event took place.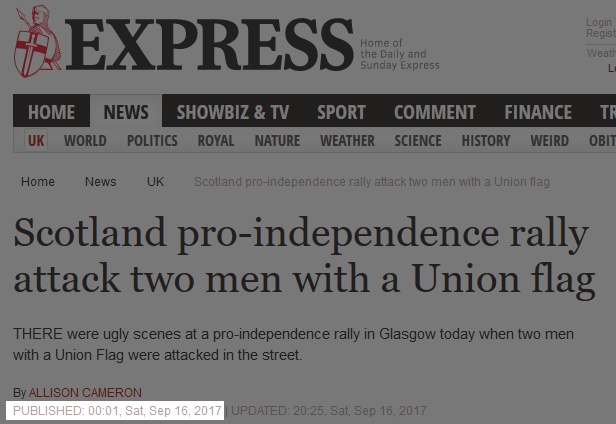 But we weren't quite right.
Two Unionists had turned up with a giant Union Jack in an attempt to provoke trouble, and slightly succeeded when one numpty angrily yelled at them for a few seconds and broke their flagpole. The Herald managed to blow this teacup storm up into 500 words of shock-horror reportage, featuring the definitely-not-over-egging-it quote:
"That march showed that elements of the Yes movement  are no better than the White Supremacists who ascended upon Charlottesville or the yobs within the Scottish Defence League."
Which turned out to be a curious choice of analogy when an alert reader pointed out who the Unionists in question were.

The man with Neill, Oluf "Ollie" Marshall – who reported the non-incident to the police after taking a Lion Rampant flag from the angry marcher who approached him and refusing to give it back – appears to be the man who's standing in front of him in the Mail picture above with David Coburn, and was the party's candidate for East Lothian at the 2015 UK election, finishing 6th. The Herald, oddly, makes no mention of either man's political affiliations.
As ever, we'll leave our readers to form their own conclusions about the motivations of both Mr Neill and Mr Marshall, and those of the Herald.