This is Andy Burnham, Labour's shadow health secretary, earlier this week:
"'Commissioners have been ordered to put all services out to the market, NHS spending on private and other providers has gone through the £10bn barrier for the first time.

When did the British public ever give their consent for this? It is indefensible for the character of the country's most valued institution to be changed in this way without the public being given a say.'

Mr Burnham has written to the boss of NHS England, Simon Stevens, to call for a pause in privatisation unless patient safety or service is at risk."
And here's a press release from the Unite trade union in 2009, when Labour were in power and Mr Burnham actually was the Health Secretary:
"'Roll back the privatisation of the NHS, Andy'

Unite presented a letter signed by 3,000 NHS members to the Department of Health today (Wednesday, 26 August), calling on health secretary Andy Burnham to halt the privatisation of the health service.

The [letter] was part of Unite's Health B4 Profit campaign designed to preserve the NHS as 'a publicly owned, publicly accountable, universal and comprehensive health service managed and run for the public good'.

Unite said that an estimated £20 billion would be spent on creating the bureaucratic market infrastructure for privatisation – money that could be better spent on frontline services.

Karen Reay said: 'Today, we are asking Andy Burnham to protect the heart and soul of the NHS in England and roll back these costly and dangerous plans.

'The continuing vicious attacks by vested interests on President Obama over his plans to provide healthcare for the estimated 47 million Americans currently without this safety net is a stark warning of what awaits British citizens, if the mercenary forces of privatisation are allowed to triumph.'"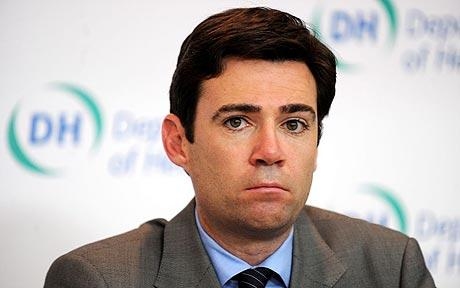 We must confess, readers, we're just not sure how fast Andy Burnham wants the NHS privatised. He certainly doesn't seem to want the process reversed, but what's the right speed? As fast as Labour were privatising it before the coalition was elected? A bit slower? Faster, like pulling off a sticking plaster? At the same speed, but put on hold for a few months until the election's over? If anyone knows, do drop us a line.