Last week we listened to a Radio Scotland phone-in debate on Trident, hosted very deftly by John Beattie, who managed to steer callers away from political points and keep the discussion on the merits or otherwise of the weapons system itself.
Sadly that didn't dissuade the usual coterie of nutters/local councillors phoning in insisting that (a) North Korea would invade/blast Scotland off the face of the Earth the moment we let our guard down, and (b) Helensburgh would immediately revert to the Stone Age at the loss of jobs were the few hundred Trident sailors who spend about a week every year in the town to be reassigned to other posts in the navy.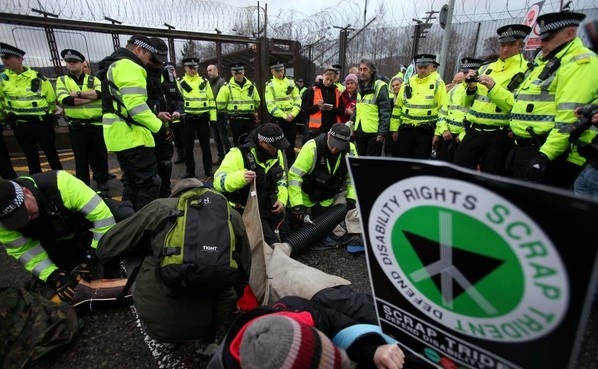 We didn't have time to ring in ourselves, but we did manage to think of a much better idea that solved both of those problems without lumbering Scotland with a gigantic nuclear white elephant, and one that would also free up an awful lot of valuable police time and resources that are currently spent arresting a bunch of hippies.
See if you can pick any holes in it, readers.
Trident is, by wide agreement right across the political spectrum, of no military value whatsoever. The former Prime Minister Tony Blair conceded in his autobiography that its practical utility was "non-existent" and that keeping it was purely a matter of status, while the former Conservative defence secretary Michael Portillo called it a "tremendous waste of money" that was "completely past its sell-by date".
But not everything in the navy is useless. The Type 26 "Global Combat Ship" destroyer – the vessel to be built in the Govan shipyards by BAE Systems, as alert readers will recall from the referendum debate – costs around £300m per ship. It's a high-tech, highly practical craft capable of guarding the UK's coastline, something badly lacking from current naval resources. The MoD currently plans to build 13 in total over a number of years.
So here's a thought. Instead of the UK government spending £3bn a year on Trident for the next several decades, build five Type 26s every year, at a total cost of £1.5bn. The orders would keep thousands of people in work on the Clyde, and within a single parliament the fleet would be twice as big as the one currently planned.
Britain, an island nation, would have a navy worthy of the name, and no longer have to wait 24 hours to intercept Russian battleships pushing their luck. When the point came when we simply couldn't fit any more Type 26s into our docks, we might even be able to afford some aeroplanes for our absurdly massive new aircraft carriers.
"But what about the poor people of Helensburgh?", stupid readers who've accidentally clicked the wrong link when they were looking for the Daily Mail or Labour Hame might be thinking. Well, we've got that covered too.
Regardless of the fact that all these new warships would in reality keep Faslane busy round the clock, let's pretend scrapping Trident really did cost all the comedy numbers of jobs that the Unionist parties like to pretend it would, leaving Helensburgh bereft.
Fortunately, alert readers will also recall that we've still got £1.5bn left over from the £3bn annual cost of Trident after spending £1.5bn on our newly-expanded fleet of Type 26s. The population of Helensburgh, by a happy arithmetical coincidence, is just under 15,000 (or to be precise 14,626). Dividing £1.5bn into that gives us a neat figure of £100,000 a year for every man, woman and child in the town.
So rather than splurging all that cash on some pointless big submarines that achieve nothing other than risk a colossal nuclear catastrophe on the doorstep of Scotland's biggest city, we could get some actually useful naval hardware AND make everyone in Helensburgh rich beyond their wildest dreams, and STILL be saving money.
An average two-child household would trouser a whopping £400,000 a year. Income tax receipts would rocket. The only people who'd need to work in Helensburgh would be Ferrari mechanics, and the guards who'd have to be stationed at the town borders to stop everyone else in Scotland moving there. Everyone who currently commutes from Helensburgh to anywhere else could give up their job, thereby freeing it up for an unemployed person in hard-pressed Clydebank or Dumbarton.
It's a pretty daft-sounding proposal, we'd be the first people to concede. But given that it's still demonstrably, measurably, empirically smarter on every conceivable level than spending the money on Trident, what does it say about that?