Below is a letter that we sent this week to the Electoral Commission.
We thought you might be interested in it.
—————————————————————————————————————
Dear Sir/Madam,
I wonder if you could clarify some matters for me with regard to the political campaign group "Scotland In Union", specifically in regard to the registration of large donations.
According to press reports, the group was specifically formed in order to influence UK elections, beginning with the UK general election in May 2015.
An article in the Financial Times in March of that year, for example, stated:
"Opponents of Scottish independence are launching a campaign group to make a positive case for the UK and help people vote tactically against resurgent nationalists in May's general election.

The creation of the group Scotland in Union reflects dismay at what opinion polls suggest could be significant gains by the Scottish National party in May despite voters' 55-45 per cent rejection of independence in last year's referendum."
The article also explicitly notes that the group intends to raise and spend significant sums of money through donations to this end.
"Scotland in Union will be formally launched on Friday after a fundraising dinner on Thursday night and organisers hope to be able to pay for pro-UK advertising and opinion polls that would let voters know which local candidate is most likely to defeat the SNP in their constituency."
A similar article in the Telegraph notes that:
"It has already received donations that it plans to use for research and polls in constituencies, and has a particular interest in Gordon, where Alex Salmond is the favourite to defeat Christine Jardine, the Lib Dem candidate who hopes to defend the seat formerly held by Sir Malcolm Bruce."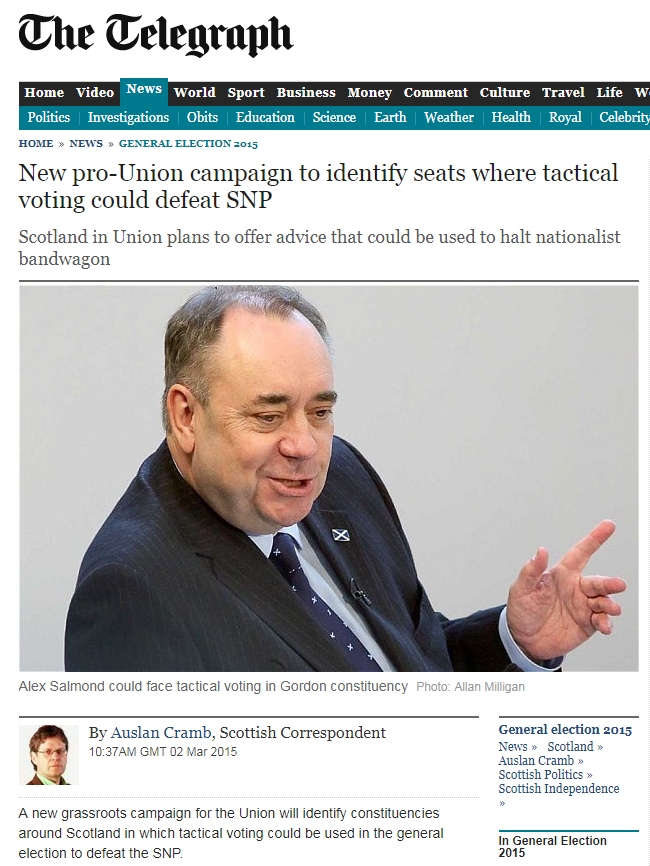 The group did indeed commission polling prior to the 2015 election, for example in April of that year via YouGov, as reported by The Scotsman newspaper. The group made its intention to affect the outcome of the election clear in that report:
"Alastair Cameron, from Scotland in Union, said:

"These figures are from across Scotland, so the proportion could be significantly higher in key constituencies. We're hearing examples of intended tactical voting in many constituencies, as people look closely at the realistic options available to them. People are realising that without tactical voting, they could accidentally hand victory to divisive candidates who won't work positively for Scotland and the UK.""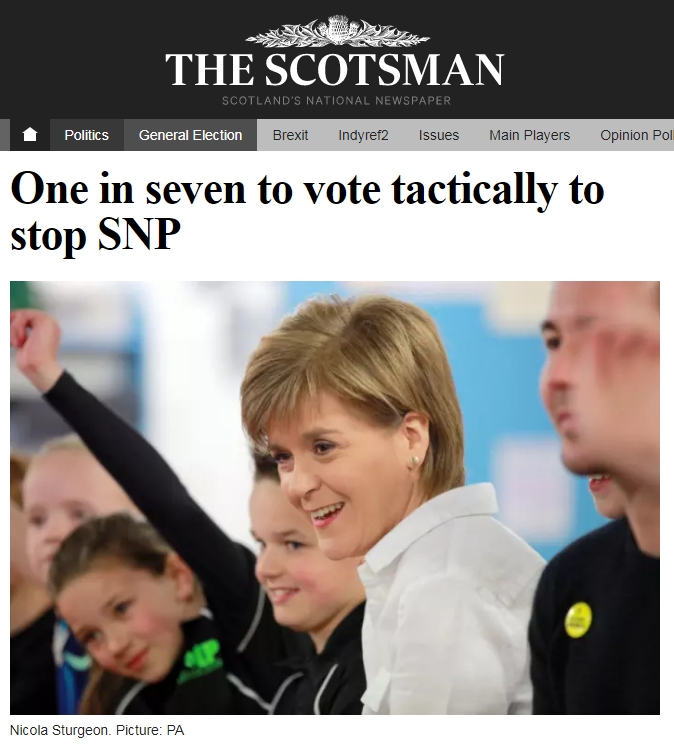 The group was duly registered as a non-party campaigner with the Commission for the 2015 election and recorded spending of at least £13,387.98.
The group continued to campaign at the 2016 Scottish Parliament election, securing the signatures of 75 candidates from anti-SNP parties on a "charter" calling on politicians to oppose Scottish independence and a second referendum. It held events, such as hustings, and it commissioned opinion polls prior to that election, including one from YouGov in February 2016, detailed in this report in the Herald newspaper:
The group was again registered with the Commission for the 2016 Scottish election, listing spending of £25,670.
The group has continued to spend money on campaigning and opinion polls targeting the SNP and independence movement since the 2016 election, including via YouGov in July 2016, reported here, and most recently via YouGov in Sep/Oct 2017.
The poll was reported in the media as being critical of the SNP and independence, including in The Herald.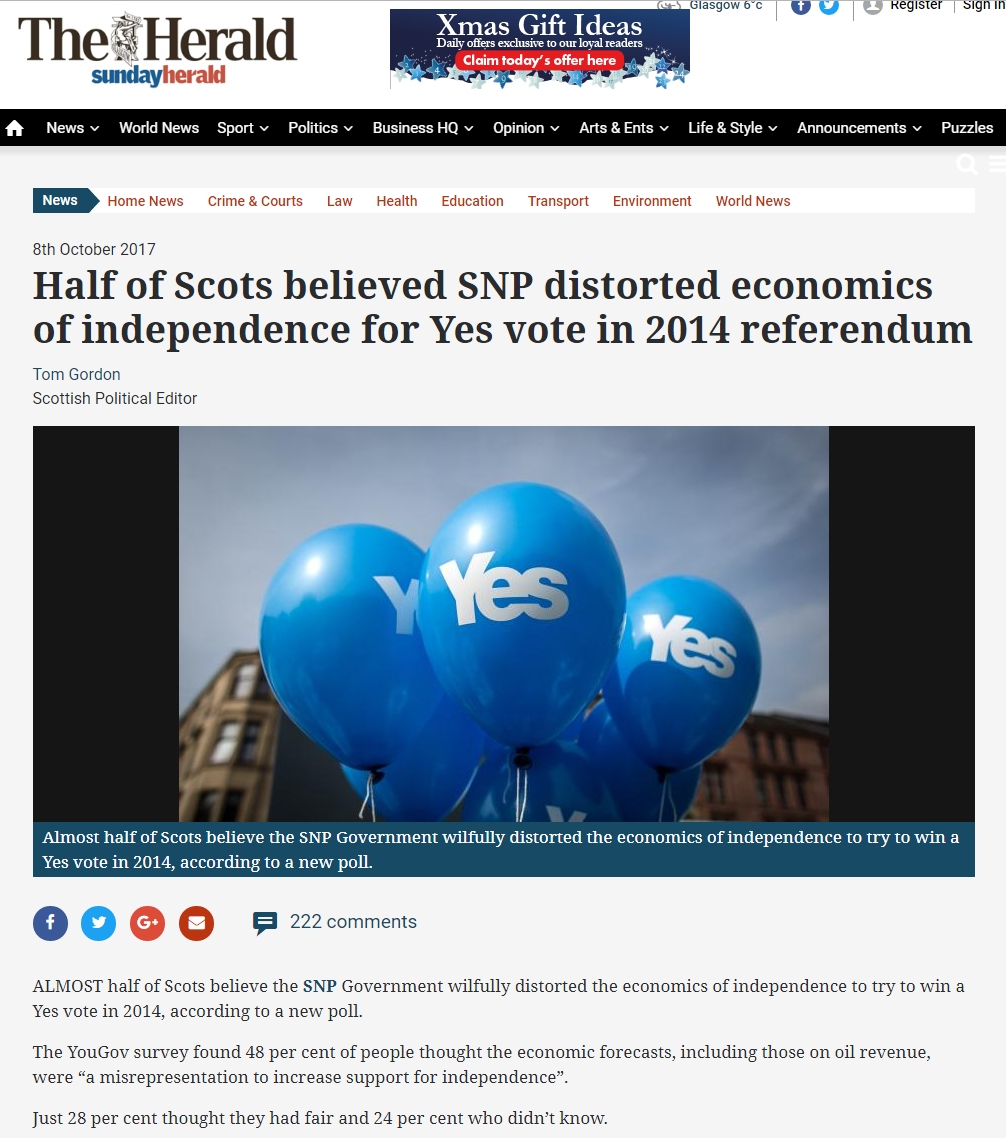 Yet despite all of this declared spending, the group does not appear to have registered a single declarable donation with the Commission since its inception.
Information which has come into my hands – whose veracity is confirmed by Scotland In Union and which I would be able to provide to the Commission subject to data protection laws – indicates that the group has received numerous very large donations over this period, including dozens over £500 and at least nine in excess of £7500.
The precise dates of the donations are largely unclear but it seems highly likely that at least some were made during the regulated periods for the 2015 and 2016 elections.
I wonder if you could offer an explanation as to why none have been recorded with the Commission, or if necessary conduct an investigation to establish any relevant facts.
Regards,
Stuart Campbell