This is a significant development. (Click to enlarge.)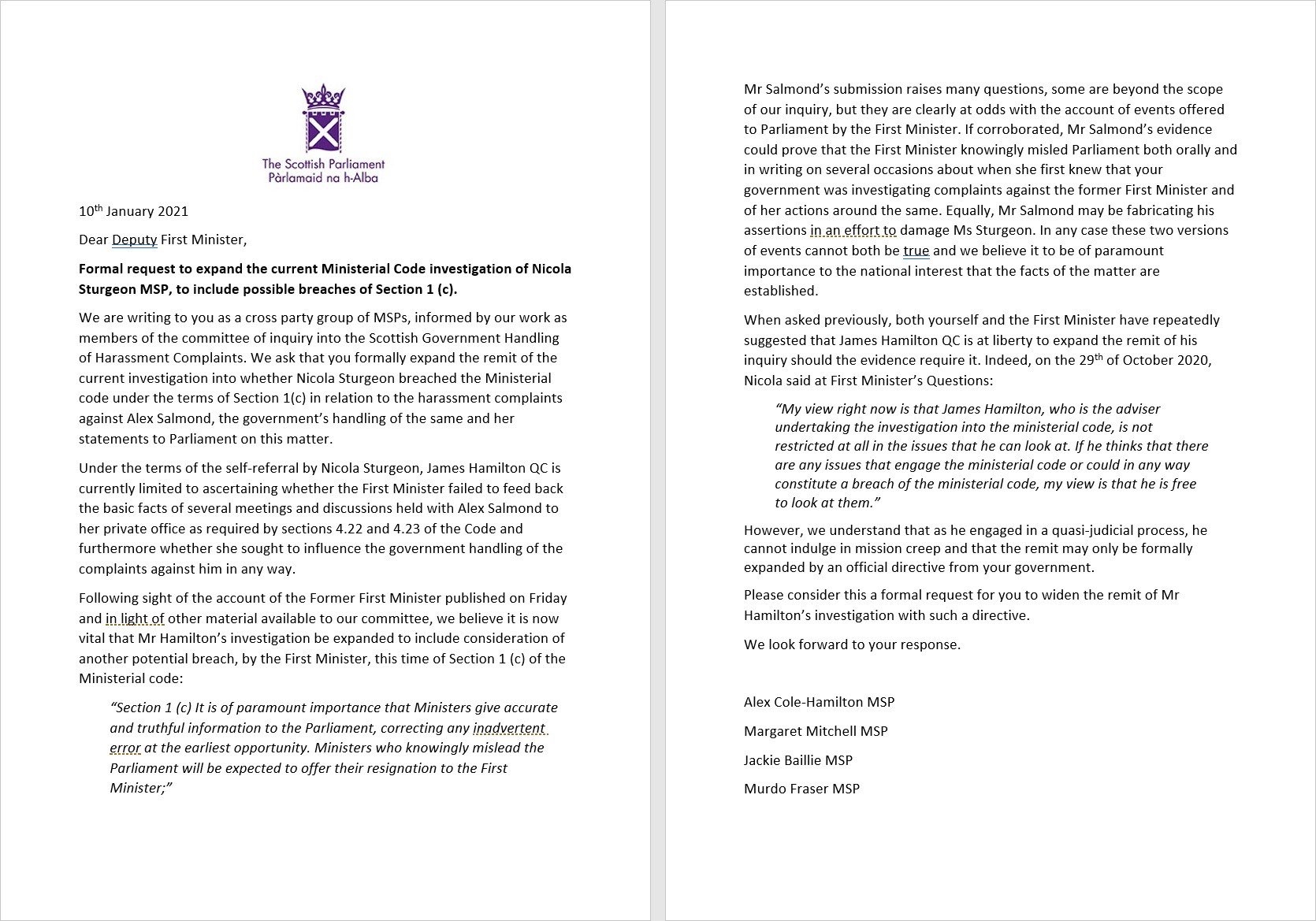 Weirdly, we're not actually sure how many members are on the Holyrood inquiry committee at the moment. There are normally nine – four SNP and five opposition – but with Andy Wightman having recently resigned from the Greens we don't know if he's still on the committee or not, since he was originally there as a Green nominee. If not, we don't know whether, when or by who he'll be replaced.
But the other four non-SNP members have tonight issued a formal request that James Hamilton, who's conducting the other inquiry into Nicola Sturgeon's actions relating to the Alex Salmond affair, be instructed officially to investigate the matter of whether she lied to Parliament.
This, of course, is a subject Wings has been covering for some time.
Mr Hamilton's original remit, written by Deputy First Minister John Swinney, instructed him only to determine whether Nicola Sturgeon had attempted to intervene improperly in the investigation.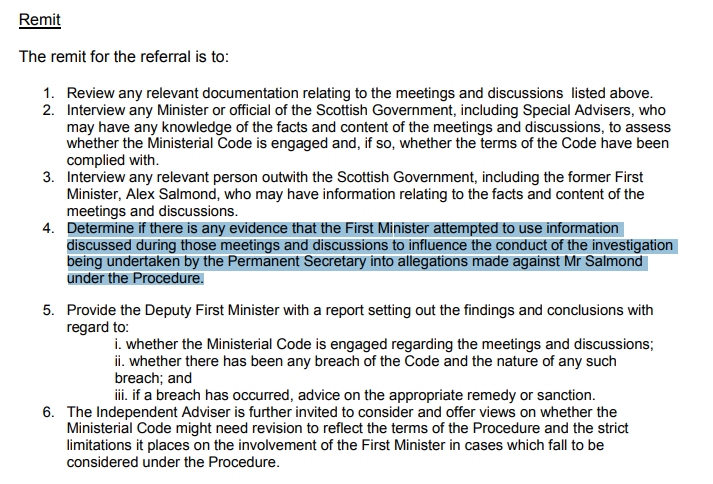 But this, as we've noted previously, is a red herring that nobody actually cares about and which is highly unlikely to be found to be a breach of the Ministerial Code, since it's actually her duty to ensure the investigation progresses legally – a point which was painstakingly made in Alex Salmond's statement to Mr Hamilton, which we exclusively published in full on Friday night.
It's a bit like the police arresting Josef Fritzl and then only investigating whether he had planning permission for his basement alterations.
Subsequently, both the First Minister (in the Holyrood chamber on 29 October last year) and her deputy (on today's BBC Politics Scotland) have said that in their view the remit DOES already encompass the entire Ministerial Code, including the matter of whether she misled Parliament.
That view was also stated, in rather evasive wording, by the Scottish Government in a Freedom Of Information response to this site last month.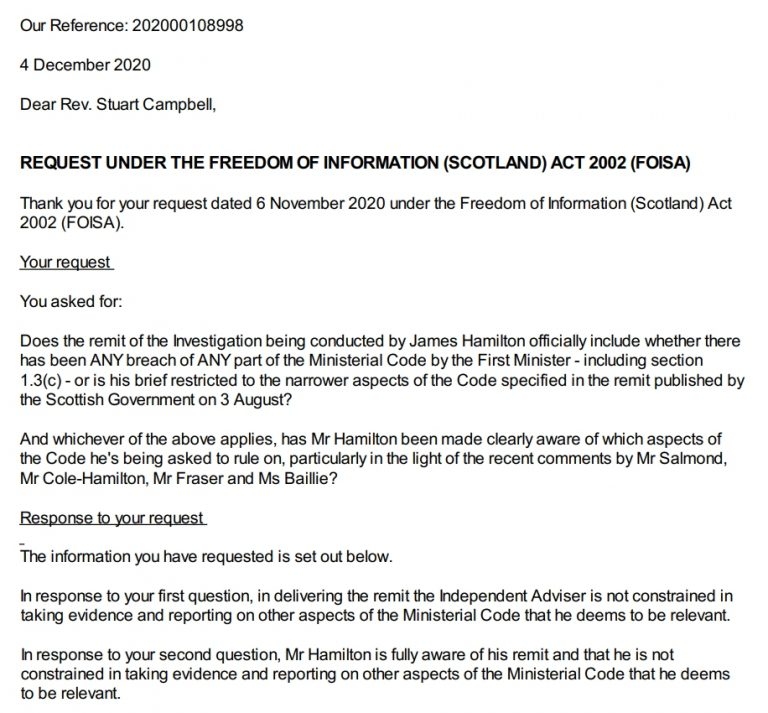 However, the reality appears to be that these statements are meaningless at best, and at worst are deliberately cynical lies. According to tonight's letter from the committee members, Mr Hamilton will in fact NOT be properly empowered to deliver a view on the alleged misleading of Parliament unless expressly instructed to by Mr Swinney.
(Sources close to the investigation have told Wings the same thing.)
So two things can now happen:
(1) John Swinney can accede to the committee members' request and explicitly instruct Mr Hamilton to investigate the claims made in Mr Salmond's submission. After all, he would only be formally clarifying something he and the First Minister both say is already the case, so there would be no possible reason not to.
(2) He can refuse, making it absolutely evident and beyond any dispute that when he and the First Minister said that they considered Mr Hamilton to already have that ability, they were deliberately misleading voters – and in Sturgeon's case, ironically, misleading Parliament – with statements they knew to be false, and raising the very serious question of why the First Minister and her deputy do not want those claims to be investigated and why they are yet again obstructing the committee in its task despite having promised it total co-operation.
We await Mr Swinney's response with very great interest.