You can't make this stuff up.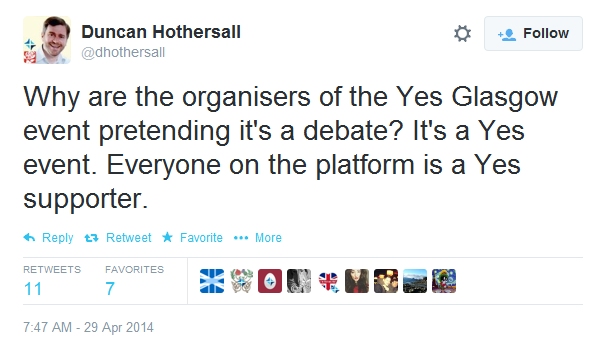 Yes Glasgow has been inviting No speakers to take part in this Thursday's event for literally months. They've contacted every single MP and MSP from a Unionist party representing a Glasgow seat, asking them to participate. They offered from the very beginning to let "Better Together" co-organise and co-host the debate, which will be chaired by the neutral Electoral Reform Society Scotland.
The only reason that "everyone on the platform is a Yes supporter" is because nobody from the No side is prepared to face the Glasgow public and put their case. The opportunity is still there. We confess ourselves perplexed that they seem determined to refuse it, and then to complain bitterly that the debate is one-sided.
(Also, of course, if everyone there is going to be a Yes supporter – even though the event's publicity has all been targeted at undecideds – what better place for a No speaker to go? Surely people who currently aren't going to vote for you are exactly who you want to persuade? Why bother preaching to the converted?)