We had some poll questions out with Panelbase last week. The results were in most ways wholly unsurprising, in line with all previous polls on the subject. Here they are.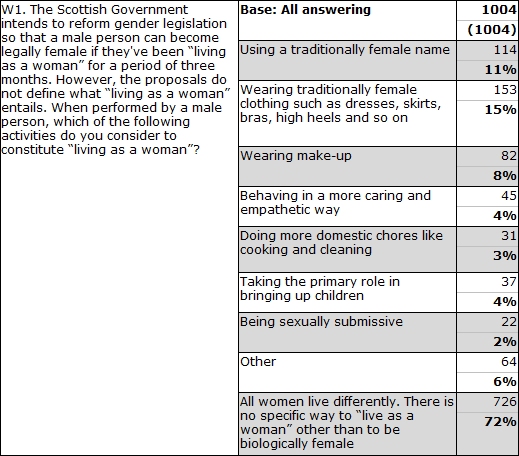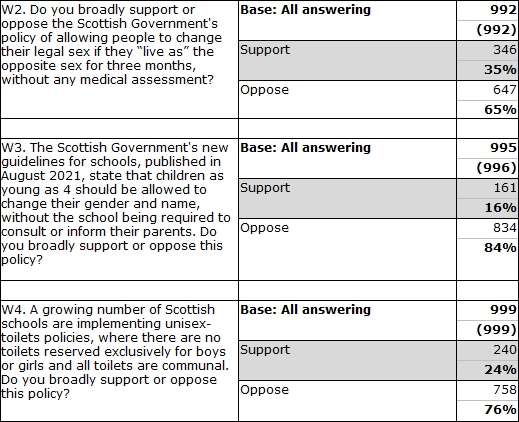 Those are the headline numbers. But the detail is worth a delve.
The first question probably needs a bit of explaining. Most of the options offered will probably strike most readers as astonishingly sexist, for the very good reason that they are. But every one of them was taken either from official Scottish Government documentation relating to gender legislation, or from answers given by trans activists to the question "What is a woman?"
There's a reason so many politicians refuse to answer that question, including most recently the First Minister herself.
It's because other than a biological definition, it's simply impossible to do so without resorting to outdated stereotypes, and all but the dimmest proponents of Gender Identity Theory know that that's a terrible look.
Our poll found a huge gulf on this question between young men and everyone else. Just 50% of them defined "woman" biologically, with all the other age/sex groups returning huge majorities averaging over 76% (or more than 3:1).
Interestingly, young women – who are normally the group most susceptible to trans ideology – lined up very much with the mainstream on this question. In fact, the numbers for young women were exactly the same (72%) as the overall populace. We'll come back to that.
Political differences were noticeable but still all within the same side of the debate. SNP and Labour voters were least likely to offer the biological definition, but still did so by a massive margin of more than 2:1, while Tory and Lib Dem voters were nearer 4:1.
Similarly, while there were gaps between Yes/No and Remain/Leave voters, none of them came close to flipping the result. Both Yes and Remain voters still opposed the entire concept of male people being able to become "women" by at least 2:1, while No and Remain voters were 4:1 and 3:1 against respectively.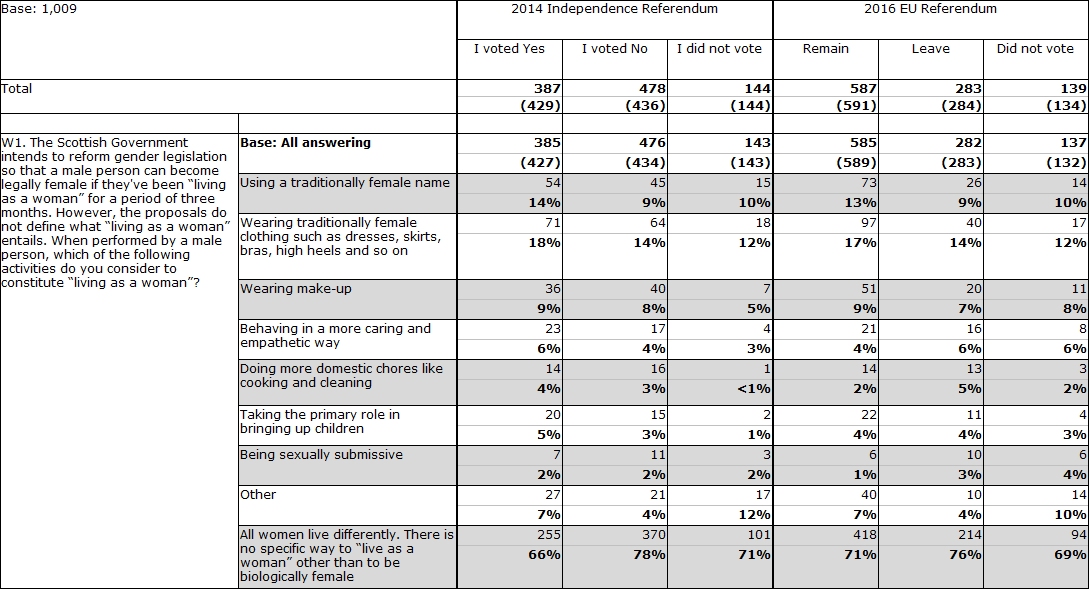 Four of the parties in the Scottish Parliament have pledged to ride roughshod over the views of their voters by supporting the Scottish Government's self-ID proposals, and even the Scottish Tories have been much more equivocal on the subject than their UK counterparts at Westminster.
So in Thursday's election there are NO major parties that voters can choose who will represent the wishes of the large majority of the electorate. On the subject of gender, there is effectively no democracy in Scotland.
(Smaller parties like Alba, who have strong policies in defence of women's rights, are only standing in a small percentage of seats – in Alba's case, fewer than 10%.)
The other questions tell the same story, with one fascinating quirk.

Question 2 is in almost all meaningful senses the same question as Question 1, and got pretty much the same responses across the board, with one exception. The striking difference – big enough to cause a 7% shift in the overall figure – is in the numbers for young women, who flip from 72-28 against in Q1 to 58-42 in favour in Q2.
It's difficult to explain this apparent anomaly. (On questions 3 and 4, young women reverted to opposition to gender reform proposals, by 3:1 and 2:1 respectively.) But one possibility reflects the hugely disproportionate rise in young women being referred to gender identity clinics, as opposed to any other group.
In an eight-year period to 2018, the number of boys referred to such clinics the UK leapt by over 1,200% (from 57 to 713). But the numbers for girls skyrocketed by over 4,500% (from 40 to 1,806). In less than a decade, girls have gone from 40% of cases to almost 72%. Abigail Shrier, the author of the acclaimed book "Irreversible Damage", characterises this as girls "fleeing womanhood like a house on fire".
The main difference between questions 1 and 2 is that question 2 is sex-neutral while question 1 is female-specific. It seems an at least plausibly coherent explanation for the apparent contradiction that young women are anxiously defending their territory in Q1 (and more literally in Q4), while trying to keep open the option to escape it in Q2. But that's only a speculative interpretation.
What is not open to interpretation is that most of Scotland's political parties hold their own voters in contempt on this issue, let alone those of their opponents. In the coming election, reality and biology have no champions.
.
The full data tables are here.