Much has been made this week of the Scottish Government's decision to award a water services contract for council buildings, schools, prisons and some other public facilities to an English company (Anglian Water) over the bid by Business Stream, a wholly-owned subsidiary of publicly-owned Scottish Water.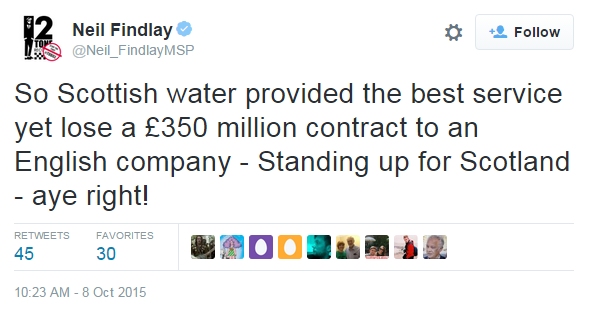 Opponents of the SNP have claimed that the awarding of this contract means that the Scottish Government has somehow privatised the provision of water in Scotland.
Readers may not be completely astonished to learn it's not true.
In 2005, the Labour/LibDem coalition government in Holyrood brought in the 'Water Services etc. (Scotland) Act 2005' to open up competition and force the deregulation of non-domestic water customers.
The Labour-led administration also created the Water Services etc. (Scotland) Act 2005 (Consequential Provisions and Modifications) Order 2005 which handed the Competition Commission in London the sole power to investigate and make judgments on proposed licence modifications or Scottish Water price-control decisions in cases where the Water Industry Commission for Scotland and the relevant private provider disagreed.
Although created in 2005, the Act didn't take effect until April 2008, forcing Scottish Water to set up Business Stream in November 2006 to prepare for the change.
Scottish Water's own website notes:-
"Under the Water Services Act (Scotland) 2005 Scottish Water had to split its operation into wholesale (Scottish Water) and retail (Business Stream) units. Although remaining a part of the Scottish Water group, Business Stream is a new business working completely independently of its parent company in order to ensure fair and transparent retail practice under the rules of the new deregulated marketplace for business customers."
In April 2008, the new system went live, effectively privatising the provision of water for any non-domestic users. From that point on, all contracts for water provision in non-domestic instances (public bodies, companies and other private enterprises) have had to source their water via one of the providers available.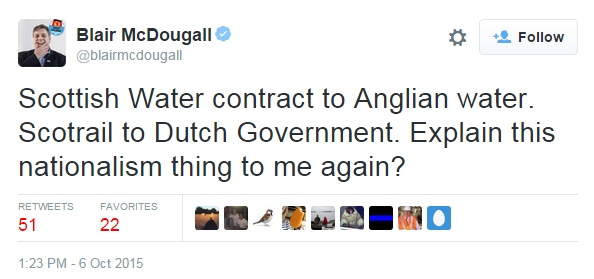 The opposition has demanded that the SNP should ignore tendering rules and award the contract to Business Stream based on the argument that this for-profit company is owned by a public body. But this argument is scuppered by EU procurement policy, as outlined in the EU 2020 strategy.
"The Europe 2020 strategy … stresses that public procurement policy must ensure the most efficient use of public funds and that procurement markets must be kept open EU wide. Obtaining optimal procurement outcomes through efficient procedures is of crucial importance in the context of the severe budgetary constraints and economic difficulties in many EU Member States.

In the face of these challenges, there is a greater need than ever for a functioning and efficient European Procurement Market that can deliver on these ambitious goals." (European Commission 2011a)
Public procurement policy in Scotland is governed by European rules deriving from the Treaty on the Functioning of the European Union (OJEU 2010). The Treaty sets out four key fundamental principles that underpin the public procurement rules:
Equal treatment: everyone must be treated equally and given an equal chance of winning a contract, and the procurement processes must be fair and not exclude potential suppliers, intentionally or otherwise.
Non-discrimination: public bodies must not discriminate between individuals or businesses on the basis of the EU Member State in which they are located. They have a duty not to impede the free movement of workers, goods and businesses between EU Member States.
Transparency: public bodies must ensure that their procurement and contracting processes are clear and transparent. Tenderers must be able to clearly understand the process that the public body is following, the qualities that the tenderer is being asked to demonstrate, and the basis on which a contract will be awarded.
Proportionality: public bodies have a duty not to include contract requirements and terms that are disproportionate to the size or value of the contract. Tenderers should not, for example, be excluded on the basis of economic strength where their financial capacity is sufficient to meet the actual requirements of the contract. Public sector bodies are obliged to consider these principles throughout their procurements, regardless of whether the full EU procurement rules apply.
These directives are given effect in Scots law by two sets of regulations, both put in place by the last Labour-led Scottish Government:-
It means that the Scottish Government cannot be biased towards any applicant to any contract and must judge each contract on its own merit, according to strictly-defined criteria which leave almost no wiggle room.
In so far as the privatisation of water services in Scotland has occurred, it actually happened in 2005. (The fact that a service was being run as a private contract by a publicly-owned body doesn't change its fundamental nature.)
Not for the first time, Labour left a timebomb ticking and are now blaming the SNP for the fact that it's exploded.