We've long known that Labour's attachment to the Union was founded on the belief – though a statistically erroneous one – that it couldn't form a secure UK government without the block of MPs (currently 40) that it sends to Westminster from Scotland.
But a fascinating article from YouGov president Peter Kellner on the YG website today suggests that the party's desperate and eventually successful efforts to secure a No vote could turn out to be the most Pyrrhic victory of all time.
The piece is an analysis of current polling figures, adjusted away from the conventional uniform-swing calculations to take account of several real-life factors. (Interestingly, the rise of UKIP south of the border isn't a significant one – Kellner's prediction gives Nigel Farage's party just one seat, half as many as it has now, despite a forecast vote share more than twice that of the Lib Dems.)
It's a well-documented phenomenon that the current electoral system and boundaries give Labour a significant advantage over the Tories, whereby they can lose the popular vote but win the election. Kellner contends that this is no longer the case, and that the primary reason for it could be Scotland.
On a current uniform swing, he initially projects a wafer-thin overall majority for Labour, but one which is swiftly lost due to something called the "incumbency effect" protecting 20 Tory seats which would otherwise be expected to fall. Miliband then needs the remaining Lib Dems to form a government with a small majority.
Kellner's post doesn't detail those numbers (which are predicated on current polls and take no account of the fact that Labour's lead has been shrinking steadily over the last two years), but they're as follows:
Labour: 298
Conservative: 290
Lib Dem: 27
SNP/PC: 7
UKIP: 1
Others: 27
But the picture changes radically when Scotland is treated separately.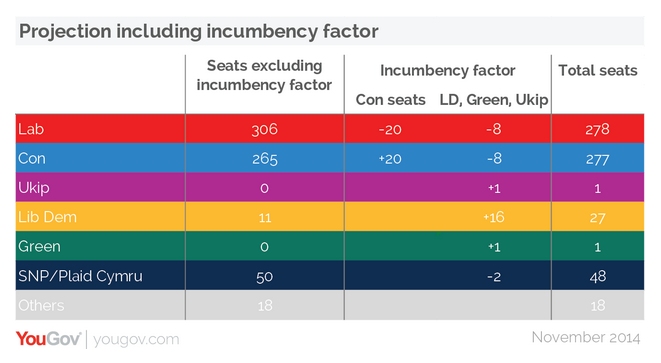 Assessing the current spectacular implosion of Labour's vote in Scotland, Kellner comes up with a startling figure of 48 seats for the SNP and Plaid Cymru combined (current total: 9). That seems extremely high, but the nature of First Past The Post is that once a party passes a certain tipping point it tends to be vastly disproportionately rewarded in terms of the number of seats returned, so it's not impossible should the present polling levels stay broadly unchanged.
The irony, then, is that Scotland switches from Labour's biggest "banker" territory to its Achilles heel. Without Scotland, a Labour-Lib Dem alliance would give Miliband just about enough seats to form a majority in an rUK Parliament, once absentee Sinn Fein MPs were taken into account. But having kept Scotland in the Union, he'd be nowhere near. Winning the referendum would have cost Labour the election.
Scottish Labour, of course, will shriek frantically about precisely this scenario in an attempt to scare Scottish voters back into the fold on pain of sending David Cameron back to power. But on Kellner's figures the Tories wouldn't be able to form a majority even in coalition with the Lib Dems either, and the SNP have already given an unequivocal, cast-iron guarantee that they wouldn't prop up a Tory government.
The situation, therefore, would be that Miliband would be able to command a working majority – even without the Lib Dems – so long as he had the support of the SNP. The Nats would be able to ensure that any new devolution package wasn't to Scotland's detriment, something that the Smith Commission proposals threaten to be, and have also said that they'd make the non-renewal of Trident a red line issue.
The Scottish electorate will therefore find itself faced with an unusually high level of power next May. They can vote Labour yet again, bringing about either a weak Labour administration which nevertheless needs only the Lib Dems to pass its legislation, or a weak Tory one that can get over the line by also enlisting the DUP.
In either case, the Prime Minister can safely ignore Scotland – and indeed will almost certainly HAVE to, or risk losing his majority thanks to backbench rebellions.
Alternatively, Scots can send a large cohort of SNP MPs (probably including a certain A. Salmond) south, at which point Scottish votes will become absolutely crucial to the occupant of 10 Downing Street and can extract huge concessions for Scotland.
The law of unintended consequences can rarely have unfolded more unexpectedly.