The mad explosion of news that consumed most of July has largely abated. The Tories have a new leader, Labour are settling in for an insanely destructive and bitter two-month factional war in order to (almost certainly) re-elect the same one they only elected 10 months ago, and Brexit is on hold until next year.
So with a palpable sigh of relief, the Scottish political media has been able to get back to what it does best: juvenile silly-season drivel about nothing.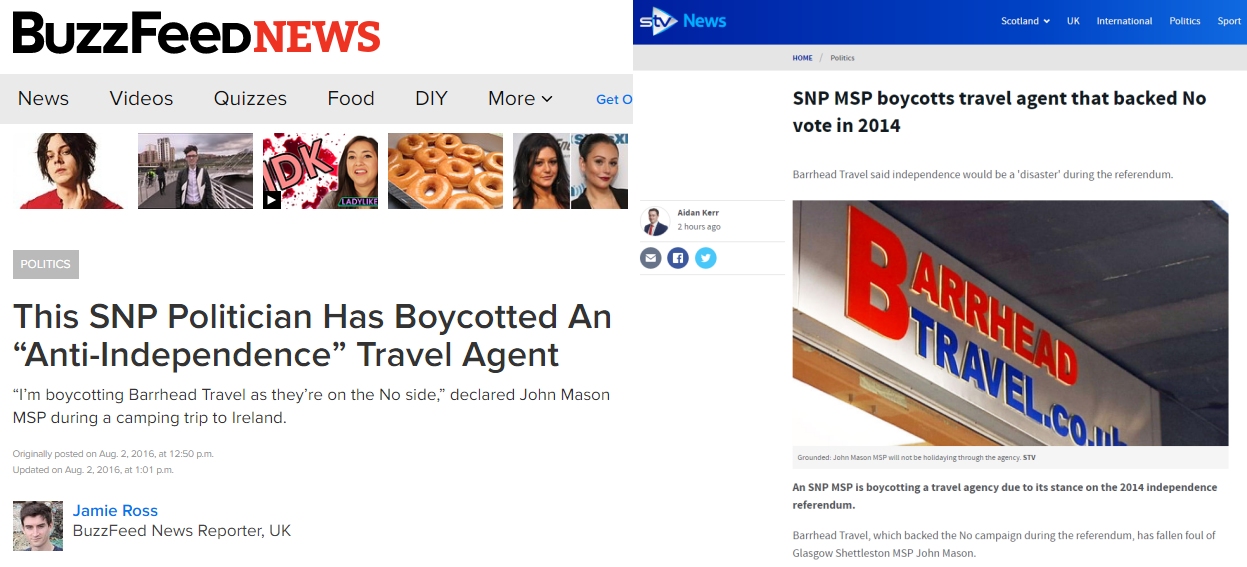 STV News and BuzzFeed ran a pair of almost-identical 700-word pieces today about the personal travel-agent choices of SNP MSP John Mason, who it's transpired has been conducting his foreign currency exchanges with companies other than Barrhead Travel, which issued a demented anti-independence letter to all its staff in 2014.
Four other papers quickly joined the pile-on:
Mason didn't call for anyone else to "boycott" the company, but merely said that he himself didn't use them. With hundreds of other outlets available for both travel and currency exchange, readers might well feel that he was perfectly entitled to exercise freedom of choice in that regard, and give his own personal money instead to firms which didn't actively and stridently oppose his political views.
(We didn't buy any Mackies ice cream during the indyref, because they donated to the "Better Together" campaign and we didn't want to find ourselves effectively funding it. We'd planned to start buying it again after the vote, but found to our surprise that we simply didn't want to. There are no shortage of other fine ice-creams available, and we didn't tell anyone else to avoid it, we just haven't bought any ourselves. We've even admitted it on Twitter. We keenly await the shock-horror media exposé.)
The STV and BuzzFeed journalists responded huffily to criticism of the articles:
But Mason wasn't speaking as a Parliamentarian. He expressed – during a private Twitter discussion rather than a Holyrood debate – a personal choice. He'd made the remark after a rather unpleasant Unionist tweeter, responding to a Mason comment supporting the Brain family from Dingwall, had sneeringly suggested that they should be deported to Australia via Barrhead Travel flights.
Curiously, both Aidan Kerr and Jamie Ross edited that aspect out of the story. Which is odd, not only because it provides context but because the snark-loving reporters are both usually big fans of irony, and there's a rather splendid example to be found if you look at the (now-locked) Twitter account of the user concerned:
But we guess that's not so funny from a certain perspective. Readers can determine for themselves what that perspective is.