As so insightfully predicted by Lallands Peat Worrier yesterday, the media has raced to proclaim victory for Alistair Darling in tonight's STV debate. For our money, the only winners were the people who watched something else.
The debate was a mess – not quite as shambolic as Nicola Sturgeon and Johann Lamont's effort on the same channel a few months back, but none of the lessons from that trainwreck were learned. Darling was angry and personal from the start, while Salmond was off-form and the strategy he adopted for dealing with the only subject Darling wanted to talk about – currency – was absolutely dreadful.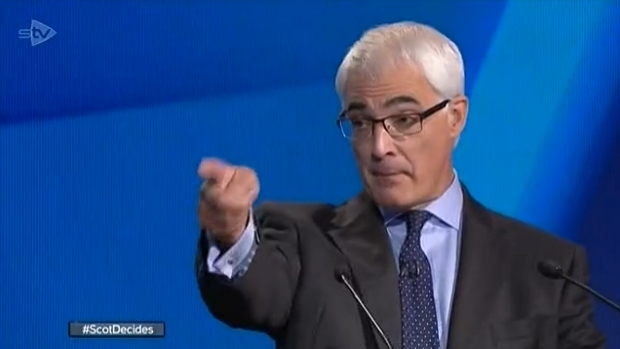 We warned back in February that Yes couldn't just keep flatly saying "There will be a currency union" for seven months, even if it's true, and the studio audience was deeply and audibly unimpressed with Salmond's evasion of Darling's repeated question, even if the tactic got old and tired when the No man was still using it an hour later.
But we're not going to get into too much spin, because our view is partisan. The main evidence used for the hasty declarations of a "triumph" for Darling was a snap poll conducted immediately afterwards by ICM for the Guardian. But on even a cursory examination, the poll actually found the opposite of what the media said it did.

What those numbers show is that – astoundingly – people who were Yes voters before the debate thought Salmond won, and those who were No voters before the debate thought Darling won, both by enormous margins. Colour us shocked. But the telling stats are among the people the debate was targeted at – the Don't Knows.
And what the poll discovered is that among voters who'd started out as undecideds, Salmond won by 55-45. Among those who remained undecided at the end the First Minister was still judged to have done best, by a thumping 74 to 26.
That's a very different story to the one you'll read in tomorrow's newspapers. The people closest to neutral, and the ones whose votes were actually being fought for, gave the win to Salmond. That, not the spin from either side, is the only thing that will ultimately count at the ballot box in six weeks' time.