We've been feeling a little hurt this week, readers. Judging by the number of bloggers and suchlike who've huffily blocked us on Twitter for no apparent reason, or just said nasty and untruthful things about us, we were beginning to think we must be bad people. So we were relieved beyond measure when we asked website-of-the-moment Klouchebag (which marks users on four undesirable traits, with low scores out of a maximum 100 being good) to analyse our tweet history and got this reassuring result:

Just for a bit of lightweight Friday-night fun, then, we decided to run a random selection of our follow list through the machine too, along with a small scattering of wildcards and some of the delicate wee flowers we're clearly still too awful for, and see what an impartial automated observer made of it all.
We've ranked the results in order, from most charming down to most obnoxious. We didn't generally bother with party leaders or senior figures, because the mostly-impersonal nature of their Twitter accounts tends to result in high scores – Johann Lamont and Alex Salmond both score 50, for example, though Ruth Davidson was the honourable exception with just 14. (And just like most Scottish voters, the program didn't recognise Willie Rennie at all.)
Instead we concentrated mostly on the media and blogosphere, and you can see the results below. (Hover the mouse over any pic if the Twitter name doesn't tell you very clearly who they are, and click any pic to enlarge.)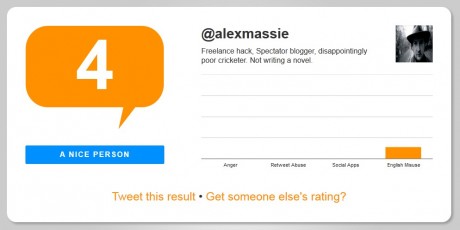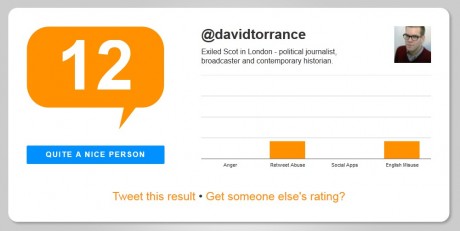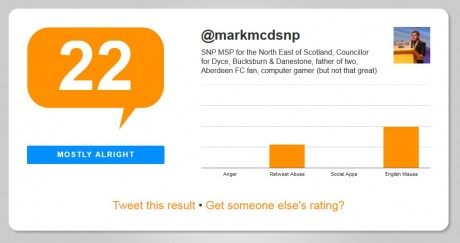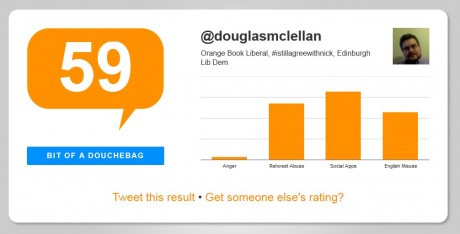 So there you go. Who'd have thought Tom Harris was nicer than Patrick Harvie, eh? (And indeed, the least odious Labour figure of all the ones we sampled?) Or that Scotland Tonight would be so much more cordial than Newsnight Scotland? Or that Foulkes would (just) come out on top over Galloway in the Battle Of The Georges?
Or that so many of the editors of pious old Better Nation, so keen to censor their readers into "civilised debate", would find themselves propping up most of the table? Or that the most unpleasant of all Scottish Twitterers would be a Lib Dem, a Guardian reporter and mild-mannered Kez Dugdale? And remember, folks – this isn't our opinion, but that of a cold-hearted impartial machine. Just goes to show, eh?
Feel free to enter your own account, or that of your own personal favourites, and let us know the results. (And if you can find anyone with a lower score than 4, or a higher one that 59, we'd like to hear about those especially.) It's all in fun.