We hadn't heard of the Joseph Rowntree Reform Trust until today. It turns out that it's a sister organisation to the highly admirable Joseph Rowntree Foundation, which does great work highlighting and fighting issues around poverty and social injustice.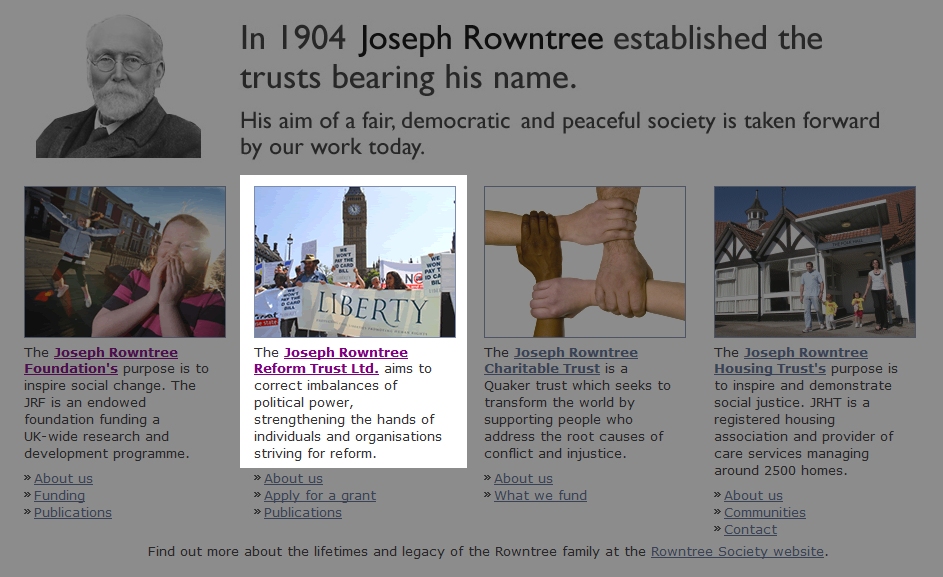 The Reform Trust, not so much.
Because it was revealed today by BuzzFeed that the JRRT has only made one grant so far this year, and given its stated goals of correcting "imbalances of political power" and "strengthening the hands of individuals and organisations striving for reform", we were rather surprised to discover who it had gone to.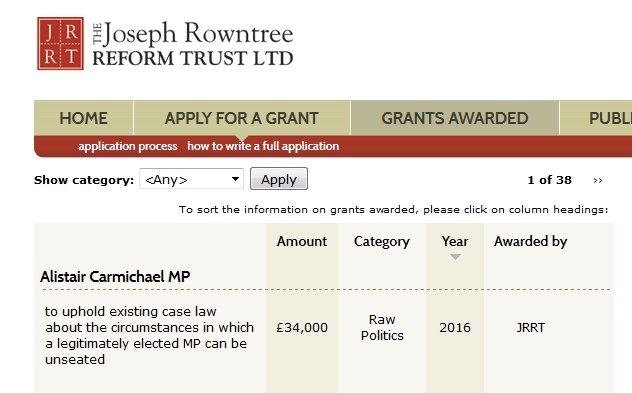 The grant will be extended to £50,000 shortly.
Alistair Carmichael has been the MP for Orkney & Shetland for 15 years. The Lib Dems (or the Liberals) have held the seat for 66 years. If there's an "imbalance of political power" around it's certainly not been noticeably affecting Mr Carmichael.
Nor did his party suffer unduly. While only winning 1.7% of seats on a Scottish vote share of 7.5%, the Lib Dems did relatively well – the Conservatives got twice the vote share but the same number of seats, and Labour got more than three times the vote share and the same number of seats.
And the Lib Dems have nobody else to blame for that situation anyway – in 2010 they held the balance of power in the UK parliament but backed down from forcing a referendum on proportional representation, settling instead for what their own leader called the "miserable little compromise" of AV, only to be resoundingly thrashed in the resulting referendum.
Four out of the six directors of the JRRT have close links to the Liberal or Liberal Democrat parties. One is a current Lib Dem peer and the chair was a Lib Dem MP until the party's electoral apocalypse in 2015.
Alistair Carmichael remains a generously-paid MP and until a few months ago was a government minister on a salary of over £107,000 plus expenses. Having concealed a lie aimed at undermining the democratically-elected First Minister of Scotland until after the election, he scraped home by a majority of 817 votes (down from almost 10,000 in 2010), stretching the definition of "legitimately" to its breaking point.
He wasn't forced to tell lies, he wasn't forced to cover them up and he wasn't forced to defend the court case. He could have taken the honourable course – standing down and then fighting the resulting by-election on his record and character, trusting voters to re-elect him despite one lapse. It would have cost him nothing.
Instead, he pursued a petulant, arrogant, deceitful and vindictive option, aiming to ruin four ordinary constituents with crippling legal bills and seeking punitive costs against them in addition to his own lawyer's fees. His conduct during the case was so unbecoming and dishonest that while finding him not guilty on a legal technicality, the judges ordered him to pay for his own defence, calling his testaments to the court "at best disingenuous, at worst evasive and self-serving".
(Incidentally, the Trust specifically says that it doesn't give grants for legal fees.)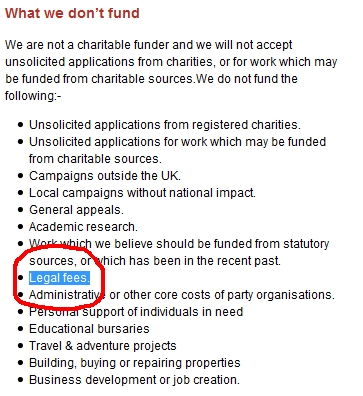 The plan backfired when the public backed the constituents, crowdfunding over £210,000 for them while Carmichael's own fundraising campaign struggled to well under a tenth as much, over a third of it coming from a single anonymous donor.
(As far as we can tell the money paid to Carmichael from the fundraiser has still not been declared on the Register Of Members' Interests, though the JRRT grant has.)
Carmichael has trousered well over a million pounds from the taxpayer over the last 15 years – NOT including expenses – and lives in one of the cheapest areas of the country. (The average house price there is around £35,000 lower than in Scotland as a whole.) He's had ample opportunity to put a little money away in case he ever wanted to destroy his own dignity and reputation in public.
His court case did not seek to redress any "political imbalance". Carmichael was the privileged, wealthy bully of the protagonists, and even if he'd been thrown out the Lib Dems would have been the favourites to win any by-election, which would have taken place in their strongest heartland anywhere in the UK.
(A fact which makes a mockery of the Trust's pathetic, partisan and craven statement in justification of its actions that "Had nationalists succeeded in their case against Alistair Carmichael, they would have worsened further the current misrepresentation of Scottish voters' views in parliament". The matter would have been placed entirely in the hands of the voters to give their wholly-democratic verdict. First Past The Post is rotten but it's NOT unfair or unrepresentative in any individual seat, only overall.)

Nor did the case seek to establish any sort of "reform". All Carmichael tried to do was cling desperately to his own job and ruin ordinary people justly angry at being lied to.
And what he may instead achieve is to disenfranchise them – should the legal costs bankrupt the MP, Parliamentary rules state that he'll be disqualified from sitting in the Commons and from voting, leaving Orkney & Shetland voters with no voice.
(One might imagine that basic decency would compel him to stand down at that point, but based on his conduct so far basic decency would probably be a forlorn hope.)
We very rarely write outright opinion pieces on this site. But the actions of the Joseph Rowntree Reform Trust are a disgrace to the honourable name of its founder and to its associated groups. That it still leaves Carmichael over £80,000 short of paying for the consequences of his own malicious hubris is the only saving grace of the entire affair.