Yesterday the UK government put out what was even by its standards a ludicrously hyperbolic piece of scaremongering about the costs of independence, suggesting that to set up all the governmental bodies the new state would require might come with an eye-watering price tag of £2.7 billion.
Its citing of the London School of Economics made it particularly interesting to hear what Patrick Dunleavy of the LSE actually said about the figures.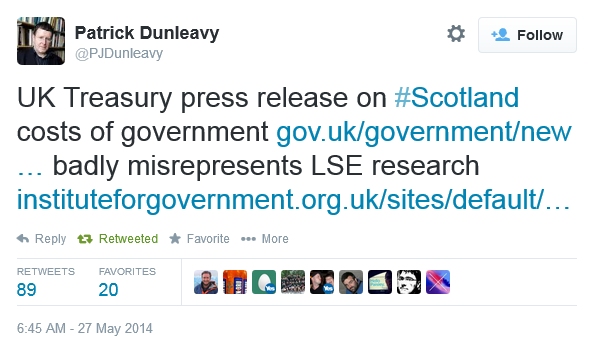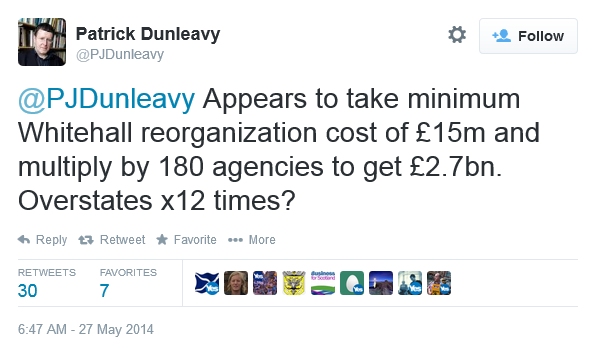 £2.7bn divided by 12 comes out to a rather more affordable £225m – or just slightly over £42 per person in Scotland. (Though in fact many of the bodies already exist and in reality wouldn't need to be created at all.) We don't know about you, folks, but for the entire administrative infrastructure of a nation that sounds like a bargain to us.
Readers can of course decide for themselves who's more likely to be giving the most accurate and honest interpretation of the LSE's figures – the LSE or the UK government. Either way, it saves us a bit of work. We might go and have a sandwich.
BBC Scotland's make-or-break new current affairs show, Scotland 2014, debuts on air at 10.3o tonight and will apparently feature an interview with Chief Secretary to the Treasury Danny Alexander. We keenly await his being interrogated on Mr Dunleavy's claims that the Treasury has "badly misrepresented" his institution's work.
We're sure we won't be disappointed.