A new study reported at the weekend has found disturbing levels of sectarian beliefs among pupils at Scotland's 357 Catholic schools. But there was an interesting twist – sectarianism was higher among the pupils who WEREN'T practicing Catholics.
Whatever could be the explanation?
As it happened, we had some recent poll data.
By a significant margin (14 points, compared to 2 points in England and -8 in Wales), Scots were the least supportive of all British voters of the idea of separating children at school on religious grounds.
It doesn't seem a wild supposition that this might be because Scotland has had a far worse historical problem with sectarian bigotry than either England or Wales. (And according to the study, a current one too.)
Perhaps surprisingly, young people – and women far more than men – were the most supportive of religious segregation, possibly because they didn't experience the worst of sectarianism in the latter half of the 20th century. The only groups in favour overall were women between 16 and 54, with older women and all men against.

Indeed, age was the only notable dividing line on the subject, despite claims from academics that constitutional politics, not religion, was behind the rise in sectarianism that has followed the 2018 abolition of the popular Offensive Behaviour (Football) Act:
Because highly unusually, there was nothing between Yes and No voters:
Nor did Remainers and Leavers hold diverging views on the subject:
And there was very little political difference either – Tory, Lib Dem and SNP voters were all only one percentage point apart, with Labour split down the middle.
Nor was there much of a class divide, so to speak: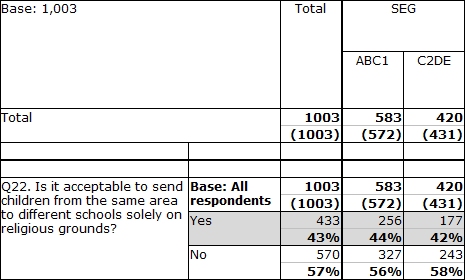 More than anywhere else on the UK mainland, Scotland is distinctly uncomfortable with the idea of splitting kids up by religion, even though it's a matter that isn't on the political agenda at all – no party supports ending the practice and bar the odd random newspaper article it's never debated.
The Glasgow University study may offer a clue as to why. Because it doesn't appear to be Catholic teaching or politics or poverty that causes sectarianism. It's the simple fact of keeping two groups of children apart from each other from a very young age for no educational or economic reason that causes them to regard each other with suspicion. And tragically for Scotland, it looks like it always will.