We're using that phrase in the sense of "the end of the universe", we should say.
We've done interviews for radio in the BBC's tiny Bath studio before, but this is the first time we've had to let ourselves in and do the whole thing solo.
After a week of shouting about how the Scottish media was conspicuously ignoring our recent Panelbase opinion poll, we were contacted yesterday by the Good Morning Scotland team to go in and record a few minutes for Saturday's show on the subject. To cut a long and boring story short, we ended up entrusted with the external and internal door codes and some semi-comprehensible instructions which luckily turned out to be mostly unnecessary – all we actually had to do in the end was put the headphones on and push a couple of sliders and everything was good to go.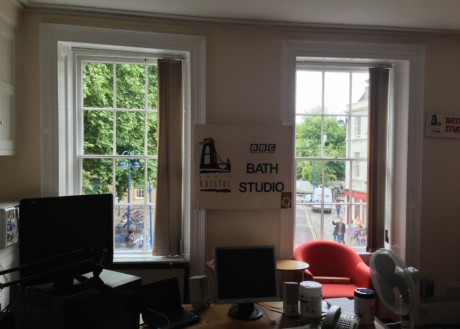 We chatted with Bill Whiteford, who asked some fair and reasonable questions about things like why we did the poll and what we thought of the results, and we don't think we said anything too stupid in response.
(All answers were off-the-cuff. Trying to squeeze in pre-prepared soundbites in this sort of thing sounds fake and the results can be horrific. The downside is you invariably don't get to make every point you wanted to, but that's the lesser of two evils.)
The piece should be on sometime tomorrow, and the subject will apparently also be discussed with the ubiquitous (and perhaps only) Scottish psephologist Prof. John Curtice. Everything's in the edit, of course, but we're reasonably confident they won't chop the tape up into individual syllables and reconstruct it to have us say "Independence smells of bums" or anything, so do tune in.
And if anyone's interested in setting up an all-Jesus-And-Mary-Chain-all-the-time pirate station covering the south-west of England, obviously give us a call.