Just magnificent work from the Daily Mail today.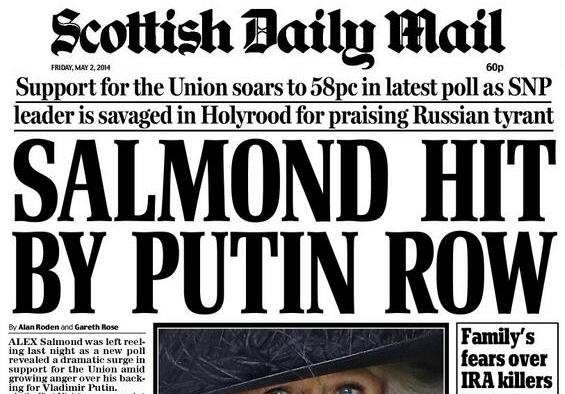 Really only a couple of tiny quibbles.
1. What the Mail describes as support for the Union "surging" in the latest poll is in fact the LOWEST No figure YouGov have ever recorded for the referendum question, the joint HIGHEST for Yes, and (therefore) the SMALLEST lead ever. The No camp's lead with YouGov has been more than halved since September, from 30 points to 14.
2. The fieldwork for the poll was done on between 25-28 April. The co-ordinated media outrage over the First Minister's comments about Vladimir Putin didn't break until the 28th, so almost none of the poll respondents would have heard of it, making the Mail's attempts to spin the poll as a "backlash" against the comments extra-comical.
Otherwise, bang on, chaps. Top work.